Cards 'open for business' for Yadi extension
Mozeliak responds to Bengie Molina's comments regarding his brother's future in St. Louis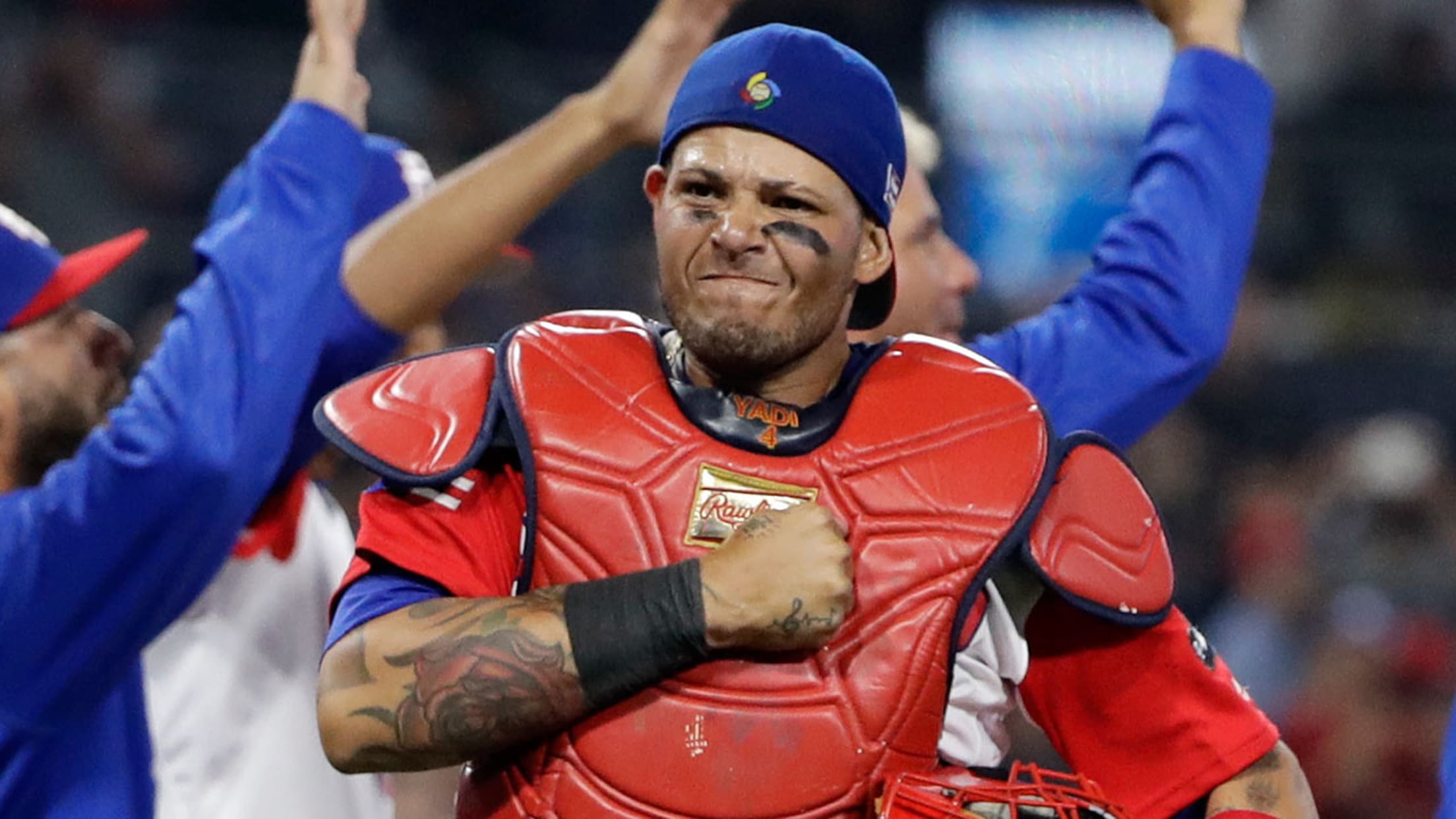 Yadier Molina signed a five-year, $75 million extension with the Cardinals in 2012. (AP)
PORT ST. LUCIE, Fla. -- Yadier Molina is entering the final guaranteed year from the extension he signed with the Cardinals in 2012, and while there is a $15 million mutual option that could prolong the relationship through '18, it's not a guarantee that Molina would exercise it.His future in
PORT ST. LUCIE, Fla. -- Yadier Molina is entering the final guaranteed year from the extension he signed with the Cardinals in 2012, and while there is a $15 million mutual option that could prolong the relationship through '18, it's not a guarantee that Molina would exercise it.
His future in St. Louis thus remains uncertain, and Bengie Molina, the older brother of the Cardinals icon took to the airwaves this week to address the situation. In an interview on SiriusXM's MLB Network Radio, Bengie indicated that the Cards and Yadier are not close to reaching a contract extension, and he suggested that his brother would not exercise his option for 2018.
"He's always telling me, 'I want to retire a Cardinal,'" said Bengie, who served one season as the Cardinals' assistant hitting coach. "But just remember this: Yadi Molina is not Bengie Molina. Yadier Molina is not Jose Molina. You will find out, he doesn't take crap from anybody. And if he leaves, he's not afraid.
"I think it's really a shame, it's really sad, that the Cardinals haven't gotten anything done with him and that they're thinking -- this is what kills my heart -- they're thinking about it. They haven't even gotten to a point where they're close. C'mon, man."
• Spring Training: Info | Tickets | Schedule | Gear
General manager John Mozeliak, responding on Friday, said that the organization is "open for business" and willing to enter into contract extension talks with its longest-tenured player. The Cardinals have made it clear that they'd prefer to have Molina retire as a lifetime Cardinal.
But as was evidenced in 2011, when Jose Pujols walked away, Mozeliak won't let emotions cloud what's prudent.
"It's like any other [negotiation]," Mozeliak said. "You try to do what's best for your organization. There's a short-term approach and a long-term approach. Yadi has meant a lot to this organization for a long time, and we want to make sure that whatever the outcome of this is, we definitely tried to do what is best for everyone."
Complicating matters is the fact that the Cardinals' No. 2 prospect, according to MLB Pipeline, is catcher Carson Kelly, who last year reached Triple-A Memphis, where he posted a solid .292/.352/.381 slash line.
Mozeliak said that the organization does not feel an urgency to complete negotiations before the end of Spring Training. He cited Chris Carpenter and Lance Berkman as examples of players who received contract extensions from the club in-season.
"We're not a deadline organization," Mozeliak said. "So as far as timing goes, I'm not drawing any lines in the sand."
Bengie said his brother, who has been away from the Cardinals for the past two weeks because of the 2017 World Baseball Classic, would like to play three or four more seasons after this upcoming campaign. Yadier Molina turns 35 in July.
"It annoys me how the Cardinals have put some distance with him," Bengie said. "He's not asking for seven years or 10 years or $200 million. He's asking for three years, at least, in his hometown, in the place that he's sweat in that jersey so much. He's given his all for that jersey all his career since the Minor Leagues.
"Don't you want to have this kid? This is a leader, man. This is a kid who can help your catchers, take care of your catchers. This is a kid who can take care of the pitching and show them so much. Don't you want to let him finish his career, three more years, and whatever he wants? He just wants to be the best-paid catcher."