Wick's metamorphosis impressing Cardinals
Former outfielder excelling in first full season as reliever for Class A Advanced Palm Beach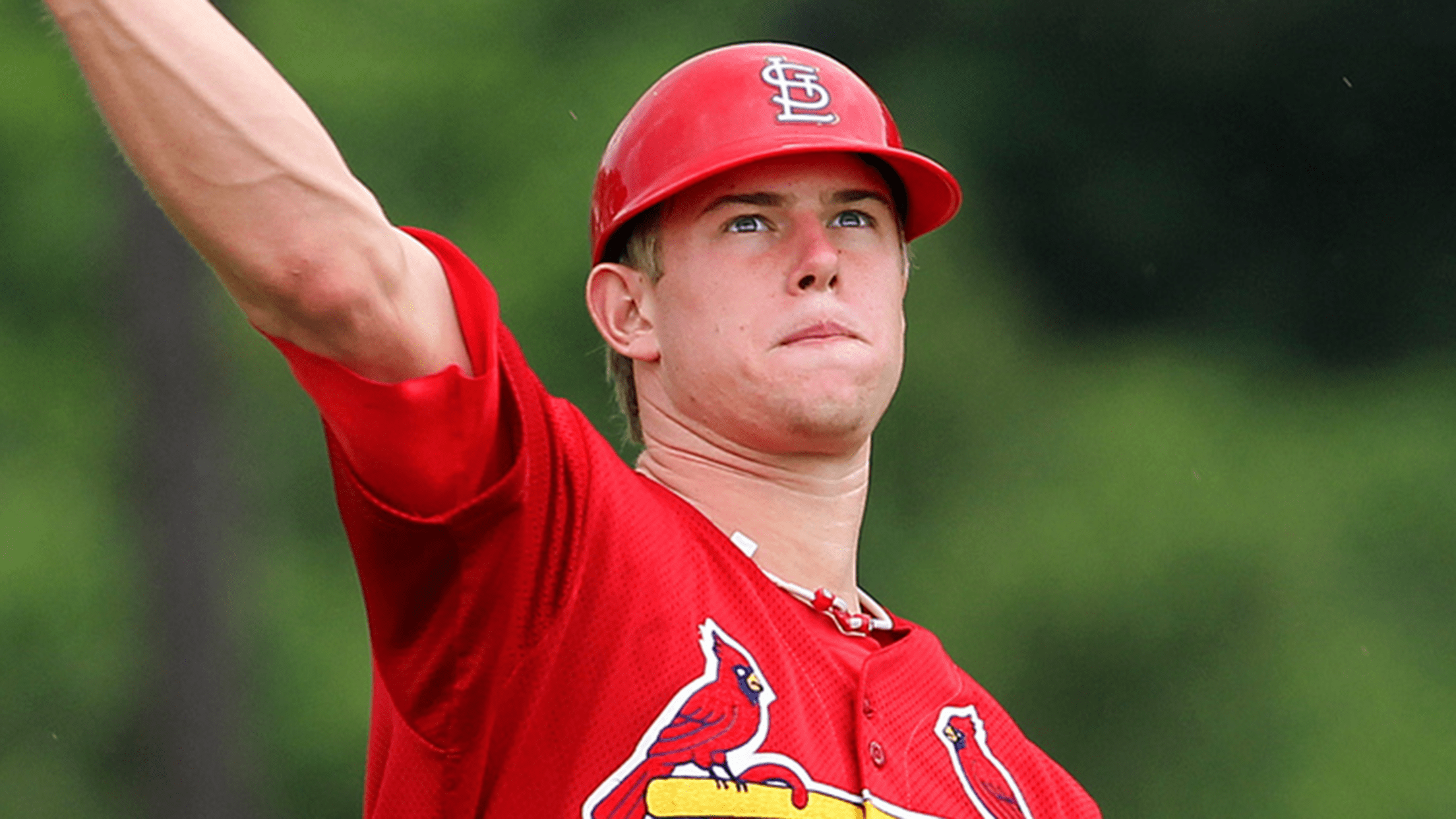 A ninth-round Draft pick in 2012, Rowan Wick has made the rare switch from position player to pitcher. (MiLB)
Rowan Wick isn't the first player to make the switch from position player to pitcher within the Cardinals' organization, but few have had similar success so early in the transition.The former outfielder holds a 1.14 ERA in 23 2/3 innings this season and has struck out 36 while walking just
Rowan Wick isn't the first player to make the switch from position player to pitcher within the Cardinals' organization, but few have had similar success so early in the transition.
The former outfielder holds a 1.14 ERA in 23 2/3 innings this season and has struck out 36 while walking just six batters. Wick's numbers have been eye-popping with Class A Advanced Palm Beach, and he was recently named to the Florida State League South Division All-Star team.
Cardinals director of player development Gary LaRocque approached Wick about a possible change last season.
"I kind of just went with it," Wick said. "I had the best attitude that I could, and I've just been going at it since then."
The decision to transition the Cypress, Calif., native became easier as his production dropped off in Class A in 2014. The Cards' 2012 ninth-round Draft pick began the '15 season with Palm Beach and continued to struggle. Wick hit .198 through 33 games, and LaRocque saw it as a chance to convert his above-average outfield arm into a force on the mound.
Wick gradually moved to the rubber, appearing in three games before elbow soreness cut his 2015 season short. Now in his second year pitching, he has been dominant out of Palm Beach's bullpen.
"He stepped in, had a good month of March and clearly established himself as ready to pitch at the Florida State League level," LaRocque said. "I don't think it's any different now two months later that he has caught up to that league quickly."
Wick's fastball was the first pitch he developed, and it has become his staple, touching 98 mph, but his curveball has given him an extra edge.
"It's a great pitch for him," Palm Beach manager Oliver Marmol said. "It's a swing-and-miss pitch, and it's got great break to it. He's becoming a lot more consistent throwing it in the zone and then throwing it out of the zone when he needs to."
Wick is not just making the physical changes, either. He has changed his mindset from position player to pitcher, listened more to his coaches and followed the plan the Cardinals drew up for his switch with precision, according to LaRocque.
"Last year, I was just getting my body to move in a way where I was throwing off a mound instead of out of the outfield," Wick said. "Now my arm is feeling phenomenal and, honestly, I just think I'm just a product of environment here."
The Cards are in no hurry to move Wick along, and they are willing to let his development process play out. If he keeps pitching at this clip, it's plausible he could see the Double-A level next season, if not before.
"Everything from picking off to first and inside moves to covering the bunts and understanding certain running-game signs -- all of that is new to him," Marmol said. "We're not trying to speed through this process. It's going to take time, but as far as him being capable of pitching at the highest level? Absolutely."
** Nick Krueger ** is a reporter for MLB.com based in St. Louis.