Maness: 'I need to throw as much as I can'
DP specialist hopes to increase pitch count to prep for regular season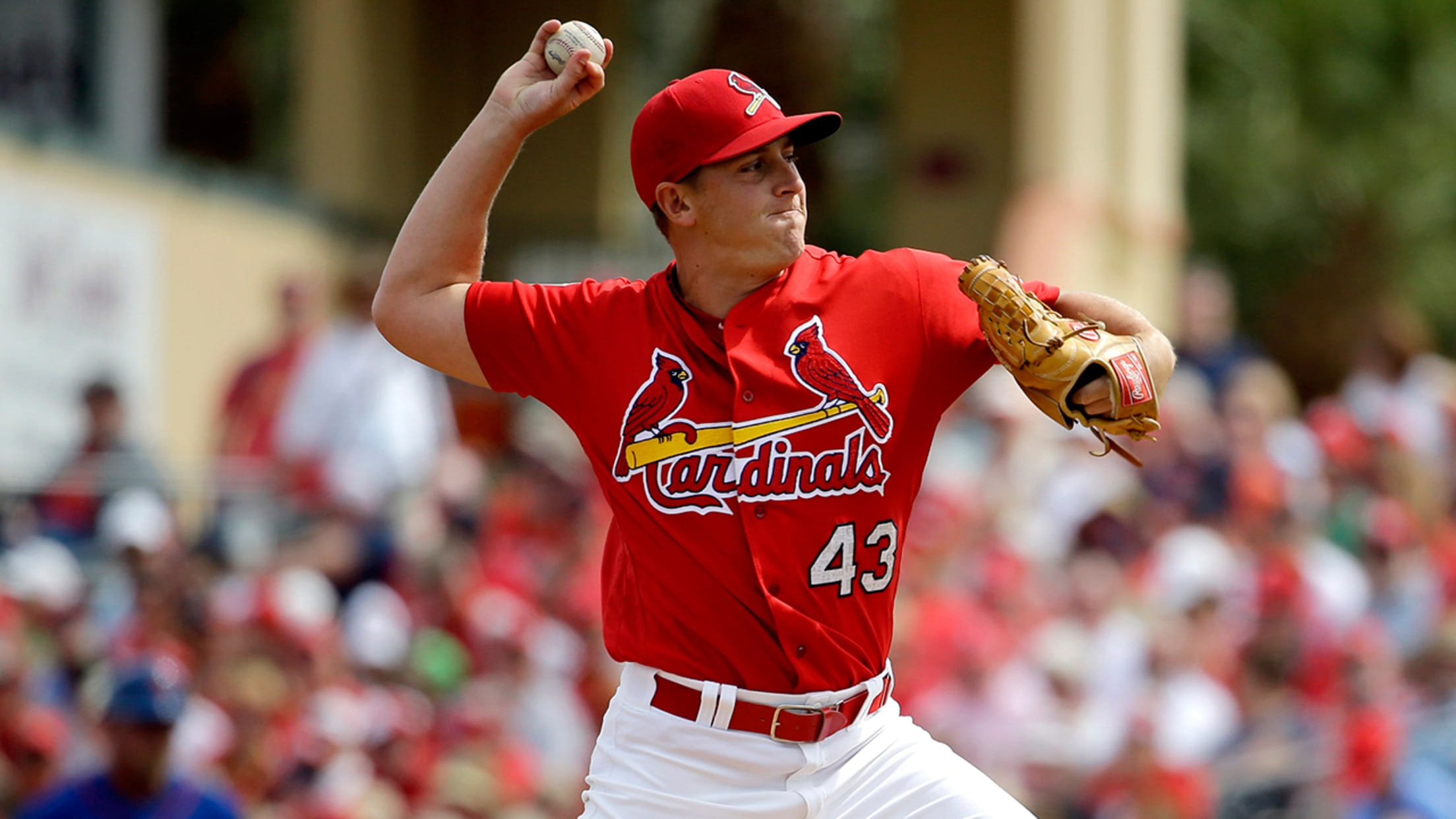 Reliever Seth Maness gave up four hits and three runs in the Cardinals' loss to the Nationals on Thursday. (AP)
VIERA, Fla. -- Seth Maness is no stranger to Spring Training struggles. Just two years ago, the right-hander allowed 21 hits and 11 earned runs in 11 Grapefruit League appearances.The numbers aren't as gaudy this year, but after another rough outing in Thursday's 8-2 loss to the Nationals, Maness is
VIERA, Fla. -- Seth Maness is no stranger to Spring Training struggles. Just two years ago, the right-hander allowed 21 hits and 11 earned runs in 11 Grapefruit League appearances.
The numbers aren't as gaudy this year, but after another rough outing in Thursday's 8-2 loss to the Nationals, Maness is still seeking positive reinforcement to carry north next week. He thinks he knows where that can come from, too.
• Spring: Tickets | Ballpark | 40-man roster | NRIs
"I need to throw as much as I can," said Maness.
It may seem a surprising statement from a reliever who, in 76 appearances last season, threw five or fewer pitches 19 times. He had six outings of two or fewer pitches. His usage as the team's fireman -- the reliever who enters to extinguish a brewing rally -- and double-play specialist sets him up for such short stints.
Once a starting pitcher, Maness has still not completely adjusted to the spring schedule of a reliever. Instead of coming into situations that may be his during the season -- as was the case when he entered with two runners on base Thursday -- Maness would prefer to just go out and throw … and throw and throw and throw some more.
"I'd rather just throw multiple innings -- throw four or five innings -- just to get dialed in," Maness said. "[When I was] starting, my first inning was the worst. Now, all I'm throwing is first innings. It's pretty rough."
Upon replacing Adam Wainwright in the fifth on Thursday, Maness served up a pair of doubles, a home run and a single to the first four Nationals batters he faced. The ground-ball specialist then finished the inning with a pair of flyouts. It was his sixth appearance of the spring, and Maness has now been scored upon in four of them.
"I think it's usual with him," manager Mike Matheny said of Maness' March troubles. "We need to get him closer."
Added Maness: "I don't think I've gotten an out in Spring Training the last three years."
It's a statement laced in hyperbole, of course, but there is familiarity in what he's going through now. Maness had a terrible spring showing in 2014 (8.49 ERA) and went on to post a 4.09 ERA that April. He followed with a 2.73 ERA over the next five months.
The results were much improved in 2015, when Maness allowed one run and nine hits in 10 spring innings. His April ERA -- a 3.52 mark -- was better, too. In 6 2/3 innings this month, Maness has allowed seven runs on 14 hits and two walks.
Maness said he'd welcome any way in which he could get extra work over the next week -- whether it is making multiple-inning appearances in Grapefruit League games, throwing on consecutive days or pitching at length on the backfields in a Minor League game. He'd do it all, in fact.
"As tough as it is to go out there and get rocked every time, I try to find [a] positive in that the arm is ready," Maness said. "The arm feels great. I just have to find that right key."