Trip to Draft brings smiles to Cards' guests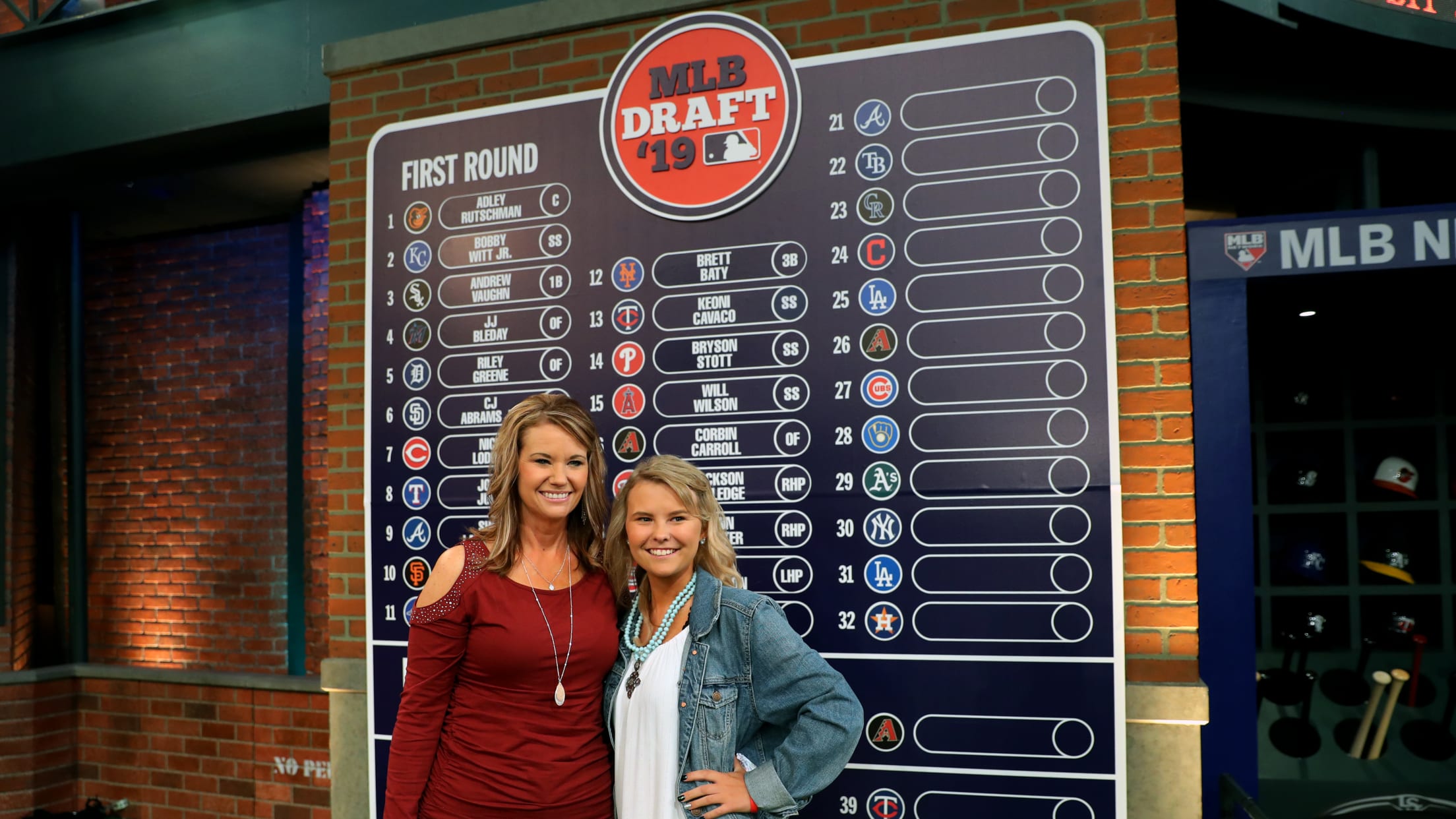 Brooke Bearden had just one word to describe her experience on Day 1 of the MLB Draft: "Awesome." Bearden, a senior softball player from Liberal High School -- just south of Kansas City -- sat at the Cardinals' Draft table with Jason Isringhausen during the first round, and Commissioner Rob
Brooke Bearden had just one word to describe her experience on Day 1 of the MLB Draft: "Awesome."
Bearden, a senior softball player from Liberal High School -- just south of Kansas City -- sat at the Cardinals' Draft table with Jason Isringhausen during the first round, and Commissioner Rob Manfred introduced her before she handed him the Cardinals' No. 19 pick.
• Draft Tracker: Complete pick-by-pick coverage
Bearden's expression better told the story of how she felt throughout the night.
"She expresses her language through her expressions, and she has had a smile on her face since we have gotten to New York," said Bearden's mom, Kendra. "Especially here, this evening, she's been smiling ear-to-ear. It's indescribable the opportunity we've gotten, and I know it's something that she will absolutely never forget and take with her and inspire her the rest of her recovery."
Bearden underwent open heart surgery last August, and her recovery took an unexpected turn in October when she suffered a stroke. She has since undergone three surgeries and months of rehabilitation to make progress physically and with her speech.
Before surgery, Bearden was the starting catcher for Liberal and led her team to three consecutive district titles. Major League Baseball invited Bearden to the Draft and to be part of the announcement for her favorite team -- the Cardinals.
"It's so hard to express our gratitude in a way that I feel is appropriate," Kendra Bearden said. "It's just amazing. It's hard to put into words how much we appreciate it. They did this for our kids, and that means so much as a parent that they would take the time to have our kids experience such a wonderful thing, with everything they've been through."
The Cardinals' other Draft guest was 17-year-old Christian Ray, who was connected to MLB through the Make-A-Wish Foundation. His wish was to tour the MLB Network studios because of his interest in broadcasting. He and his family are from Pevely, Mo., about 30 minutes south of St. Louis, and they toured the studios Monday and stayed for the Draft.
Ray's takeaway from the day?
"There are so many screens," he said.
Ray makes the trip to Busch Stadium for about 10 games a year, his dad, Kevin, said, and Christian's broadcasting interests are in baseball and hockey -- fitting, too, that the St. Louis Blues were playing Game 4 of the Stanley Cup finals on Monday night.
Christian's happiness was evident throughout the whole day, as MLB Network granted his wish.
"Just seeing him having fun for once," Kevin said. "That's what I take away."