Cardinals' DR academy honors first graduates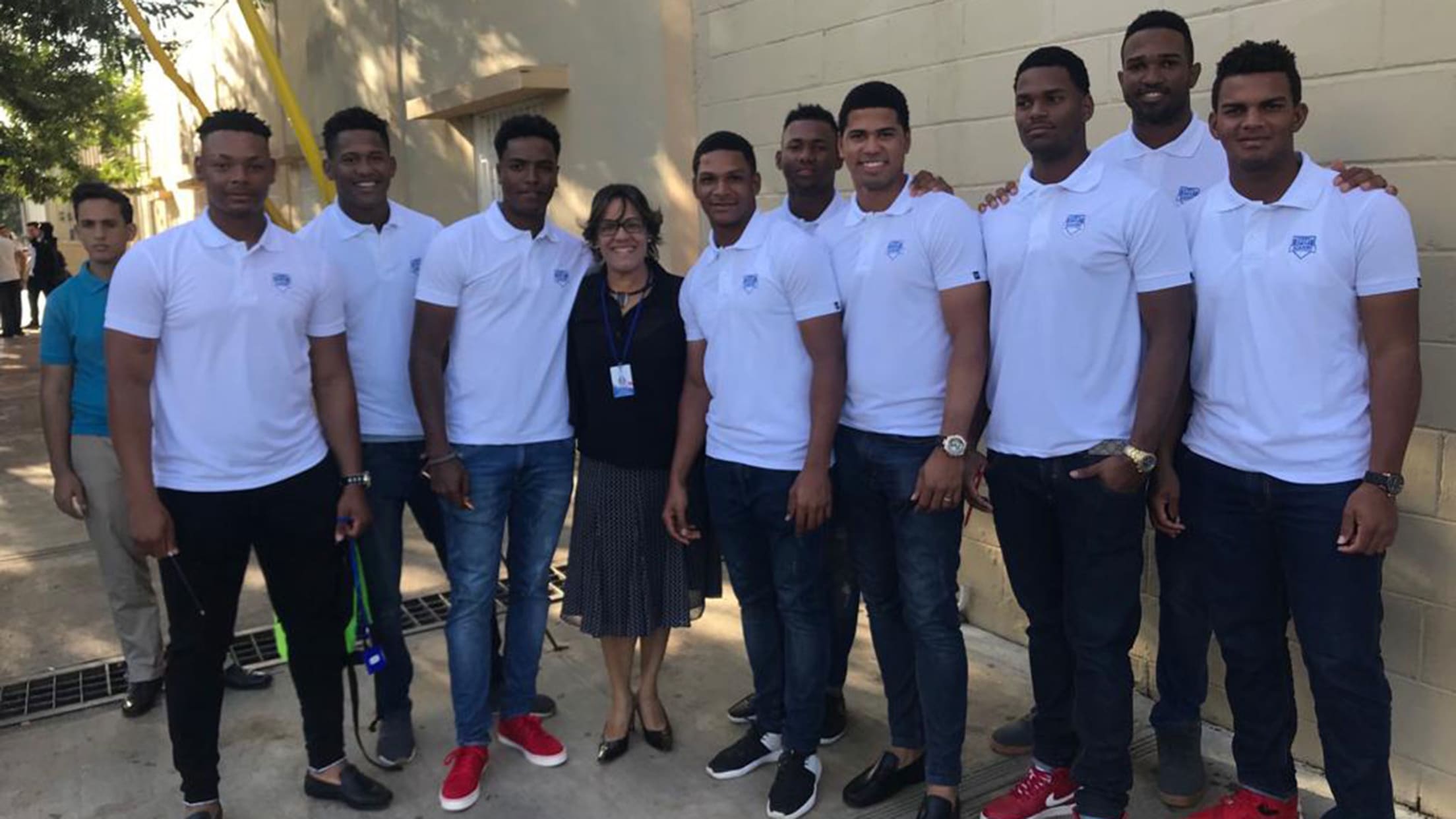 ST. LOUIS -- Around 100 people are expected to gather Sunday at the Cardinals' Latin America facility in Boca Chica, Dominican Republic, not for another baseball game, but for a graduation ceremony that will represent the culmination of a vision the organization put into motion three years ago.Nine players who
ST. LOUIS -- Around 100 people are expected to gather Sunday at the Cardinals' Latin America facility in Boca Chica, Dominican Republic, not for another baseball game, but for a graduation ceremony that will represent the culmination of a vision the organization put into motion three years ago.
Nine players who once dropped out of school to pursue their dreams of playing professionally will receive their high school diploma as the first graduating class of the academy. It's a celebration so meaningful to the Cardinals that president of baseball operations John Mozeliak reworked his schedule so he could attend.
He'll do so alongside assistant general manager Moises Rodriguez and director of international operations Luis Morales, both of whom were integral in implementing an educational program that is giving players in their Latin American pipeline another tool for their futures.
Knowing that so few of the players at the academy will earn the opportunity to advance to an affiliate in the United States, the Cardinals wanted to equip these young men with an off-field education, too. That meant expanding coursework beyond the English classes and cultural-assimilation workshops the club had previously offered.
"This is a big achievement for the organization," Rodriguez said. "I think the way we look at it is, not only is it the right thing to do, but the critical thinking involved, the confidence that they build, it also aids their development on the field."
The logistics of facilitating this level of schooling has been complicated. It has required the Cardinals to operate their facility more weeks out of the year and to increase their financial commitment to Latin America to cover new costs. Those include paying instructors to come to the academy.
There's been a unique level of commitment from players, too, who now have to show up to the complex in January and attend classes in-season. From April until August, for example, twice a week players go to school for three hours after wrapping up workouts and game appearances.

In addition to the nine graduates, another 29 are currently working toward their high school diplomas. The Cardinals expect that number to increase to 35 once their latest round of signees finish enrolling.
"It's extremely difficult for them," Morales said. "But I feel like they are getting into it. They're liking it. I think they're understanding the value of what we're trying to do."
The Cardinals hope that will be reinforced this weekend by having those other players participate in the graduation festivities for nine of their teammates -- Freddy De Jesus, Diego Cordero, Gustavo Rodriguez, Alexander Samuel, Franklin Soto, Luis Montano, Roy Garcia, Joerlin De Los Santos and Darlyn Del Villa.
Faculty and family members will also be in attendance. Two administrators -- Aaron Rodriguez and Esmeralda Hernandez -- will be specifically recognized for the work they've done on-site to keep the program running.
In addition to equipping players for a path outside baseball, the Cardinals hope the focus on education will also pay dividends for those who continue to climb in the organization.
"We try to do as much as we can, in the time that we have, to prepare them for the next level," Morales said. "The transition from any country to another is hard. If you have that level of education, it teaches you how to learn and gather more information, and that's going to help you. It's to expand their horizons."