Wong getting work in center field in Minors
Ability to play in outfield could help second baseman return to Majors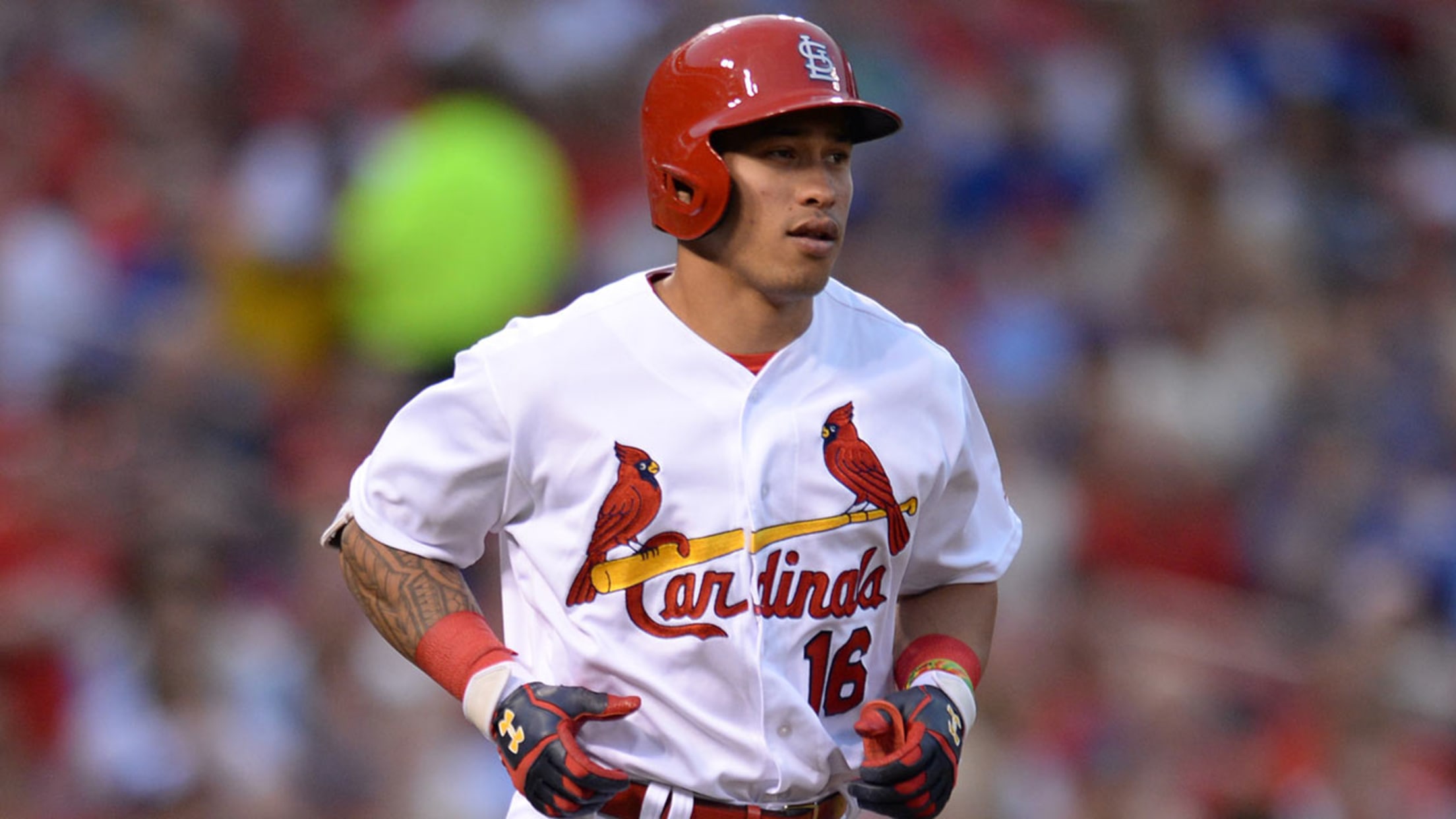 Kolten Wong recorded his first professional appearance in center field on Monday for Triple-A Memphis. (AP)
ST. LOUIS -- Sent down to Triple-A Memphis to work particularly on his offensive game, Kolten Wong may end up returning to St. Louis with much more than a fixed swing.Wong added a new item to his to-do list this week after the Cardinals broached the idea of getting him
ST. LOUIS -- Sent down to Triple-A Memphis to work particularly on his offensive game, Kolten Wong may end up returning to St. Louis with much more than a fixed swing.
Wong added a new item to his to-do list this week after the Cardinals broached the idea of getting him exposure in center field. It's a position Wong played in college, but one that he gave up upon signing with the Cardinals in 2011. He returned there on Monday, logging his first professional innings as a center fielder in Memphis' 4-3 win.
Wong was back in center field for Memphis on Tuesday night, as well.
"I think it's something that the organization saw as a potential to help him and his versatility," manager Mike Matheny said. "That's kind of what our club is all about right now, being able to play multiple positions and give yourself a chance to help us in ways you may not see as obvious. … He's got speed, instincts. All those put together really make him able to play almost anywhere."
The intent to add to Wong's versatility represents a change in direction for the Cardinals, who, upon demoting Wong to Triple-A a week ago, said there were no such plans. But with there being no clear path back to the Majors as a second baseman, Wong may have an easier time nudging himself back onto the big league roster if he can prove himself a capable outfielder.
As well as the Cardinals' offense has performed this season, production from center field continues to lag. The position has produced a .206/.269/.401 slash line. Randal Grichuk, with 48 starts, has been the team's primary center fielder, but the organization's other options -- Jeremy Hazelbaker and Tommy Pham -- have not offered the sort of production that has pushed them into position for more playing time, either.
Wong, Matheny said, will continue to get work at both second base and center field for the foreseeable future.
"I think any time you make yourself more versatile, you're increasing your odds," Matheny said. "This just adds, I think, for his career. It just adds more opportunity for him."
Worth noting
• Brayan Pena, who has been on a rehab assignment with Double-A Springfield for the past week, returned to his home in Orlando for what Matheny described as a "personal issue." It is unknown when he'll resume his rehab work. Before departing, Pena, who is recovering from left knee surgery, was 3-for-19.
• Seth Maness (right elbow inflammation) remains with Springfield where he, too, is on a rehab assignment. Over three innings, Maness has allowed one hit -- a solo home run.
• Six Springfield players have been named to the North Division All-Star Team. Those invitees include catcher Carson Kelly, outfielder Harrison Bader, first baseman Luke Voit, second baseball Bruce Caldwell, third baseman Paul DeJong and right-handed pitcher Mike Mayers. Kelly, Bader and Voit were elected to start the All-Star Game, which is scheduled for June 28.