Cards sign Cuban right-hander Mendoza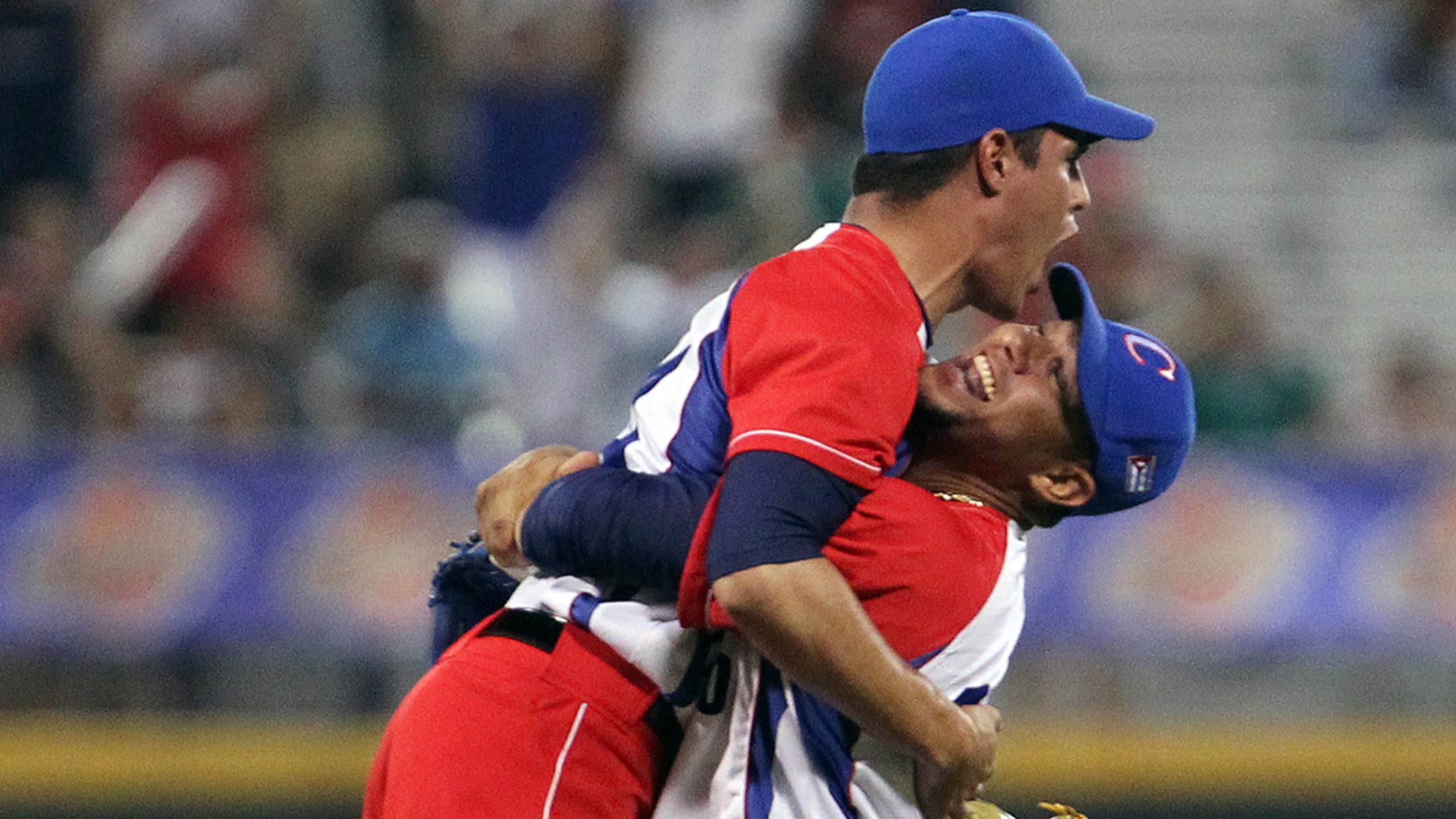 Hector Mendoza (left) appeared in the Cuban National Series from 2011-14. (AP)
CINCINNATI -- The Cardinals have added to their pitching depth by signing 23-year-old Cuban right-hander Hector Mendoza, who most recently pitched for the Yomiuri Giants of Japan's Nippon Professional Baseball League. The organization announced the signing on Wednesday.Mendoza, who will report to the Cardinals' complex in Jupiter, Fla., after obtaining
CINCINNATI -- The Cardinals have added to their pitching depth by signing 23-year-old Cuban right-hander Hector Mendoza, who most recently pitched for the Yomiuri Giants of Japan's Nippon Professional Baseball League. The organization announced the signing on Wednesday.
Mendoza, who will report to the Cardinals' complex in Jupiter, Fla., after obtaining a work visa, received a $500,000 signing bonus.
Mendoza appeared in the Cuban National Series from 2011-14, during which he posted a 2.71 ERA in 54 appearances (12 starts). He then went over to Japan and made five appearances for the Giants from 2015-16. He allowed six runs on nine hits over seven innings. He struck out seven and walked three.
Mendoza features a 92-95 mph fastball, curveball and cutter/slider. He has better than average command and is expected to climb through the system as a relief pitcher.
The signing does not count against the team's international bonus pool, which they've already exceeded. It is, however, the latest example of the organization's continued commitment to procuring talent from the international market.
The Cardinals put one foot back in the Cuban market three years ago when signing shortstop Aledmys Diaz, and their activity has accelerated over the last calendar year. In that time, the Cardinals have inked Cuban outfielders Jose Adolis Garcia ($2.5 million), Jonatan Machado ($2.35 million), Randy Arozarena ($1.25 million), and pitchers Johan Oviedo ($1.9 million) and Mendoza.
Wong's early exit
Kolten Wong, who began a Minor League rehab assignment with Class A Peoria (Ill.) on Tuesday, was pulled from Wednesday's game after his first at-bat. The reason why -- Wong felt tightness in his right forearm -- was unrelated to what sent him to the disabled list late last month. That was due to a left elbow strain.
General manager John Mozeliak confirmed afterward that Wong was fine and would play on Thursday. If all goes well in that game, the second baseman is likely to rejoin the Cardinals in St. Louis on Friday.
Schedule change
Sensing that his club could benefit from a change, manager Mike Matheny chose to cancel on-field batting practice and push back the players' arrival time to the ballpark on Wednesday. Players had the option of arriving at Great American Ball Park as close as two hours before the scheduled first pitch.
"I could tell yesterday everything was wearing on everybody," said Matheny, whose club entered play having lost five straight and 15 of its last 20. "To continue to do the exact same thing is a mistake at this point. Anything a little bit different than the norm is refreshing. The good results are our aim every single night. The way we're going about it currently, we need to do something different, and sometimes just a little bit different pregame routine can help."
Worth noting
• Right-hander Miguel Socolovich, who was sent to Triple-A Memphis after clearing waivers last week, had a blown save and loss on Wednesday after allowing two runs on three hits, including a homer, in one inning of relief.
• ESPN has picked up the Cardinals' July 2 home game against the Nationals for its Sunday Night broadcast. It becomes the seventh nationally broadcast Sunday night game on the team's 2017 schedule.