Cards thinking long term with possible trades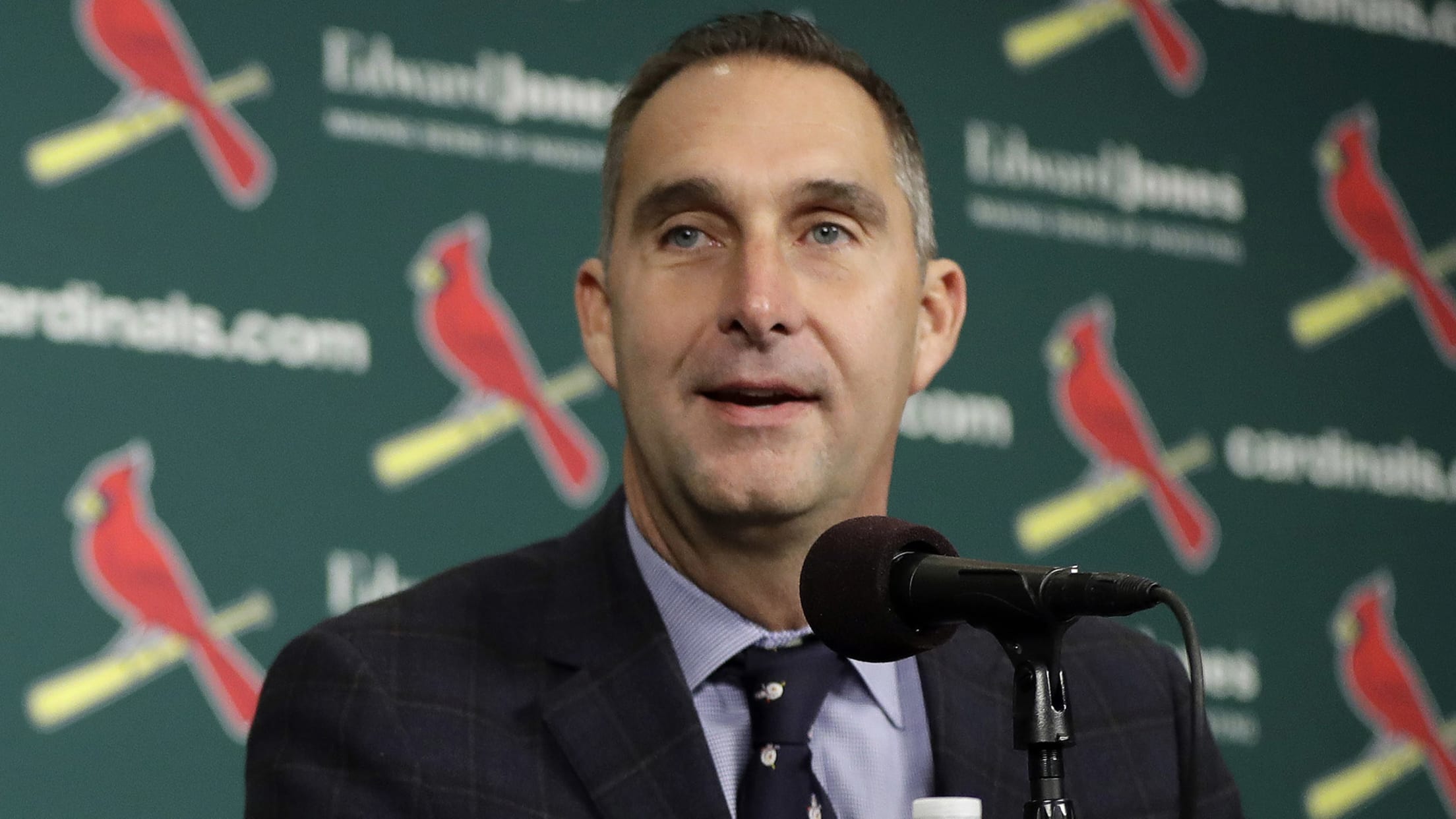 In this Friday, Dec. 9, 2016, photo, St. Louis Cardinals general manager John Mozeliak speaks during an introductory news conference announcing free agent center fielder Dexter Fowler has signed with the Cardinals in St. Louis. Mozeliak wants to avoid any notion that the Chicago Cubs winning the World Series is the driving force behind the St. Louis push to improve after missing the postseason for the first time since 2010. (AP Photo/Jeff Roberson) (Jeff Roberson/AP)
ST. LOUIS -- Given the Cardinals' place in the standings and the absence of one single roster deficiency, president of baseball operations John Mozeliak acknowledged that he will likely look at trade possibilities between now and the July 31 non-waiver Trade Deadline through a long-term prism.Sitting four games back of
ST. LOUIS -- Given the Cardinals' place in the standings and the absence of one single roster deficiency, president of baseball operations John Mozeliak acknowledged that he will likely look at trade possibilities between now and the July 31 non-waiver Trade Deadline through a long-term prism.
Sitting four games back of a Wild Card spot and 6 1/2 behind the Brewers in the National League Central before Friday's game against the Reds, the Cardinals are unlikely to make a deal that would provide merely a short-term boost. The scope is wider, Mozeliak said, even if the needs haven't yet been clearly defined.
"Ultimately we want to do what's best for this organization, not just in the sense of a Band-Aid [but] long term," Mozeliak said. "If we thought there was sort of that one magic bullet to change the trajectory of the season, we might chase that. If not, I think looking at it in a broad sense might make the most sense. The ebb and flow of the season, the ebb and flow of the next few weeks always [dictates] the types of deals you make."
The team's schedule could prompt a change in the course of conversation, of course, as the Cardinals will open the second half with five games against the Cubs, who sit in second place in the National League Central. In total, the Cubs and Cardinals will play eight times before the Trade Deadline. How the Cardinals do in those head-to-head matchups could shake the standings.
Mozeliak also noted how improving health may drive some decisions. While he specifically noted the possibility of seeking relief help on the open market, Mozeliak wants to first see the impact Luke Gregerson and Tyler Lyons could have in the 'pen. Both were activated from the disabled list on Friday.
"There have been some years where you know you just have to go out and get bullpen depth, or you know if you can find something for your club, it just speaks to it," Mozeliak said. "This year, we feel we have good players, but it just hasn't all come together. Is there a baseball trade that makes sense? Maybe doing a right-handed bat for a left-handed bat? We're not trying to rule anything out between now and the 31st because if there was something that we felt could help move the needle with this club, we should be open-minded about that."
Weaver gets a break
In order to activate Gregerson and Lyons from the disabled list on Friday, the Cardinals optioned right-handers John Brebbia and Luke Weaver to Triple-A Memphis.
Sending out Weaver wasn't so much a reflection of recent performance as it was strategic. Weaver wasn't scheduled to start in this weekend's series, and the Cardinals still have the flexibility to bring him back for a start next weekend in Chicago. The Cards will need five starters in the first four days after the All-Star break due to a scheduled doubleheader on July 21.
Until then, Weaver will report to Memphis, where he is scheduled to throw about 50 pitches in a start early next week.
The additions of Gregerson and Lyons, along with the Cardinals shifting John Gant to the bullpen to close the first half, will give manager Mike Matheny nine relievers for this series against the Reds.
Gregerson last pitched on May 15, after which he was sidelined by a right shoulder impingement. He also required right knee surgery while on the DL, which further delayed his return. Gregerson made five appearances as part of a Minor League rehab assignment with Memphis and Double-A Springfield, allowing one unearned run on three hits and striking out five.
Lyons has been on the DL twice this season, most recently with a left elbow strain. He hasn't been nearly as effective as the Cards hoped against left-handed batters (.880 OPS), and he has posted an overall ERA of 5.93. Lyons made three scoreless appearances during his rehab stints with Memphis and Springfield.
Medical report
• Cardinals starter Michael Wacha underwent another ultrasound this week to reexamine the left oblique strain he sustained on June 20. Mozeliak said the club was "encouraged about his healing," but Wacha has still not received clearance to begin a throwing program. Because the Cardinals anticipate that Wacha will need about three weeks of throwing to build up to a Minor League rehab stint, he's unlikely to be back in the Cardinals' rotation before mid-August.
• Adam Wainwright (right elbow inflammation) and Dominic Leone (right upper arm nerve irritation) have begun throwing programs, but both remain several weeks away from beginning a rehab assignment.