Correa likely to start rehab Thursday
Injured Altuve rejoins Astros; Tucker sits again vs. left-hander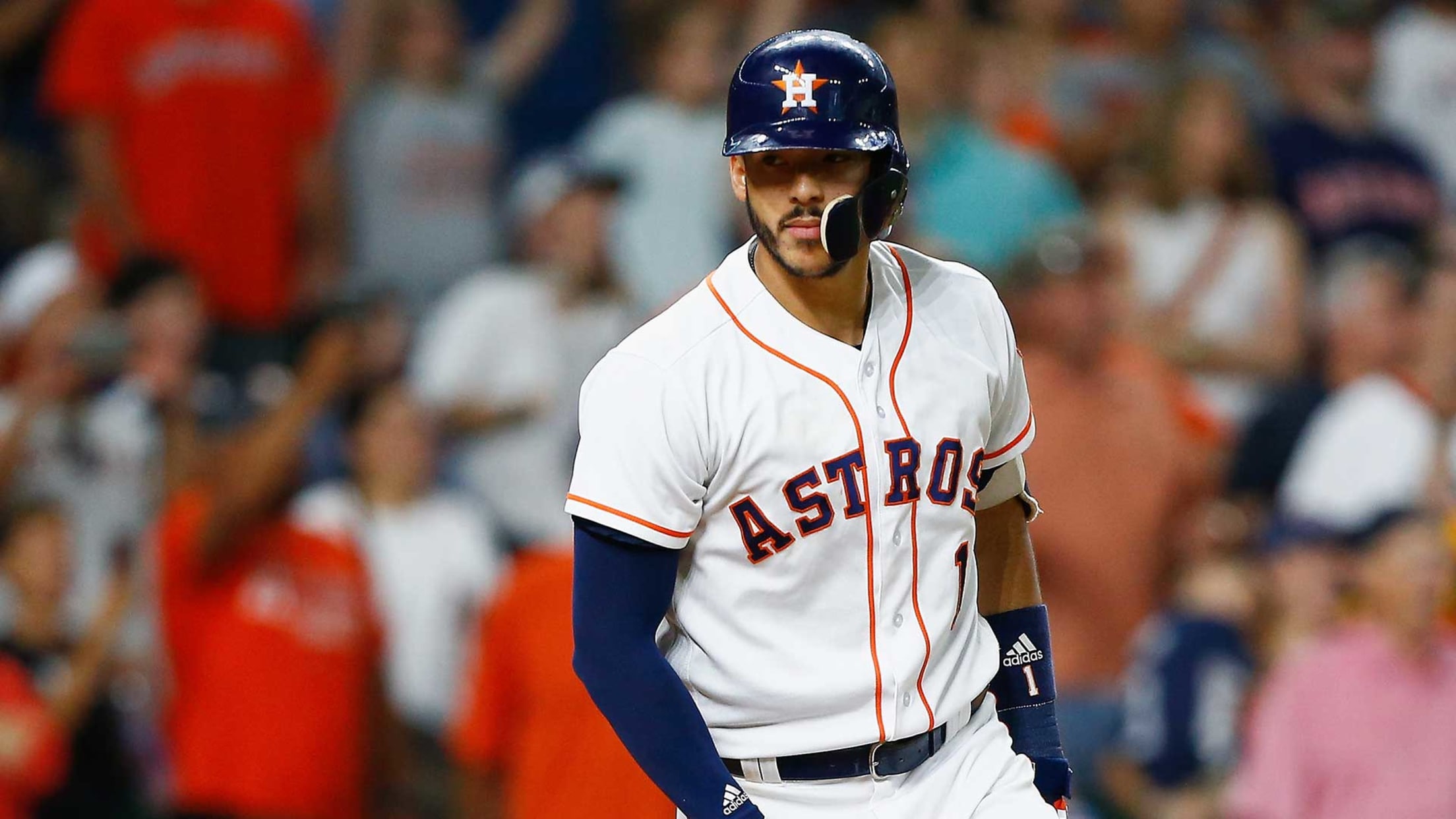 SEATTLE -- Astros shortstop Carlos Correa's long-awaited Minor League rehab assignment could begin as early as Thursday for Double-A Corpus Christi, which will be playing at Frisco, manager AJ Hinch said Tuesday.Correa, who's been out since June 25 with a sore lower back, went through a full workout on the
SEATTLE -- Astros shortstop Carlos Correa's long-awaited Minor League rehab assignment could begin as early as Thursday for Double-A Corpus Christi, which will be playing at Frisco, manager AJ Hinch said Tuesday.
Correa, who's been out since June 25 with a sore lower back, went through a full workout on the field at Safeco Field on Tuesday, taking batting practice and fielding grounders. Earlier, while the ballpark was empty, he ran the bases and appears to be ready to return to game action.
Hinch said he's not sure how long Correa will have to be on his rehab assignment.
"I literally want to get him in a game first and see how he feels, how his timing is, how his body responds the next day," he said. "It is really too early to guess at this point. Getting him to a rehab assignment after a couple of work days in Seattle is as much as I need right now."
Altuve rejoins team
All-Star second baseman Jose Altuve, who left Wednesday's game in Colorado and was placed on the disabled list a couple of days later with a sore right knee, rejoined the team Tuesday in Seattle. He didn't travel with the club Sunday night when it left Houston for Seattle to tend to personal issues at home.
Hinch said Altuve isn't doing any activity on the field and is only getting treatment on his knee behind the scenes. He's eligible to come of the DL on Sunday, but that seems unlikely at this point. The Astros open a three-game series Friday at Dodger Stadium in a World Series rematch.
"Hopefully, when we get to L.A., we can do more extensive testing to see if there's a timeline we can put in place," Hinch said. "I know he's feeling better. What does that mean? I don't know until he gets a little bit more active on the baseball side. We are encouraged. We think he's right where he needs to be, but we'll know more when we get to the next city."
Tucker out of lineup vs. left-hander
Rookie outfielder Kyle Tucker, the No. 8-ranked prospect in baseball according to MLB Pipeline, continues to have his playing time diminished. Tucker, a left-handed bat, wasn't in the starting lineup against Mariners right-hander Mike Leake on Tuesday.
Tucker, the youngest position player in the AL, started nine of the Astros' first 11 games in left field upon making his debut July 7, but has started only once in the last five games. Tucker's struggles at the plate (7-for-42 entering Tuesday) and the good at-bats from Tony Kemp have cut into his playing time.
"His adjustment period to the big leagues has collided with some other guys getting some opportunities, namely Tony Kemp," Hinch said. "Obviously, we're trying to put the guys out there that we feel are the best matchups. Tuck's been on the bench and hasn't gotten to play a ton.
"It's always tough with a young player to ask him to come up and be on the bench. I'm not sure how I'm going to do it moving forward, but my stance on a lot of it is we're trying to put in as many productive players in as we can. Tuck can be very productive at this level as he adjusts, but Tony Kemp is playing very well and I feel he's the best option right now."