Correa makes some big strides in his rehab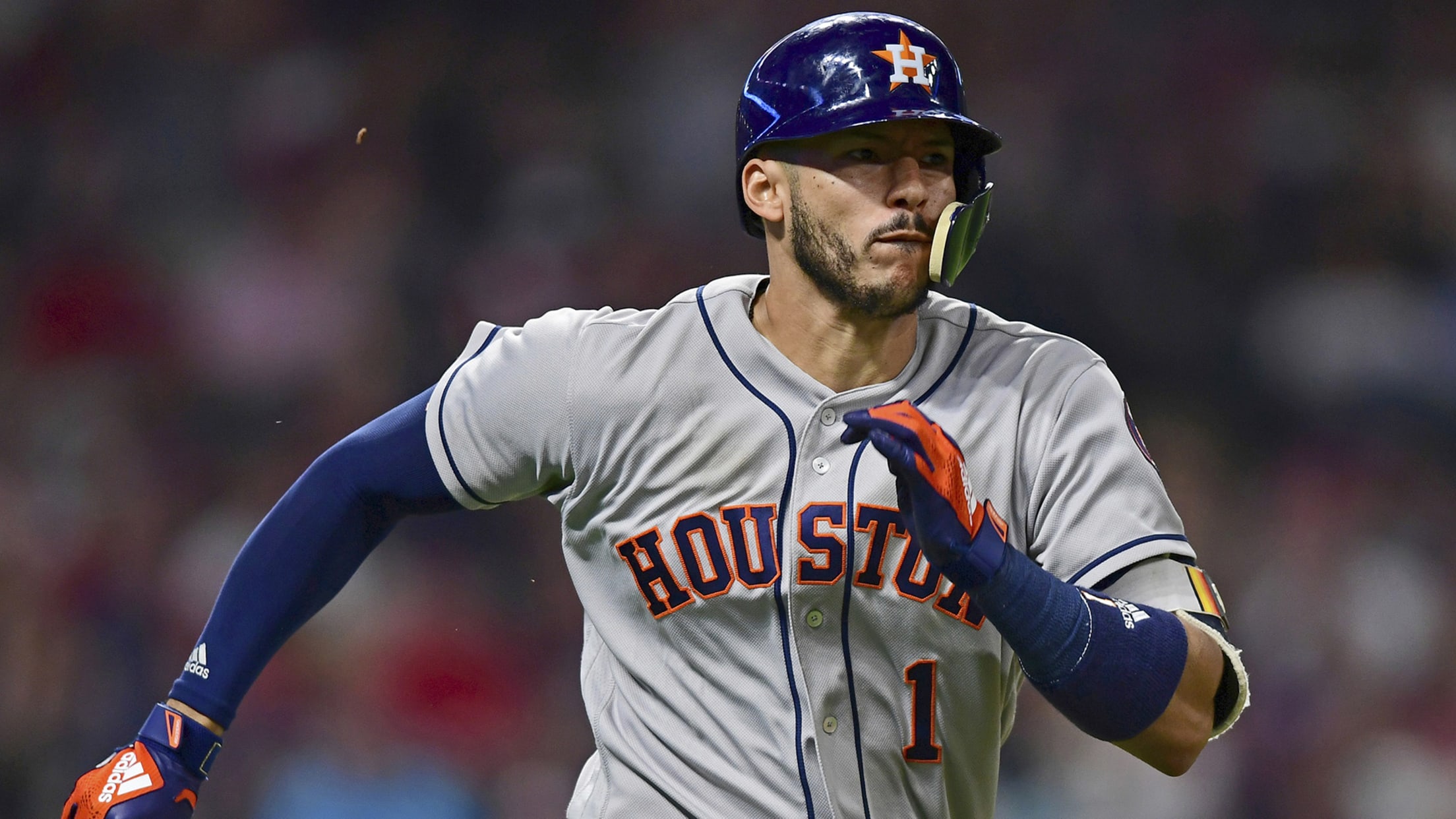 Houston Astros' Carlos Correa hits a RBI-double off Cleveland Indians relief pitcher Oliver Drake in the ninth inning of a baseball game, Friday, May 25, 2018, in Cleveland. The Astros won 11-2. (AP Photo/David Dermer) (David Dermer/AP)
DENVER -- Astros shortstop Carlos Correa continues to progress from the back soreness that has kept him out nearly a month. Manager AJ Hinch said Correa played catch at Minute Maid Park on Tuesday with injured teammate Brian McCann, did some running and hit off a tee Monday, which was
DENVER -- Astros shortstop Carlos Correa continues to progress from the back soreness that has kept him out nearly a month. Manager AJ Hinch said Correa played catch at Minute Maid Park on Tuesday with injured teammate Brian McCann, did some running and hit off a tee Monday, which was the most significant development.
Hinch said he got a video of Correa hitting off a tee.
"He's asking to take ground balls, which is a good sign," Hinch said. "All signs are moving forward. Whatever progress means to you, it's another step forward."
When asked what Correa texted Hinch about swinging a bat, he said, "He told me he felt sexy. That was the exact text."
Meanwhile, Hinch said McCann is still early in his recovery from knee surgery he underwent a couple of weeks ago. He's doing more cardio work in the weight room and making progress, as well. He likely won't be back until September.
Correa, who hasn't played since June 25, was batting .268 with 13 home runs and 49 RBIs over his first 73 games.
Trying to get Tucker more playing time
Hinch said outfielder Tony Kemp is playing his way into the lineup more and more with how well he's swinging the bat and getting on base. Any start Kemp gets in left field, of course, comes at the expense of top prospect Kyle Tucker, who was out of the lineup Tuesday.
The Astros have high hopes for Tucker, who is 5-for-36 to begin his big league career. Tucker will get his fair share of playing time, Hinch said.
"It's tough. This is a very difficult team to get at-bats for," he said. "We're trying to win every day. I think Kyle Tucker is trying to acclimate himself to the big leagues first. There aren't a lot of free at-bats. I'm trying to do my best to break him in and get him some success.
"He's going to play [Wednesday] against Jon Gray. ... He's got to be ready to play and work. He's working on some things in the cage to get a better posture at the plate, to get a little bit better swing mechanics to get himself more hits."
No designated hitter
The Astros will be without the designated hitter -- that means Evan Gattis and his 63 RBIs -- in the lineup for the two games in Colorado because it's a National League ballpark. The Astros will play at AT&T Park Aug. 6-7 in their final road interleague games of the season.
As far as Hinch is concerned, the designated hitter should be implemented everywhere.
"I like balanced rules," he said. "I understand the traditionalist and the purist and the idea everybody gets to hit. I wish we had one rule. I do feel we were at a disadvantage as an American League team when we come into a National League ballpark when our [pitchers] are asked to hit when they're maybe only asked to hit a couple of times a year. … One set of rules seems a little more fair than the floating rule of the DH."
Bregman honored
Astros third baseman Alex Bregman was named the team's winner of the Heart and Hustle Award, which is presented by the Major League Baseball Players Alumni Association to the player on each team who demonstrates a passion for the game of baseball and best embodies the values, spirit and traditions of the game.
"Alex is everything this award represents," Hinch said. "His passion for the game is infectious. His desire to be great is elite, and his style of play is everything that baseball needs out of players. I enjoy watching Alex play every day."
The final winner will be announced on Nov. 8 at the 19th Annual Legends for Youth Dinner in New York City. This event is the primary fundraiser for the series of free Legends for Youth Baseball Clinics. These clinics impact more than 18,000 children each year at 185 clinics, allowing them the unique opportunity to interact with and learn from players who have left a lasting impact on the game of baseball.