Correa (neck) not in Opening Day lineup
Shortstop hopes to return in next day or two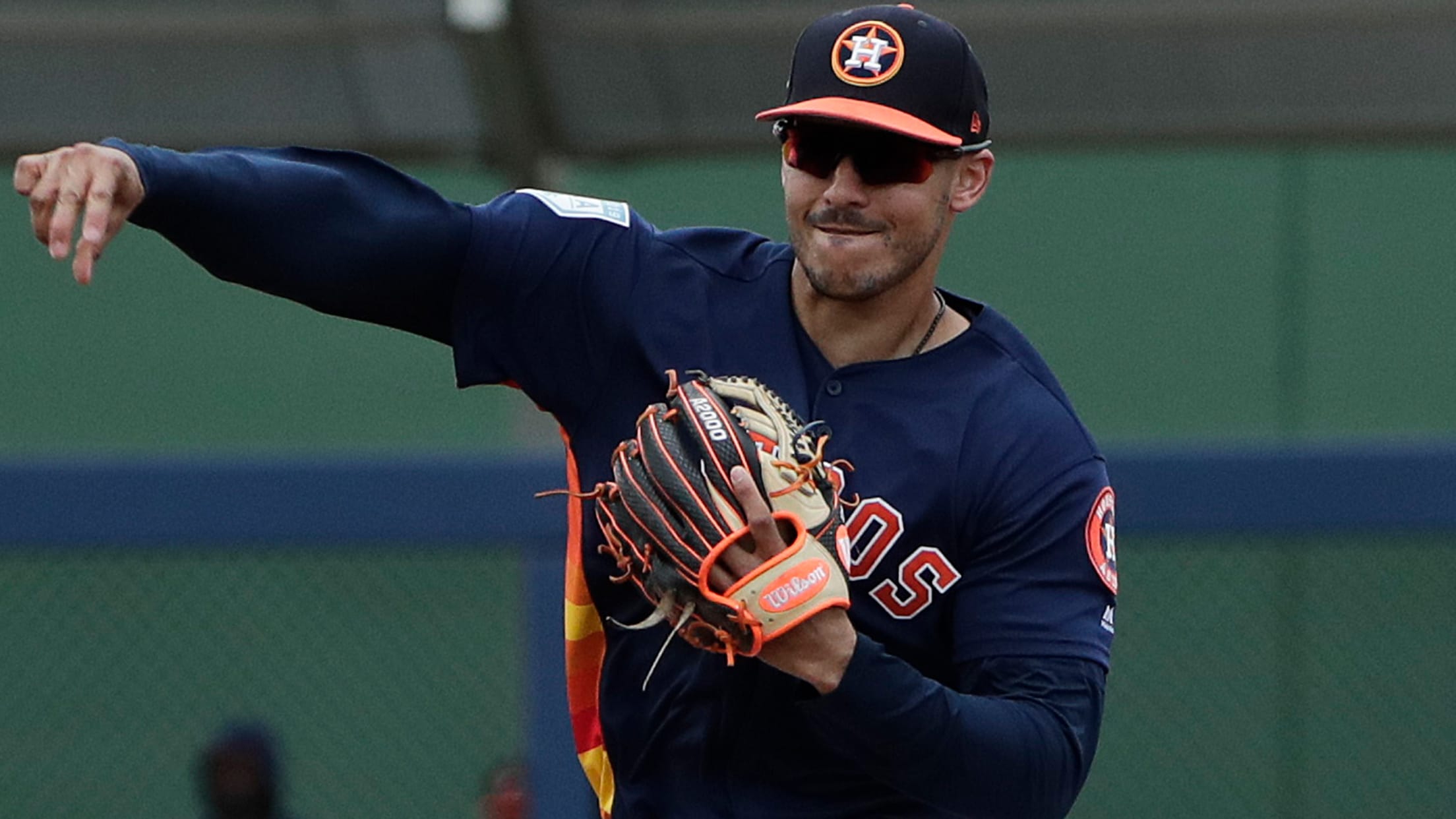 HOUSTON -- For the first time since 2015, shortstop Carlos Correa was not in the Opening Day lineup for the Astros. The All-Star remains day to day with a neck strain he suffered in a Grapefruit League game Friday against the Mets. Correa came to Tropicana Field early Thursday and
HOUSTON -- For the first time since 2015, shortstop Carlos Correa was not in the Opening Day lineup for the Astros. The All-Star remains day to day with a neck strain he suffered in a Grapefruit League game Friday against the Mets.
Correa came to Tropicana Field early Thursday and took a couple of swings and said his neck was still bothering him. Correa said he hopes to be able to play in the next day or two against the Rays.
Carlos Correa said his neck still doesn't feel right but he thinks he's close pic.twitter.com/uLaoJJ6vpv

— Brian McTaggart (@brianmctaggart) March 28, 2019
"I'm getting better, slowly better," he said. "It's day-to-day type of thing. I'm trying to feel great to where I can just swing and let it go. It happened -- and obviously, bad timing -- in one of the last games in Spring Training against the Mets. I went to tag [Michael] Conforto and tripped with him and fell on my shoulder. Thank God, [the injury] was not my shoulder; it was just my neck. I just recovered slowly."
Correa, 24, was hampered in the second half of last season with a back strain but had a terrific spring at the plate and on defense and appeared to be 100 percent healthy. He missed nearly two months in 2017 with a torn thumb ligament.
"My back is 100 percent," he said. "I feel stronger and more flexible than I did in 2017. I felt like my Spring Training was great. I got my timing down, I got my rhythm down. My swing felt right again. I was able to swing hard and hit some balls hard, so I'm very confident about that, very positive about that. Let this neck heal real quick, and we're back on the field.
With Correa out of the lineup, Aledmys Diaz, acquired in a November trade with the Blue Jays, started at shortstop. Astros manager AJ Hinch said team doctors told him Correa will heal quickly as long as the injury doesn't get worse. Hinch said he won't play him until he's confident Correa's not going to have any issues.
"I don't love not writing his name in the lineup, but we're going to be day to day like we always say about these things," Hinch said. "We don't think it's an issue that's going to take a long time, but it's going to take at least another day. He came to the field, did a little bit of a light workout and got in the cage and still felt soreness. It is what it is."
Worth noting
The Astros placed two players on the 10-day injured list Thursday: right-handed pitchers Lance McCullers Jr. (Tommy John surgery) and Joe Smith (left Achilles' tendon surgery).