Correa's Opening Day availability in doubt
Astros shortstop scratched for 2nd straight spring game with stiff neck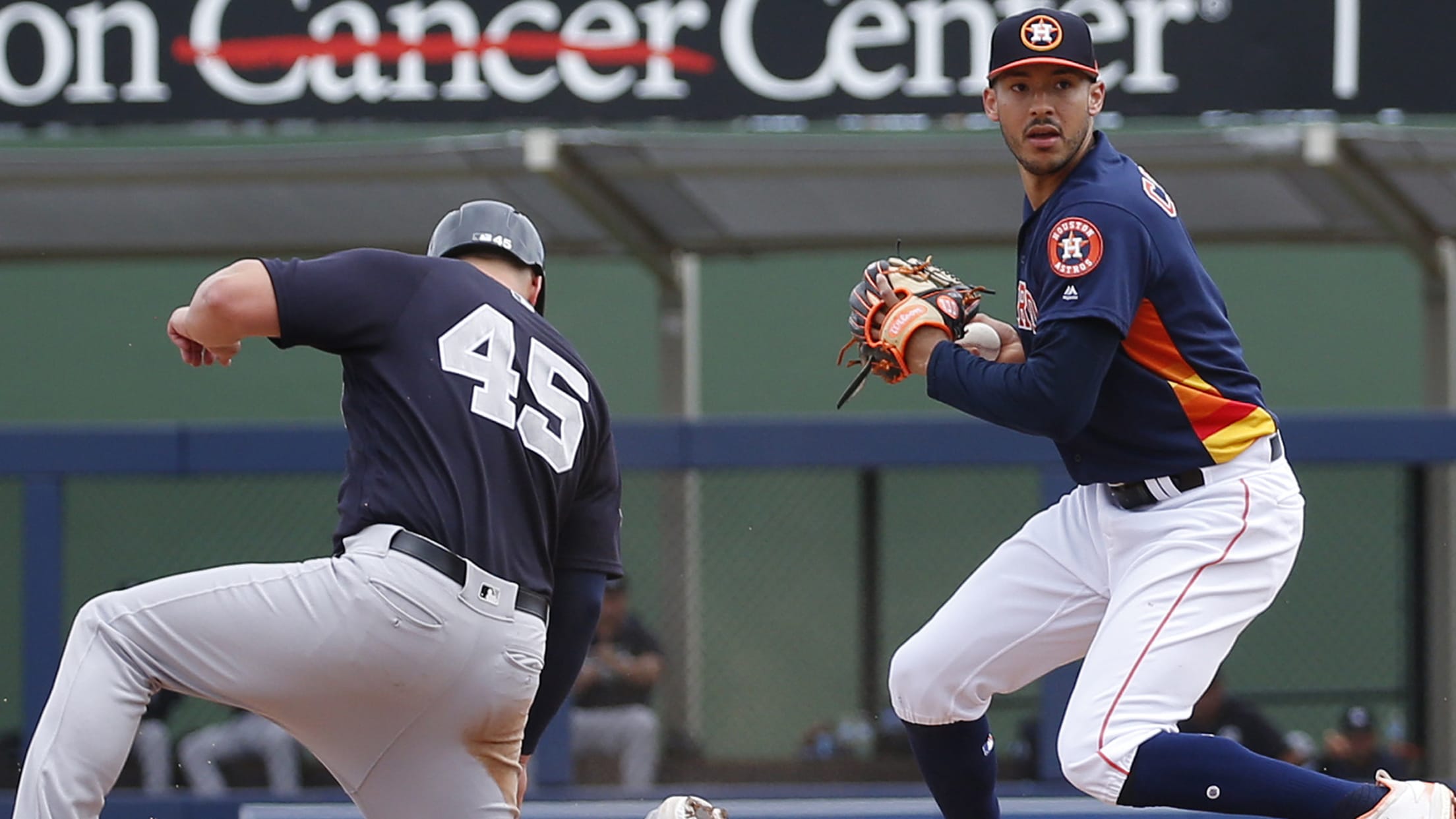 HOUSTON -- One thing every team hopes for is an injury-free getaway from Spring Training. The Astros didn't get one. Shortstop Carlos Correa's availability for Opening Day suddenly is in doubt after he was scratched from a second straight spring game on Tuesday because of stiffness in his neck. "We
HOUSTON -- One thing every team hopes for is an injury-free getaway from Spring Training. The Astros didn't get one. Shortstop Carlos Correa's availability for Opening Day suddenly is in doubt after he was scratched from a second straight spring game on Tuesday because of stiffness in his neck.
"We don't think it's a longterm serious issue," Astros manager AJ Hinch said, "but I don't love the fact that we've had to scratch him a couple of days and he's heading into the season having not played for a few days. But it's the cards we are dealt. If somebody else has to play, then we'll still be good."
Correa hasn't played since Friday when he left a game against the Mets in the fifth inning. He was unable to play either of the final two spring games, against the Pirates on Monday and Tuesday at Minute Maid Park. The Astros are off on Wednesday before opening the 2019 season against the Rays at 3 p.m. CT Thursday at Tropicana Field.
"There was a rundown where he had a tag and was a little uncomfortable after that," Hinch said, explaining when the injury occurred on Friday. "He's taking ground balls. He's done a lot. He's hit a little bit in the cage, but I'm not going to play him until he's ready."
Until the last few days, Correa appeared to be fully recovered from a 2018 season in which he missed 52 regular-season games, most of them because of a sore back. His .239 batting average was a 76-point drop from 2017. He hit .333 this spring and had six extra-base hits in 39 at-bats.
In Tuesday's 5-1 loss to the Pirates, Alex Bregman shifted from third to short, with Tyler White starting at third. New utility player Aledmys Diaz is another option to play short, having made 258 of his 291 career starts there.
"You always worry about it, not just Carlos, but anybody at the very end of camp," Hinch said. "Can you get 'em to peak performance at the very end? Can you get 'em healthy? These things are going to happen throughout the year. It doesn't surprise me that it can happen at any given time. We can't dwell on it. We'll see if he can play on Thursday."