Fulmer (hamstring) lands on IL; Covey recalled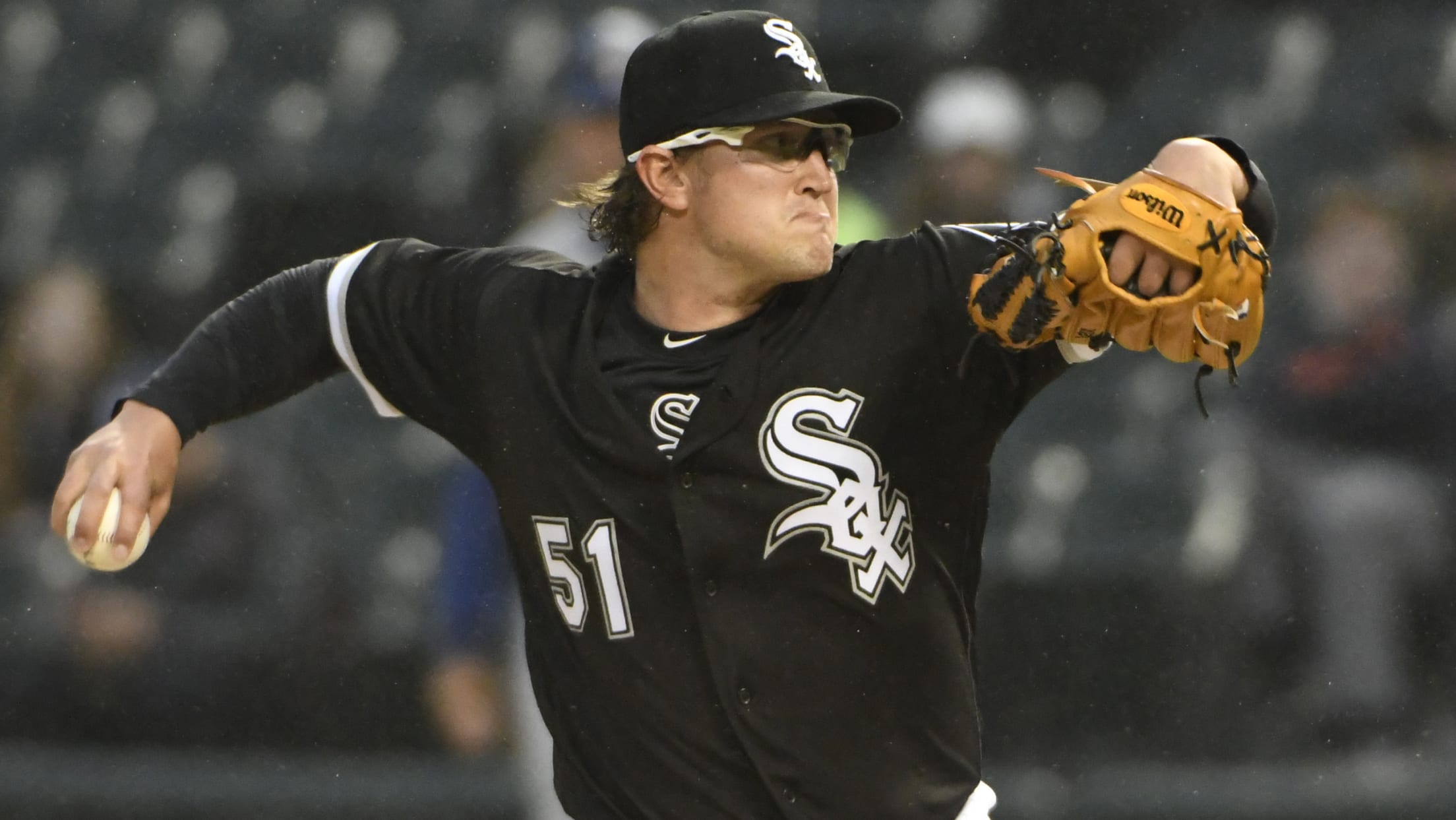 PHILADELPHIA -- The White Sox placed right-hander Carson Fulmer on the 10-day injured list with a strained right hamstring prior to Saturday's game against the Phillies. The club recalled right-hander Dylan Covey from Triple-A Charlotte in a corresponding move. Fulmer injured his hamstring while attempting to beat out a hard-hit
PHILADELPHIA -- The White Sox placed right-hander Carson Fulmer on the 10-day injured list with a strained right hamstring prior to Saturday's game against the Phillies. The club recalled right-hander Dylan Covey from Triple-A Charlotte in a corresponding move.
Fulmer injured his hamstring while attempting to beat out a hard-hit grounder in the 14th inning of Friday's 4-3 win in 15 at Citizens Bank Park. Batting for the first time in his professional career, Fulmer ripped a 102.8-mph liner down the third-base line, but Phillies third baseman Maikel Franco made a diving stop before getting to his feet and throwing to first for the out.
Fulmer said he felt his hamstring "bite" as he started to decelerate after touching the first-base bag. Though he felt sore Saturday morning, Fulmer called the injured list stint a "precautionary" move.
"It's just a strained hammy, so he's getting treatment," manager Rick Renteria said. "Obviously it's a minimum of 10 days right now, so we'll see how he continues to progress with the treatments, and we'll know more in 48-72 hours."
Covey, who was optioned to Charlotte following a rocky start in Sunday's 11-1 loss to the Twins, provides a fresh arm for a taxed bullpen. The White Sox used all eight of their relievers on Friday and handed the ball to Ross Detwiler to start on Saturday. Detwiler had come out of the bullpen for his past three appearances and has not pitched more than 3 1/3 innings in any of his past five. He has thrown more than 75 pitches only once since joining the big league staff on June 28 -- and that was a 91-pitch effort on July 3.
Covey pitched two shutout innings in Saturday's 3-2 loss to the Phillies.
"We have the mentality, right now, of all hands on deck," Renteria said of his bullpen availability for Saturday. "We tried to split it up a little bit last night. Hopefully, it's a little shorter stint for each of those guys, but it is what it is."
Fulmer's injury overshadowed the fact that it took a sensational play by Franco to prevent the White Sox reliever from delivering a potential game-winning hit in his first at-bat since his days at All Saints Academy in Winter Haven, Fla., in 2012.
"Yeah, unbelievable," Fulmer said. "I need to talk to [Franco] at some point about that. But that's how the game was going."
Nova narrowly misses out on payday
Ivan Nova turned in his third consecutive solid outing on the mound Friday, but it was his fifth-inning at-bat that earned him the attention -- and nearly some of the money -- of his teammates.
On the way to the ballpark, Nova was confident enough in his hitting abilities to convince some White Sox players to put up a "good amount" of money if he came through with a hit. It seemed like a safe bet for his teammates -- after all, Nova entered the night with an .041 (6-for-146) career average and was 2-for-106 (.019) since 2016.
Yet after striking out in his first at-bat, Nova ripped a liner toward center field in his second, only to have Phillies second baseman Cesar Hernandez track it down with a leaping grab. It had a 62 percent hit probability, according to Statcast.
"That guy jumped at the last second, and everybody was laughing," Nova said. "I was like, 'You guys should give me half of the prize because I did my best.'"
It may not have earned him any money, but Nova's near-hit provided a much-needed lift to a team that had lost eight of its past nine games prior to Friday's thrilling victory.
"We're trying to find a way to relax and enjoy the game," Nova said. "I think for them, watching a pitcher hitting is a lot of fun. They were laughing at me, and I looked in [the dugout], and I was like, 'Let me concentrate, I've got to hit.' It's fun."
News and notes
• Kelvin Herrera (right oblique strain) is expected to return during the White Sox four-game series in Detroit that begins on Monday. The right-hander made his first rehab start with Triple-A Charlotte on Friday, allowing four runs on five hits, including two homers.
"I know the numbers don't show well," Renteria said, "but we just needed to make sure he got out there and was healthy. For all indications, he is."
• Jon Jay started in right field and hit cleanup Saturday. He was the lone position player not used in Friday's game. Renteria said the outfielder was unavailable after taking medication for an issue he has had in his hip area.