Sadler makes long-awaited return to Majors
Pirates select righty's contract from Triple-A, option Moroff, designate Smoker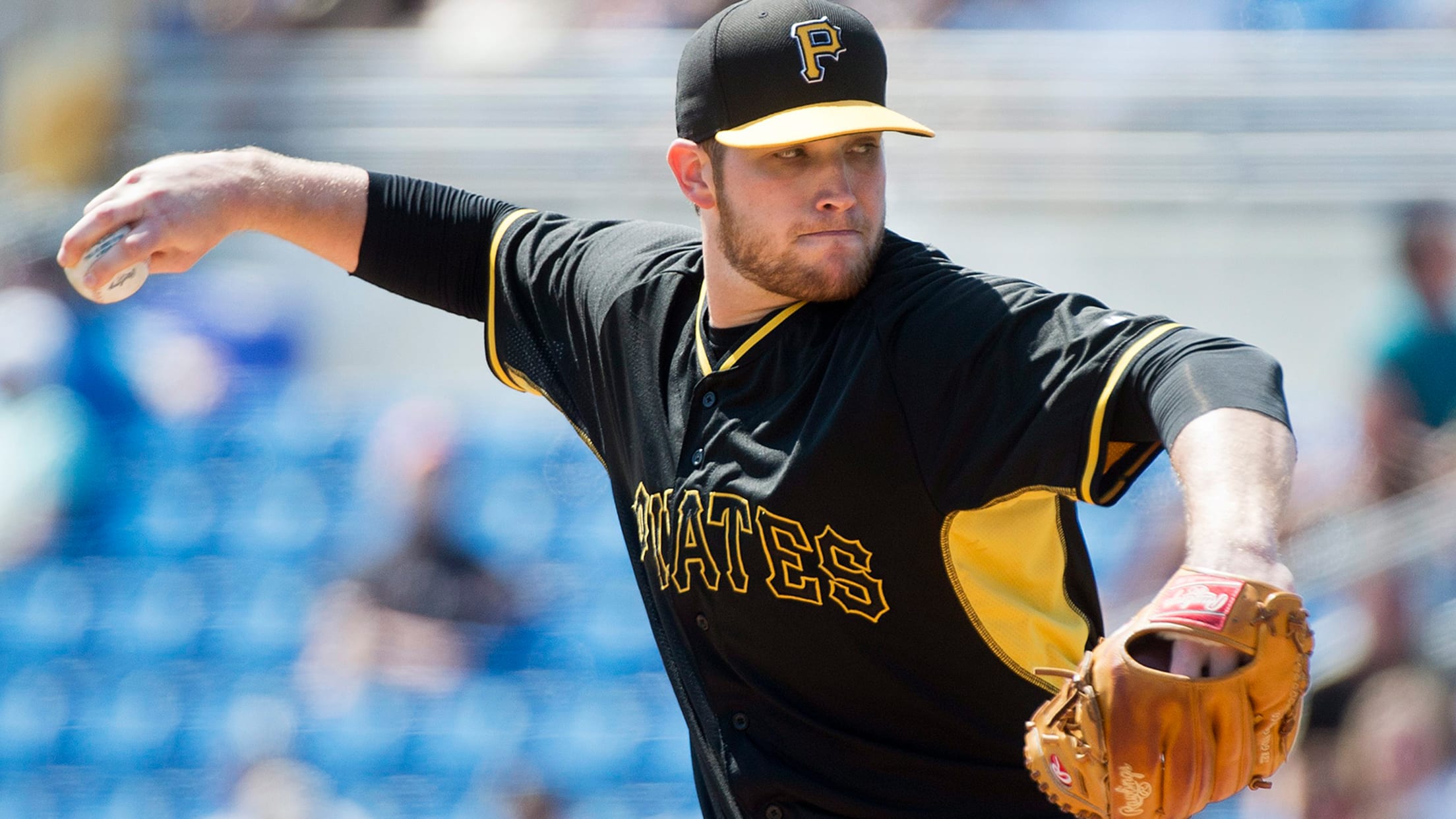 CLEVELAND -- Casey Sadler worked his way back from Tommy John surgery, moved in and out of the bullpen and stayed ready during the three years and three months since he last pitched in a big league game for the Pirates.Sadler finally returned to the Majors on Monday, when the
CLEVELAND -- Casey Sadler worked his way back from Tommy John surgery, moved in and out of the bullpen and stayed ready during the three years and three months since he last pitched in a big league game for the Pirates.
Sadler finally returned to the Majors on Monday, when the Pirates selected his contract and called him up from Triple-A Indianapolis to join their bullpen at Progressive Field. Pittsburgh optioned infielder Max Moroff to Triple-A and designated left-hander Josh Smoker for assignment to make room for Sadler on the 40-man roster.
Sadler, 28, was 5-5 with a 3.46 ERA in 67 2/3 innings over 24 appearances (seven starts) for Indianapolis this season. His last appearance for the Pirates came on April 12, 2015, when he filled in for Francisco Liriano and beat the Brewers at Miller Park. He had Tommy John surgery that November and missed all of 2016.
Sadler made seven big league appearances in 2014-15, establishing himself as one of Pittsburgh's top rotation-depth options. He returned to Triple-A in '17 as a swingman, doing whatever the club asked of him. As a non-roster invitee to the Pirates' big league Spring Training, Sadler reflected on his decision to stay with Pittsburgh through it all on a series of Minor League deals.
"I just felt like my time wasn't done here. I felt like there was more I needed to accomplish here," Sadler said in March. "I felt like there was a lot that I could give this club. Once you're here for so long, it's kind of like your family. For them to invest in me during that time of rehab and say, 'Hey, we still believe in you.' For them to come back around and say, 'We want you back. We feel like you have more to give here.' I was all for it. I love it here.
"I'm just very thankful that they gave me the opportunity, and that they still believe in what I believe, that I can pitch at that level and be super-successful."
With second baseman Josh Harrison (left hamstring discomfort) returning to the Pirates' lineup on Monday and superutility man Sean Rodriguez back from the disabled list, the Bucs were able to send Moroff to Triple-A in order to carry eight relievers. Moroff has slashed .186/.284/.356 with three homers in 26 games for Pittsburgh this season.
Harrison wound up sitting out three games and avoided a disabled list stint that would have sidelined him for the entirety of this series against the American League Central-leading Indians. After working out all weekend at Great American Ball Park, Harrison started at second base and batted eighth on Monday night.
Smoker, acquired from the Mets in January, made the Pirates' Opening Day roster but struggled in two stints with Pittsburgh. The left-hander allowed seven runs on 11 hits and five walks in 5 2/3 innings over seven appearances. He owned a 2.83 ERA and 1.26 WHIP with 39 strikeouts in 35 innings for Indianapolis this season.
Injury updates
Catcher Francisco Cervelli, out with post-concussive symptoms, worked out on the field Monday afternoon. Cervelli threw to bases, blocked pitches and caught foul balls from behind the plate.
Cervelli also worked out at first base in Cincinnati over the weekend, but Pirates general manager Neal Huntington made it clear Sunday on his weekly radio show that catching remains the goal for Cervelli.
"He does still want to catch," Huntington said Sunday on KDKA-FM. "There may be some times where we're able to keep his bat in the lineup by playing him at first base, and keep Elias Diaz's bat in the lineup as well."
Huntington said Sunday that Jungho Kang, on the Minor League disabled list with a sprained left wrist, is feeling "pretty good" and working his way back to baseball activities after being shut down. Kang has not played for Triple-A Indianapolis in a month due to the injury, making it unlikely he will join the Pirates anytime soon.