Sadler reflects on emotional return to mound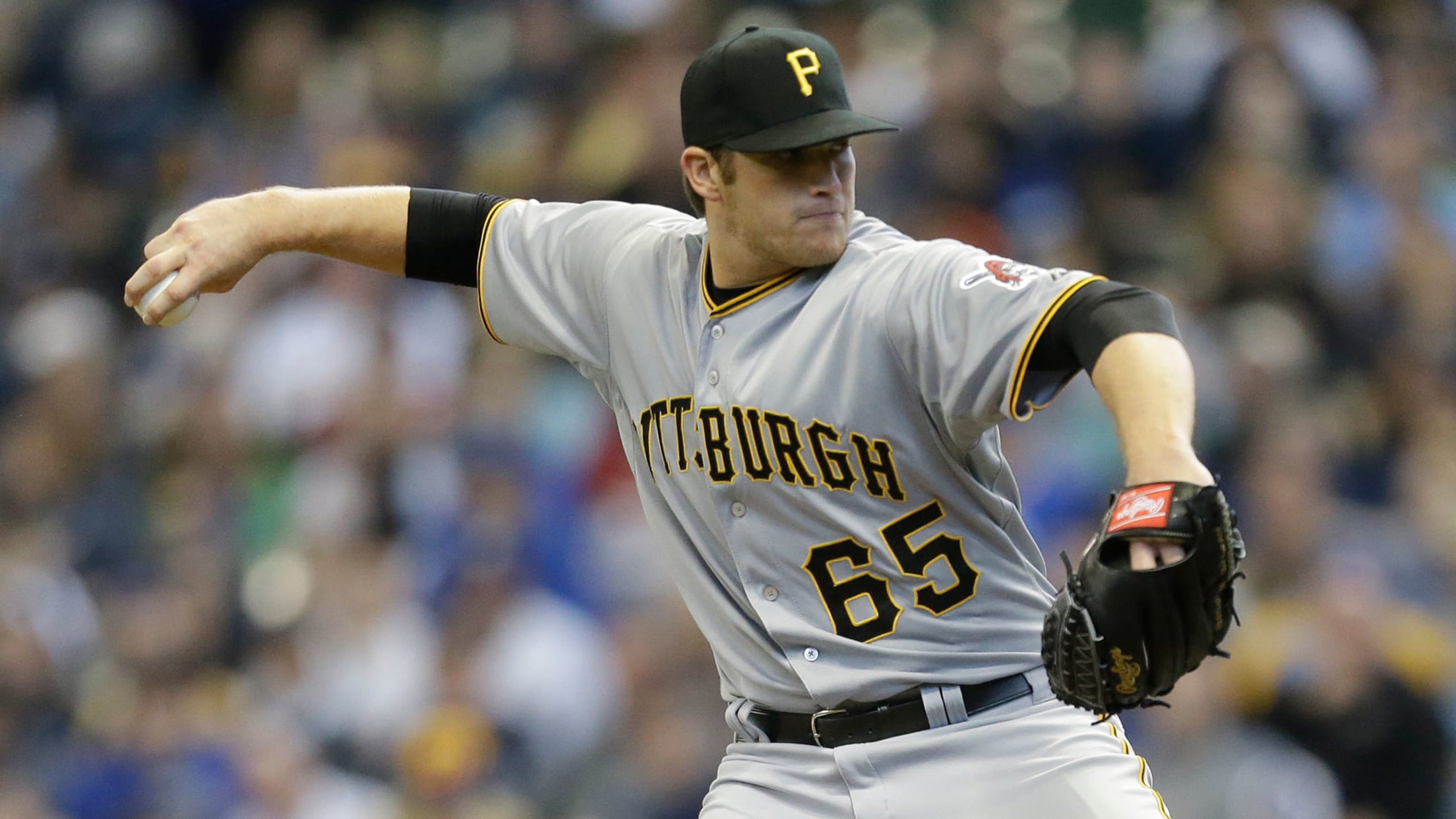 SAN FRANCISCO -- The emotions didn't hit Casey Sadler until late Thursday night, after most of his teammates had left the visitors clubhouse at AT&T Park. That was when Sadler, sitting at his locker after his first Major League appearance in 1,215 days, let his feelings out.Sadler pitched the ninth
SAN FRANCISCO -- The emotions didn't hit Casey Sadler until late Thursday night, after most of his teammates had left the visitors clubhouse at AT&T Park. That was when Sadler, sitting at his locker after his first Major League appearance in 1,215 days, let his feelings out.
Sadler pitched the ninth inning of the Pirates' 10-5 win over the Giants, giving up three hits as San Francisco scored three unearned runs. It was his first outing for Pittsburgh since April 12, 2015, when he made a spot start for Francisco Liriano at Miller Park. After that came Tommy John surgery, a long recovery process and an ascent back up the Minors to join Pittsburgh's bullpen.
Sadler was called up last month but didn't pitch. On Thursday night, his return became real.
"Getting back in the clubhouse and hanging out, going through the workday, is really cool and a lot of fun," Sadler said on Friday. "But being able to get on the mound and put every bit of work that you did into action is really kind of where it all comes together. Finally getting the opportunity to get out and pitch, that's when it kind of sunk in."
The Pirates are keeping Sadler in their bullpen as a long reliever. They made room for right-hander Clay Holmes, who was recalled to start on Friday, by optioning reliever Dovydas Neverauskas to Triple-A Indianapolis. Even after pitching on Thursday night, Sadler was available to pitch multiple innings on Friday night.
Sadler said he didn't feel nervous while warming up in the bullpen on Thursday. The significance of the night didn't hit him when he recorded the final out of the game, nor when he was going through his postgame arm exercises.
"I was just focused on what I needed to do," Sadler said. "I really tried to stay focused on what I needed to do. It didn't really hit me until after I was in here. … Before that, it was all about getting the job done."
When Sadler got back to his locker, he found messages from his mother; his wife, Marin; and Larry Broadway, the Pirates' senior director of Minor League operations. Broadway offered a message similar to the one that Sadler received last month, when he was called up, from assistant general manager Kyle Stark.
"That's one thing about the organization. The baseball part aside, they really do care about the individual person," Sadler said. "To get messages from those guys was really cool, because it shows they really do care. That's nice to have behind you."
Around the horn
• Gregory Polanco received a rare day off on Friday. Polanco started each of the Pirates' previous 23 games, batting .284/.343/.614 since his last off-day on July 12. Adam Frazier, who entered Friday's game batting .463 since he was recalled on July 25, got the start in right field and batted third against Giants left-hander Derek Holland.
• Right-hander Joe Musgrove, one of Pittsburgh's starters afforded additional rest by Holmes' start on Friday, admitted "the extra day's always nice." Musgrove will now start Sunday's series finale instead of Saturday, working on five days' rest after a strong outing at Coors Field.
"Some guys are really religious about their five-day routine, but I feel like I'm able to adapt pretty well when I've got an extra day or I'm a day short," Musgrove said.
• Top prospect Mitch Keller made his first quality start in Triple-A on Thursday, allowing one run on four hits while striking out six over six innings to earn the win. Recently acquired left-hander Player Page for Buddy Boshers made his organizational debut and pitched a scoreless seventh. Lefty Steven Brault struck out three over 1 1/3 innings, and right-hander Alex McRae recorded the final two outs of Indianapolis' 3-1 victory.