CC finds comfort with family, home and away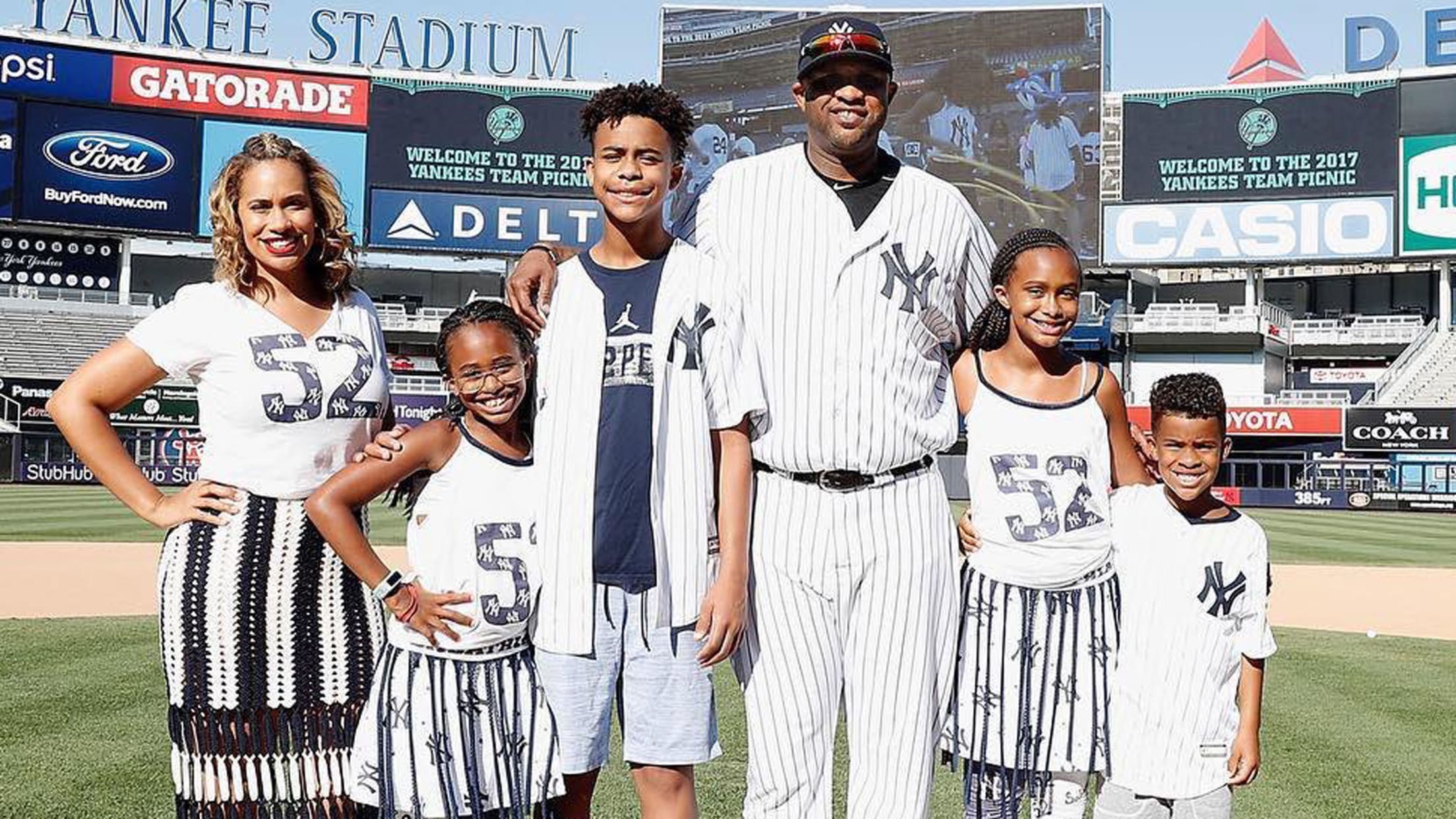 NEW YORK -- There is usually a point during each start when Carsten Sabathia will sense his emotions running hot, prompting the Yankees left-hander to step off the mound and eyeball a particular section of whatever stadium he's working in. More often than not this season, his family has been
NEW YORK -- There is usually a point during each start when Carsten Sabathia will sense his emotions running hot, prompting the Yankees left-hander to step off the mound and eyeball a particular section of whatever stadium he's working in. More often than not this season, his family has been there, offering encouragement and an opportunity to reset.
As Sabathia agreed to a one-year contract this past offseason, he wondered if it could spell his final season as a big league pitcher. If so, he did not want to exit with regrets. Having his wife, Amber, and their four children tag along for the majority of Sabathia's starts -- home and road -- instantly became part of the deal.
"It's fun. It's awesome to have them around," Sabathia said. "I can look in the stands and always see them. It's always been that way. It's a huge support system for me, and I'm happy that she's able to do that for us."
Sabathia said that his mother, Margie, used to be a mainstay in the stands, but his family's travel frequency has increased in recent years. Their children -- two sons, Carsten Charles III and Carter Charles, and two daughters, Jaden Arie and Cyia Cathleen -- have reached ages where they understand the game and want to be at the ballpark.
An incident last August, when Sabathia reinjured his troublesome right knee during a start in Toronto, added to the urgency. Amber recalls the emotion that she heard in her husband's voice that evening, as Sabathia sulked in a Rogers Centre hallway while preparing to fly back to New York for an MRI that would show no new structural damage.
"He called me and was like, 'I'm retiring. I'm done,'" Amber said. "I was like, 'No, you're not. You're going to get through this.' He's like, 'It's so deflating.' I told him, 'You're deflated because your knee hurts -- a knee that's been hurting you for the last eight years. You know how to take care of it. Wear your brace, get your shots.'
"He got off the phone, and he called his agent. He's like, 'She's right.' … That last [playoff] game when he finished, he came out of the clubhouse and hugged all of us. He said, 'That could've been the last pitch of my career.' But we're back again, and I'm like, 'Just in case, I definitely want to be here as much as I can.'"
It has been a bonus for Sabathia to introduce his family to a variety of experiences in the big league cities that the Yankees visit.
"Every city, we always find something to do," Sabathia said. "In Toronto, they went up to the CN Tower. Atlanta, we went to the aquarium. We're very active as a family. We went on an offseason trip to Africa; we always go on a big trip together. It's fun when it's all six of us together."
The kids circle each Tampa Bay series on the schedule, knowing there is a chance they can get to Universal Studios or Disney World. Mom and Dad prefer the food and shopping Chicago offers. And nothing against Houston, but after last year's playoff series, Sabathia's youngest son would prefer to keep that city off the travelogue.
"They're getting it now that their dad plays baseball and the competitiveness of it," Amber said. "Carter, our 7-year-old, is like, 'I never want to go to Houston again. Playoffs next year, we can't play Houston. We're not going back there.' They're really into it. I want them to get as much as they can so they remember it."
Having "home" on the road has helped Sabathia maintain the same mind-set he keeps in New York, which is to leave the outcome of that night's game on the Bronx side of the George Washington Bridge.
"I can't remember one time when he's walked in and been angry, or said he needs to cool down or think about what's going on," Amber said. "Home is home for him. It's a different dynamic. He's dad, he's my husband, we have three dogs, four kids. That's his job.
"When we're on the road and he has a bad game, he can come back to the hotel and be like, 'What are we watching?' He just texted me to buy tickets for 'The Incredibles' [on Broadway]. I think that is part of what has helped him to play the game for so long."
None of it would be possible, Sabathia said, without Amber.
"During the season, she's pretty much a single mother, taking the kids to school and stuff," Sabathia said. "For home games, the only time I get to see them is in the morning. She carries that load. It's a huge burden, but she's able to do it, and it's easier for me."
There may be more big league tours ahead. Sabathia said earlier this year that he might retire if the Yankees win the World Series, but he has since retreated from that statement.
"The other day, he's like, 'I might have three more years in me,'" Amber said. "In the perfect, ideal world, he would do 20 years. To do 18 is a blessing. In his career, he's kind of proven what he's capable of. He's reached those stats, but does not want to talk about the Hall of Fame or anything like that. All he'll say is, 'I want a ring. I want to win. As a team, I want us to win.'"
Sabathia has said, with a laugh, that he just does not want to miss the Yankees' 2019 trip to play the Red Sox in London. But he is also pitching well and having fun doing it, especially with his travel party in tow.
"I had my kids young so that they could enjoy it and be a part of it," Sabathia said. "It's always fun to have them have that memory and see my daughters in the jerseys. They'll never forget that. For them to travel in the playoffs last year and get so close [to the World Series], it would be fun to be able to have them on a float."