Sabathia set to return Sunday vs. Indians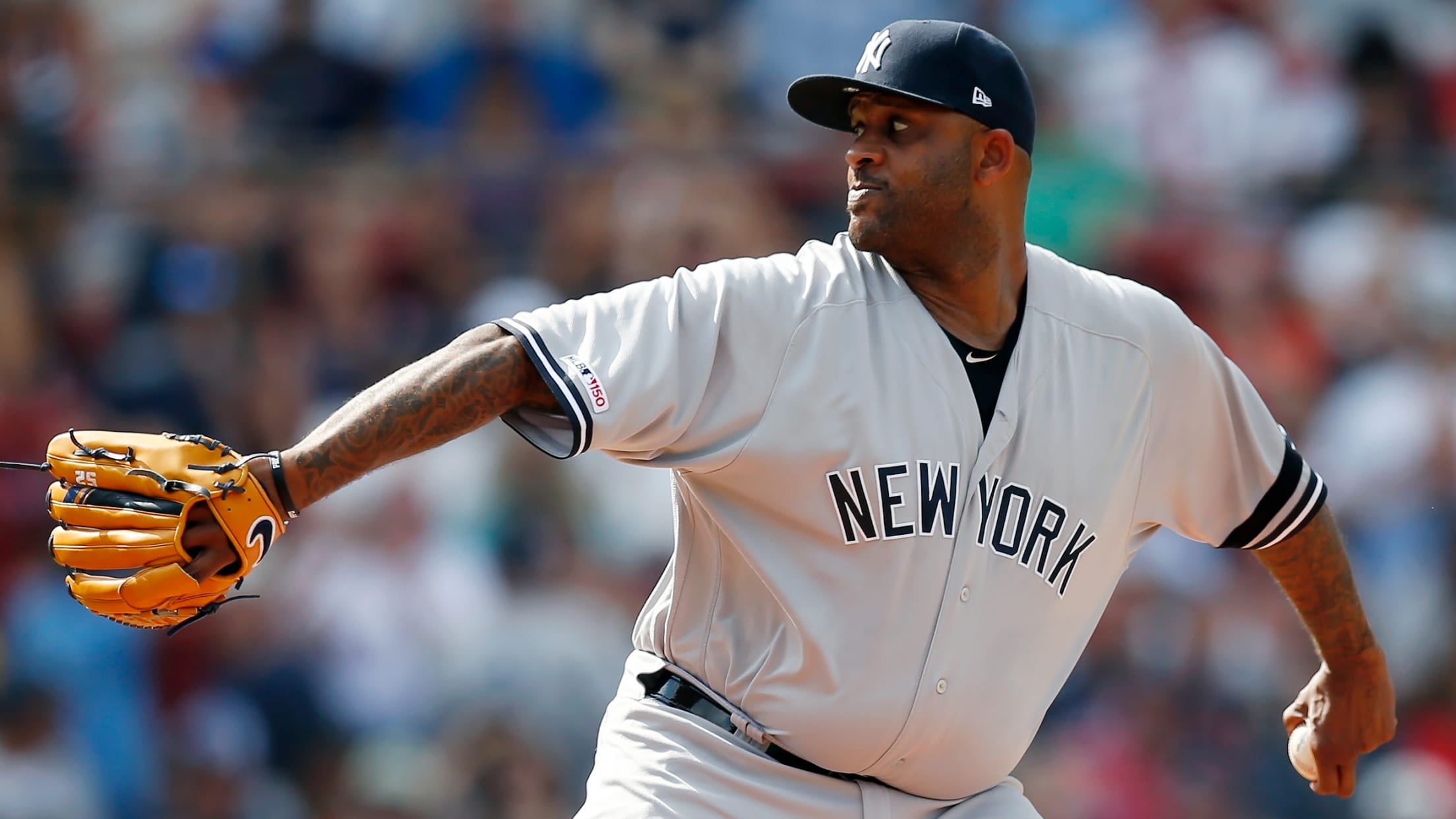 NEW YORK -- The Yankees on Wednesday announced that their starting rotation will soon be back to full strength on Sunday, when CC Sabathia is set to be activated from the 10-day injured list. Sabathia, who announced he would retire following the 2019 season, will make his return to the
NEW YORK -- The Yankees on Wednesday announced that their starting rotation will soon be back to full strength on Sunday, when CC Sabathia is set to be activated from the 10-day injured list.
Sabathia, who announced he would retire following the 2019 season, will make his return to the mound in the final game of this weekend's four-game series against the Indians, who entered Wednesday holding the first Wild Card spot in the American League and a half-game behind the Twins for the lead in the AL Central.
The left-hander, who has been on the IL with right knee inflammation since July 28, threw bullpen sessions on Sunday and Tuesday as part of his rehab process -- which also included receiving injections of platelet-rich plasma and a lubricating agent.
After Sunday's session, manager Aaron Boone said he was encouraged by what he saw from the 39-year-old pitcher. After Tuesday's, he was confident enough to slot Sabathia in the rotation for Cleveland's visit to Yankee Stadium. Barring a postseason matchup, the start would mark Sabathia's final appearance opposite his original club, for which he made 237 starts over eight seasons and won the 2007 AL Cy Young Award.
Boone said that the rotation will also include an opener on Thursday and starts for Masahiro Tanaka and James Paxton on Friday and Saturday.
Sabathia, who has had three stints on the IL this season -- two for the same right knee inflammation -- has managed a 5-6 record with a 4.78 ERA in 17 starts and 90 1/3 innings.
Recalling reinforcements
Prior to Wednesday's season-series finale against the Orioles, the Yankees recalled infielder Thairo Estrada from Triple-A Scranton/Wilkes-Barre and slotted him in the ninth spot in the order as the starting second baseman. Right-hander Adonis Rosa had been optioned to Triple-A following Tuesday's game to open a roster spot.
Estrada previously spent time with the big league club from late April to early June as the Yanks dealt with a wave of injuries. In 25 games with 13 starts, he hit .280/.321/.520 with three homers and 11 RBIs and provided the team with valuable defensive flexibility at second and short.
"[He's] a guy in a lot of ways early on in the season, because of need, we probably rushed a little bit to the big leagues," Boone said. "But he showed he was more than capable of not only handling it between the lines, but I thought between the ears was really good. Always thinking along with us situationally, being prepared if he wasn't in the game for whatever role might come up over the course of the game. We didn't necessarily even have to tell him; he was ready to go for that particular role.
"He's got that kind of slow heartbeat to him that I think really serves him well."
A Dull addition
The Yankees acquired right-hander Ryan Dull off waivers from the Giants on Wednesday, adding him to the 40-man roster. In order to make room on the 40-man roster, right-hander Brady Lail was designated for assignment.
Dull, 29, appeared in seven games with Oakland this season and posted a 12.00 ERA. He was selected off of waivers by San Francisco on Aug. 5.
In 167 career relief appearances over five Major League seasons (2015-19 with Oakland), Dull combined for four saves and a 4.08 ERA with 163 strikeouts.
This date in Yankees history
Aug. 14, 1942: The Yankees establish a Major League record (since tied) with seven double plays in an 11-2 win vs. the Athletics.