Top Canadian prospect Valero discusses journey
17-year-old shortstop, a Venezuelan emigre, participated in Tournament 12 at Rogers Centre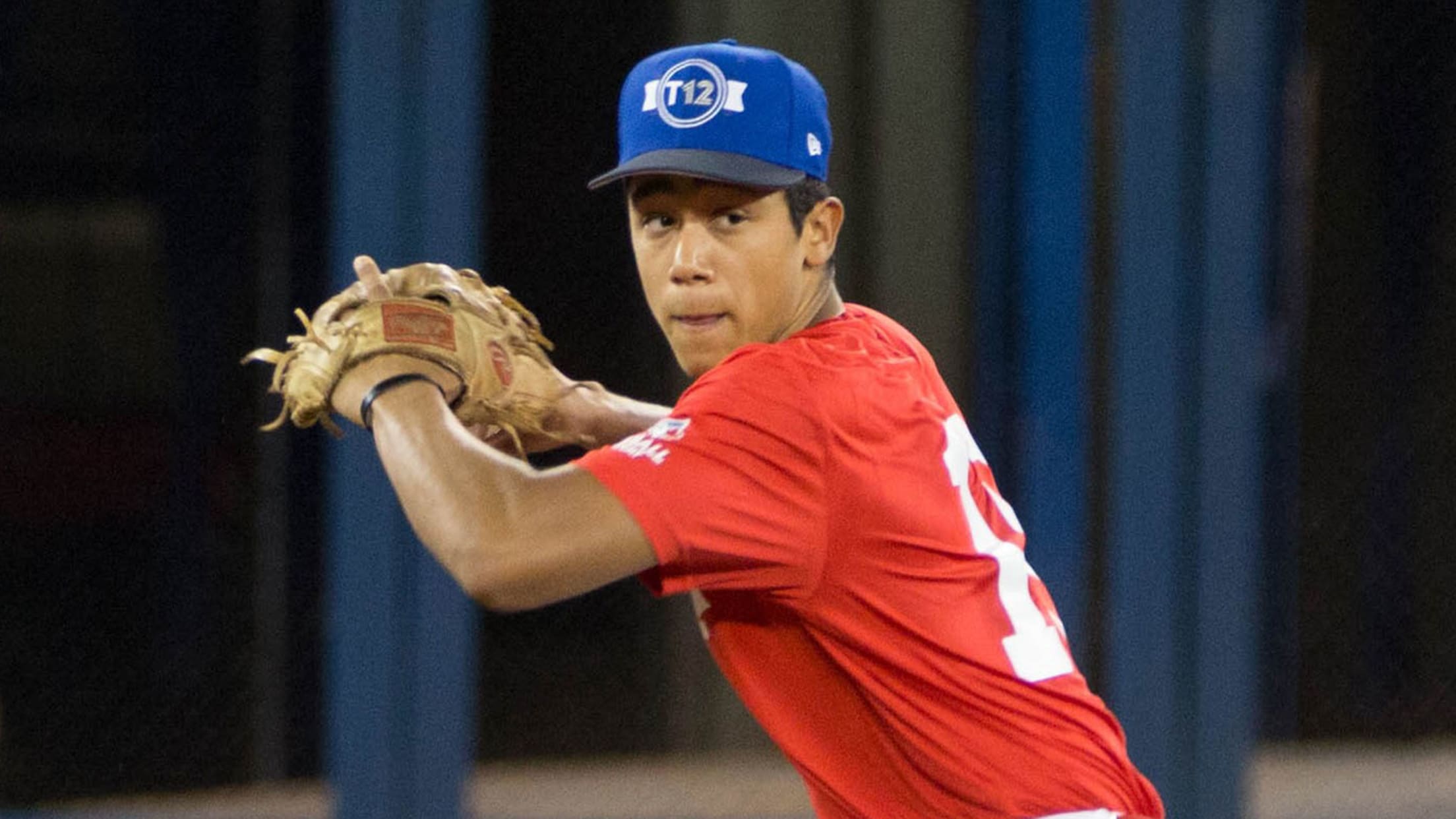 TORONTO -- Cesar Valero isn't worried about his performance at his fourth Tournament 12 showcase. The only thing that worries him these days is his grandmother's well-being.The 17-year-old shortstop for Team Alberta is Canada's No. 1 prospect in the 2019 Draft class, according to the Canadian Baseball Network. He's the
TORONTO -- Cesar Valero isn't worried about his performance at his fourth Tournament 12 showcase. The only thing that worries him these days is his grandmother's well-being.
The 17-year-old shortstop for Team Alberta is Canada's No. 1 prospect in the 2019 Draft class, according to the Canadian Baseball Network. He's the cover athlete for the official T12 program, and he is on his way to Oregon State University next year unless he's blown away by a Major League offer. He and his father, Cesar, used to stress about performing at every showcase, but now they're just grateful for what they have.
Valero was born in Maracaibo, Venezuela, where his father worked in the booming oil industry. It was a good life for the family, but everything began to change in 2007 when the United Socialist Party took over the country.
"The industry and the government started to come down," Valero Sr. said.
Valero Sr. and his wife, Maria, decided to uproot their family and move to Canada.
"They were looking for young families," Valero Sr. said. "Professionals with little kids, so [we were] the perfect match for what the government was asking."
The family moved to Montreal, but Valero Sr. couldn't find work in the oil industry. So the family relocated again, first to Calgary, then to Fort McMurray, all while their young son began to develop a love for baseball.
Valero Sr. says baseball is religion for Venezuelans. It's like hockey in Canada, the two say jokingly. Blue Jays Hall of Famer Roberto Alomar, who has known Valero since he was 13, agrees.
"He's Latino, so it's in his genes that he knows baseball," Alomar said. "It's in his blood."
Cesar Valero crushed some out of the yard today at #T12 Scout Day.

Learn more about the highly touted prospect & T12: https://t.co/HtR0vb0aZo pic.twitter.com/t6chRNoxEx

— Toronto Blue Jays (@BlueJays) September 14, 2018
Valero Sr. always wanted his son to play baseball. He pushed him from a young age just to keep his son involved in competition, but eventually Valero came around to the sport.
"I didn't think baseball was for me until like I was around 11 or 12," Valero said. "Then I had one year that I just started doing really really well, and I was like, 'OK, this is something I like doing and something I might want to do.'"
Four years ago, when Valero made his first appearance at the T12 event, he was nervous.
"My very first time here, I was thirteen and I was shaking," Valero said. "I couldn't even walk to first base without shaking or tripping over. I feel way more comfortable, way more relaxed now."
His father used to bite his nails watching his son play, but the two have learned to relax over the years. The change is due in part to Valero's baseball success, as well as his maturity. He's learned to be grateful by seeing how fortunate he is.
"I went to the Dominican Republic with him once for a month to show him how hard it is for those players to get a pair of shoes, to get a ball, to get a baseball bat," Valero Sr. said. "To show him a lesson of being humble, to show him to be grateful for what he has."
Valero Sr. knows what it's like to be surrounded by misfortune.
"I come from Venezuela, where we don't have the opportunity to have a new pair of shoes every month," Valero Sr. said. "You had one for the year and you better take care of them."
The situation in Valero's home country has only deteriorated since the family emigrated.
"It's night and day [compared to Canada]," Valero Sr. said. "Here you go to the supermarket, you choose what you want. In Venezuela, it's sad that they don't have options. They are under a dictatorship-type of government masked with a democracy, so being in Canada is a blessing for my family."
The family sends money to relatives still stuck in the country. Their well-being is a concern for the young Valero, who is always thinking about his grandmother. He knows his life would be drastically different if his family hadn't immigrated to Canada.
"It would not be good," Valero said. "It wouldn't be good at all."
Aaron Rose is a reporter for MLB.com based in Toronto.