Kuhl ready for next stage in Tommy John rehab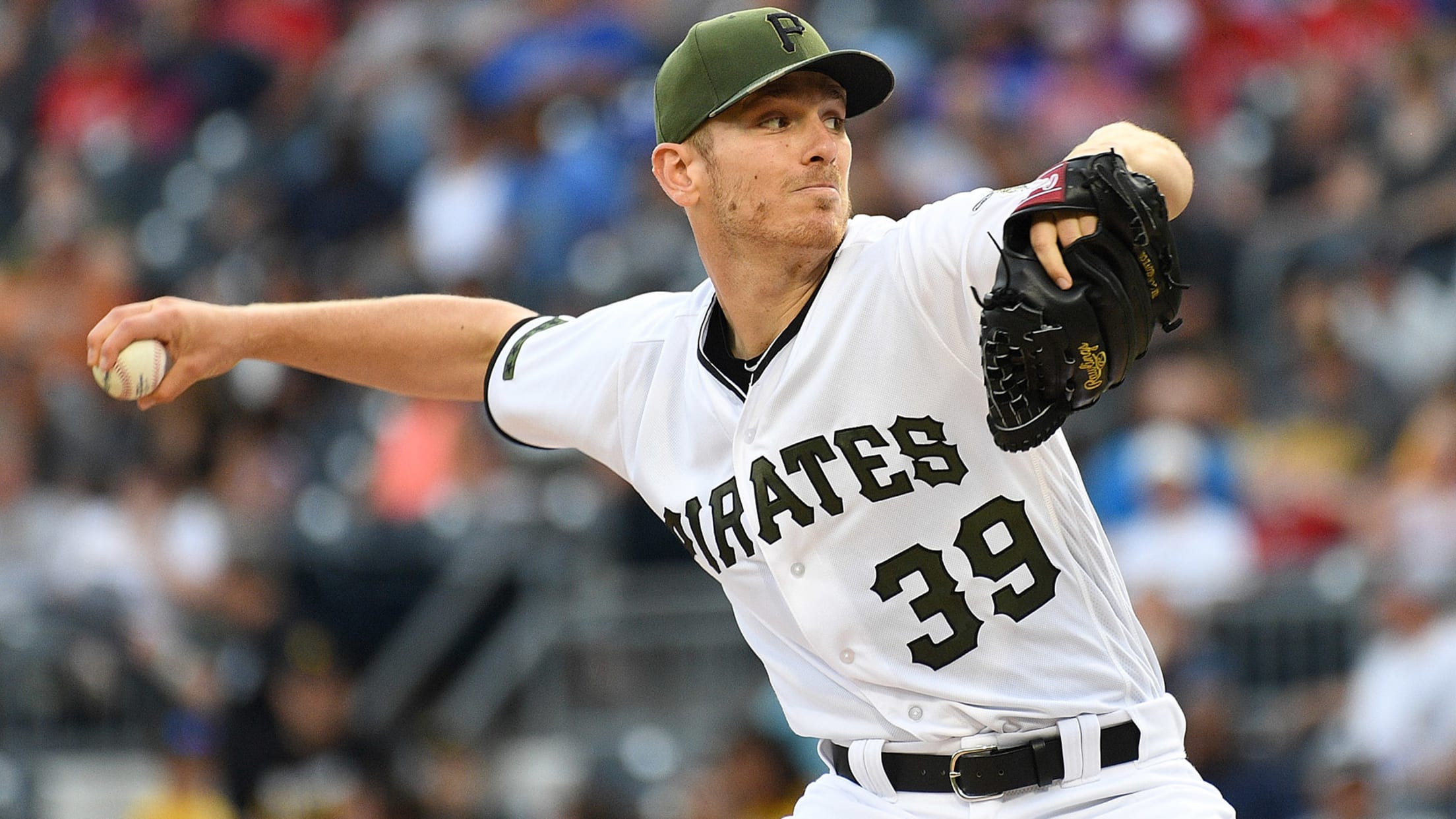 PITTSBURGH, PA - JUNE 21: Chad Kuhl #39 of the Pittsburgh Pirates delivers a pitch in the first inning during the game against the Arizona Diamondbacks at PNC Park on June 21, 2018 in Pittsburgh, Pennsylvania. (Photo by Justin Berl/Getty Images) (Justin Berl/Getty Images)
PITTSBURGH -- Chad Kuhl has burned through his Netflix queue and racked up miles on his Peloton bike this offseason. Now, he's ready for the next stage of his rehabilitation from Tommy John surgery.Kuhl is tentatively scheduled to resume throwing on the first day of Spring Training, he said, after undergoing
PITTSBURGH -- Chad Kuhl has burned through his Netflix queue and racked up miles on his Peloton bike this offseason. Now, he's ready for the next stage of his rehabilitation from Tommy John surgery.
Kuhl is tentatively scheduled to resume throwing on the first day of Spring Training, he said, after undergoing reconstructive elbow surgery on Sept. 19. He'll likely have a familiar throwing partner, as he said reliever Edgar Santana is also set to throw when camp begins. It is only one of many mile-markers on their long road back to the mound, but it will be a welcome one for Kuhl.
"Every first day of Spring Training is exciting, but this will be really special," Kuhl said Saturday at PiratesFest. "You just have that itch to throw, really, anything. … To be able to go back and begin this process of throwing a baseball again is super exciting."
The first phase of Kuhl's recovery was maybe the hardest. His fiancée, Amanda, was essentially his caretaker. She cut his food, put on his socks and squeezed his toothpaste out of the tube when he couldn't grip anything following surgery. Spending the early part of the offseason in their native Delaware, they watched hours of TV and rode a newly purchased stationary bike to stay in shape while Kuhl was unable to lift weights.
"She was the real MVP for all this," Kuhl said.
Kuhl has looked into the potential causes of his injury, but he revealed on Saturday that he had been pitching with an ulnar collateral ligament that was already 30 percent torn. It blew out on June 26 at Citi Field, his last appearance, and he initially tried to treat the injury with rest and rehab. Kuhl wound up having surgery three months later and he, like Santana, will likely not return until 2020.
"I'm glad I gave it every option and gave it my all, and I had that clarity come September that I needed it," Kuhl said. "It's just a chance for me to work on me and build really good habits. That's the way I look at it. Just being able to go in there every day in rehab, nail my routine, nail throwing with good mechanics and see where we're at. I think I was doing the right things, but I think they need to be reinforced."
Bell goes west
• First baseman Josh Bell spent more time than usual outside of his native Texas this offseason, traveling to Southern California and working with hitting consultant Joe DeMarco. Bell also received a visit in December from new Pirates hitting coach Rick Eckstein. After working in the batting cage, Bell and Eckstein got to know each other and talked about hitting for hours over a "Taco Tuesday" meal.
"I had a really great offseason, put in a lot of good work," Bell said. "I'm excited to show it this spring."
Bell's power numbers declined last season after a 26-homer campaign in 2017, but he believes he can build off the stretch when he hit .301/.427/.534 with four homers in his final 89 plate appearances.
"It was just going back to that mentality in Triple-A, using that left-center-field gap to my advantage instead of thinking of that short porch there in right field," Bell said.
A new Brault?
Left-hander Steven Brault went to New Zealand earlier this offseason, a trip that included lots of hiking and Lord of the Rings-related tourist activity, but he did not exactly take time off.
In an effort to improve his command, Brault decided to implement a year-round throwing program. Most pitchers rest their arms for at least a few weeks after the season, but Brault kept his arm in action as he overhauled his mechanics. The lefty said his changes -- a shortened stride, a higher arm slot and a shortened arm path among them -- are "visually evident" when he takes the mound.
Brault will enter Spring Training competing with Jordan Lyles and Nick Kingham for the final spot in the rotation, though Brault is most likely bound for the bullpen. The lefty led Pittsburgh's staff with 57 walks last season, but he believes his command will return with a simpler, shorter delivery than he previously used.
"I realized it's not about going back to where I was. I have to become a better pitcher," Brault said. "I have to move forward through this and make adjustments to become better than I ever was."
Around the horn
• Third baseman Jungho Kang confirmed through interpreter Jeffrey Kim that his work visa was extended through this year. Kang spent the first part of the offseason in Pittsburgh then moved in mid-December to Los Angeles, where he trained with Pirates catching prospect Arden Pabst.
• During one of the "Ask Pirates Management" question-and-answer sessions with fans, general manager Neal Huntington mentioned that the Pirates are committed to giving Adam Frazier a chance to play second base on a regular basis -- a statement that drew applause from the crowd.
• Manager Clint Hurdle said the Pirates "had scouts that beat the table" for infielder Erik Gonzalez, who is set to compete with Kevin Newman for the starting shortstop job this spring after being blocked by Indians stars Francisco Lindor and Jose Ramirez the past few years. Hurdle said he's been told that Gonzalez is a dynamic defender with more range than any other shortstop Hurdle has managed.
Gonzalez, 27, made it clear that he would be thrilled to get an everyday opportunity in his first season with the Pirates.
"I'm ready to play every day," Gonzalez said. "If you play every day, your passion is like fire. Sometimes I played one day in two weeks -- just practice, practice. It's a little bit hard. Now, I feel like my passion is going to be on fire again because I'm going to play more."