Pinder placed on DL following car accident
A's utility man sustains lacerations to left arm; Barreto recalled to fill roster spot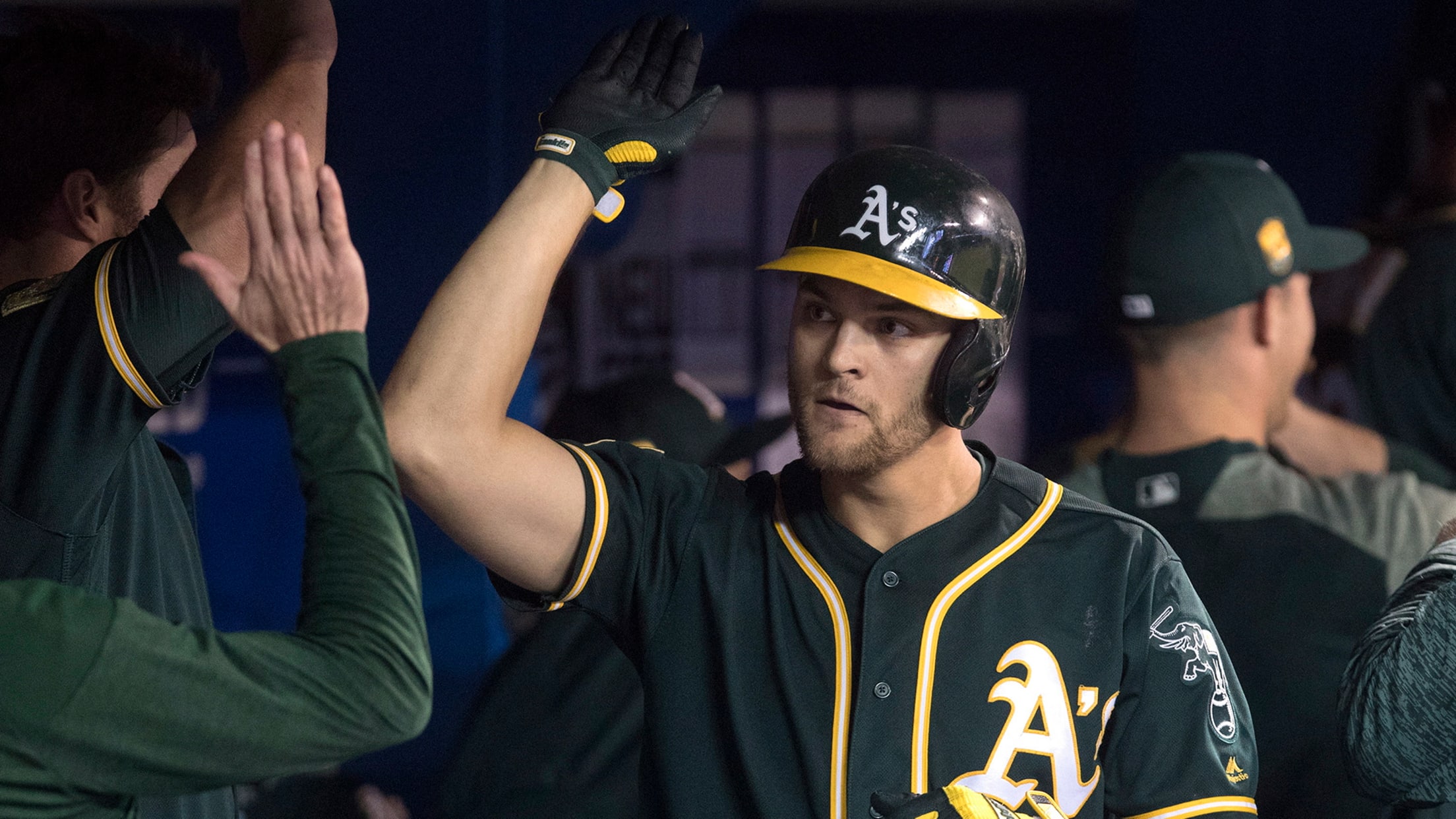 DENVER -- A's utility man Chad Pinder was placed on the disabled list Sunday after sustaining lacerations to his left arm in a car accident.Pinder and his fianceé, Taylor Jackson, were en route to lunch in downtown Denver when the incident occurred Saturday. Pinder received four stitches on his elbow
DENVER -- A's utility man Chad Pinder was placed on the disabled list Sunday after sustaining lacerations to his left arm in a car accident.
Pinder and his fianceé, Taylor Jackson, were en route to lunch in downtown Denver when the incident occurred Saturday. Pinder received four stitches on his elbow and a butterfly stitch on his forearm, while Jackson suffered a back bruise. Neither was driving.
"Other than that, everybody's good," Pinder said Sunday morning. "The other people involved in the accident are doing OK, which is the most important thing. I'm very lucky, very blessed to walk away with some bruises and some scratches."
Pinder, who said his arm and pants were covered in blood when he arrived at the hospital, came to the field Saturday afternoon but was sent home to rest after being checked out by the team's medical staff. The 26-year-old won't be able to swing a bat until his stitches are removed.
"Just need to get this to heal up," Pinder said. "I don't expect this to take very long, so I just gotta make sure it's healed before I start doing stuff so it doesn't pop open and get worse.
"It wasn't a very fun experience at all, but there's a silver lining to it. Everyone's alive, it could have been a lot worse. Just bad luck. Wrong place, wrong time. But everyone is healthy, so that's all that matters."
Said A's manager Bob Melvin: "You feel for him. That's a real-life circumstance there. I'm glad it wasn't worse."
The A's recalled infield prospect Franklin Barreto from Triple-A Nashville to take Pinder's roster spot.
Jane Lee is a reporter for MLB.com.