Pinder visits school for special-needs kids
A's utility player takes over tradition from ex-teammate Vogt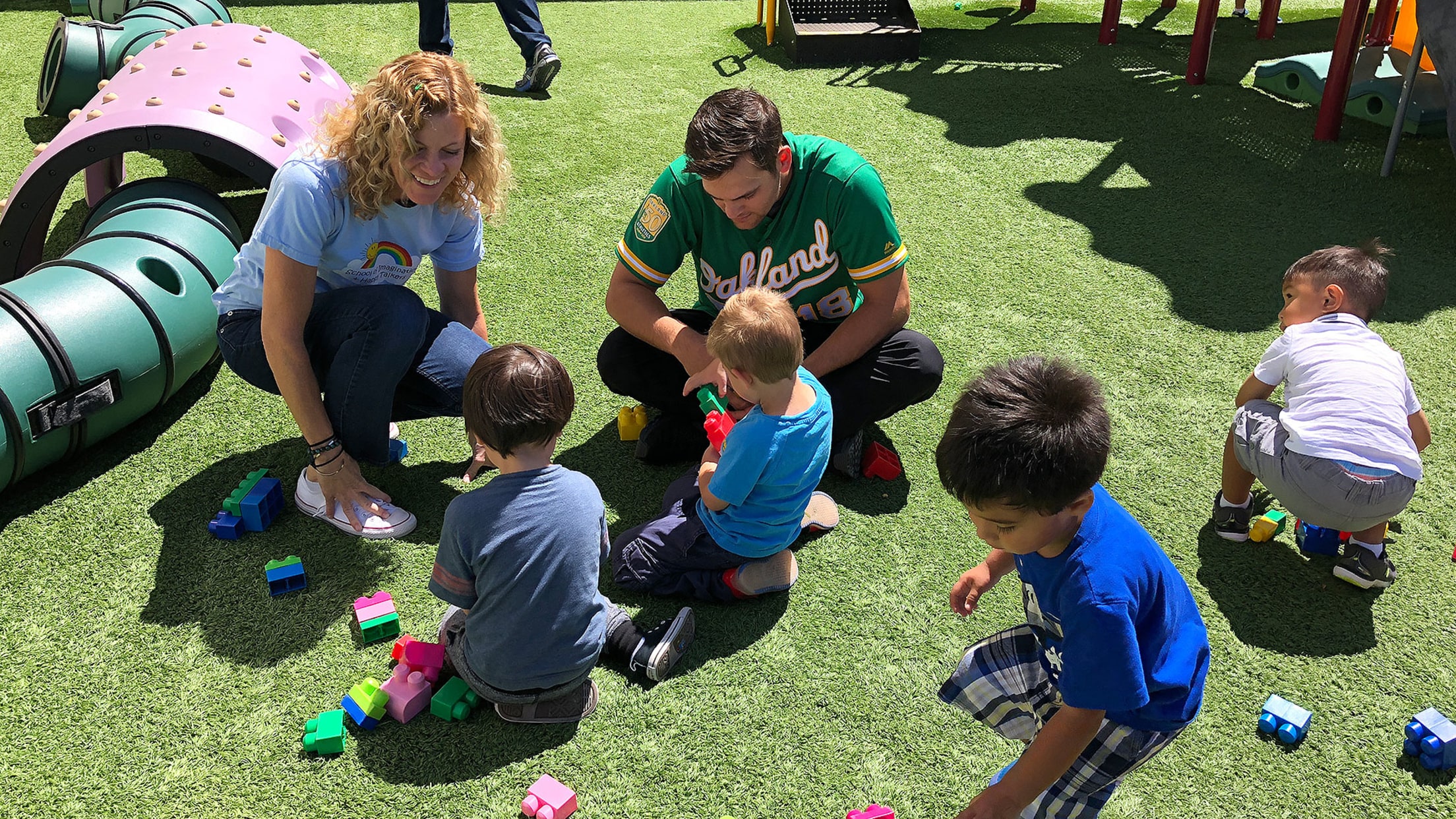 DUBLIN, Calif. -- Kids at the School of Imagination received a special guest on Wednesday morning, when A's utility player Chad Pinder and his fiancee, Taylor, spent time at the full-inclusion preschool serving special-needs children.Pinder also will be signing autographs outside Section 218 before Saturday's game at the Coliseum for
DUBLIN, Calif. -- Kids at the School of Imagination received a special guest on Wednesday morning, when A's utility player Chad Pinder and his fiancee, Taylor, spent time at the full-inclusion preschool serving special-needs children.
Pinder also will be signing autographs outside Section 218 before Saturday's game at the Coliseum for fans who make a $30 donation to the school, which will be recognized as the Nonprofit of the Game.
Wednesday was Pinder's second visit to the school, which serves around 600 kids a year with developmental challenges, such as autism.
"I had a blast," said Pinder, 26. "It was awesome ... I got to hang out with a bunch of classes and do a bunch of activities, which was just a lot of fun."
The school was founded by Charlene Sigman and her husband, Mitch, who originally operated it out of their home in nearby Pleasanton. When the number of students grew from four to 100, the city asked them to find another location. They wound up moving seven times in six years, jumping between office spaces and churches before the mayor of Dublin helped them land a 12,024-square-foot building, which they refurnished, redesigned and opened in 2011.
The first year, they had three open classrooms. Today, they have none. There are 150 children on the wait list, and there is a foundation and a scholarship program. Last year, there was close to $70,000 in scholarships.
"Just to raise awareness for this school and the community, it's huge for them," Pinder said. "There's no reason that more people in the area shouldn't know about it."
Chad Pinder and his fiancée Taylor hung out with kids at @soi4kids in Dublin today. Chad's dress-up game is on point with the gold head scarf(?). 😂 pic.twitter.com/ZSCm6ncKVP

— Oakland Athletics 🌳🐘⚾️ (@Athletics) June 13, 2018
The Sigmans said visits from players and support from the A's means the world to the program because of the awareness it raises.
"Someone like Chad, willing to take time out of his very busy schedule to support us and raise awareness and funds, that's what makes it work," Mitch Sigman said. "Otherwise, I don't where the resources would come from. It's a really nice dream to have. But it's people like Chad, who are willing to give up their time, that makes it happen."
Charlene added that Pinder visiting gives everyone an extra boost.
"It's so great for the kids to just have him here," she said. "All that positive attention for them, they feel very special about that. The teaching team, it just gives us all a little lift."
Chad will also be signing autographs for $30 an item at the Community Corner from 11:05am-11:30am before this Saturday's game. All proceeds benefit @soi4kids. pic.twitter.com/4oZypO5DDq

— Oakland Athletics 🌳🐘⚾️ (@Athletics) June 13, 2018
Pinder made the visit on a tip from Stephen Vogt, the former A's catcher who made routine trips to the school when he was in Oakland. Vogt was claimed off waivers by the Brewers last year, but he called Pinder over the offseason and asked if he could keep the visits going.
"This was a big part of his life here," Pinder said of Vogt. "He used to bring his family out here. He just asked me if I would want to take over the reins, come hang out with the kids, and I was all for it. Extremely glad that I took the opportunity."
Eric He is a reporter for MLB.com based in Oakland.