Boseman, who played Jackie in '42,' dies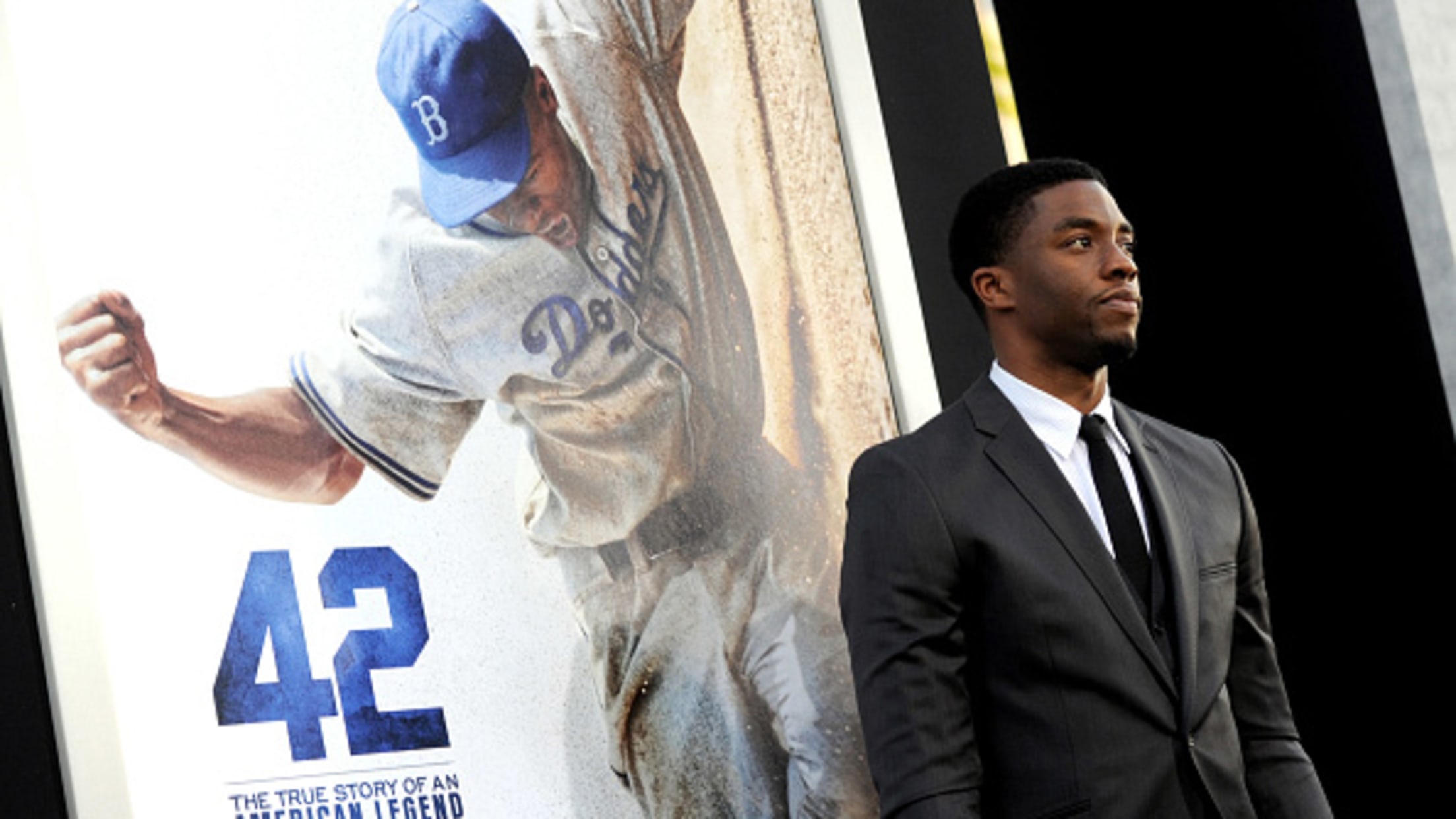 Chadwick Boseman, who played the iconic role of Jackie Robinson in the movie "42" among other feature roles in major motion pictures over the past seven years, passed away Friday after a four-year battle with colon cancer, surrounded by his wife and family at his Los Angeles home. He was
Chadwick Boseman, who played the iconic role of Jackie Robinson in the movie "42" among other feature roles in major motion pictures over the past seven years, passed away Friday after a four-year battle with colon cancer, surrounded by his wife and family at his Los Angeles home. He was 43 years old.
Boseman's family issued a statement via Twitter, recounting his diagnosis of Stage 3 colon cancer in 2016, which progressed to Stage 4 in the years following, when he continued to act in several films while undergoing surgeries and chemotherapy sessions.
"It is with immeasurable grief that we confirm the passing of Chadwick Boseman," the statement reads. " ... The family thanks you for your love and prayers, and asks that you continue to respect their privacy during this difficult time."
• A generation of Black players finds its voice
"42" was released in 2013 following more than a decade of efforts by Rachel Robinson, Jackie's widow, to bring a feature-length film about her pioneering husband to the silver screen. It chronicled Robinson's battle to successfully break the color barrier in Major League Baseball in 1947, portraying not only Robinson's career in the Negro Leagues and the process by which he was selected by Brooklyn Dodgers general manager Branch Rickey, but the relentless racism, abuse, threats and anguish Robinson experienced while on his historic quest.
Rachel Robinson and Chadwick Boseman at the after-party for the LA premiere of 42 — April 9, 2013 (Photo by Kevin Winter/Getty Images) 💔 pic.twitter.com/FhNLfFqevY

— It's a long season. (@mighty_flynn) August 29, 2020
Boseman's death fell on the 17th annual Jackie Robinson Day, on which Major League Baseball celebrates the anniversary of Robinson breaking the color barrier on April 15, 1947. The 2020 celebration was delayed along with the start of the MLB season due to the COVID-19 pandemic.
Soon after the news of Boseman's death broke, there was an outpouring of grief, shock and remembrance across social media from all corners of the world and from prominent voices in the arenas of social justice, government, entertainment and sports.
Devastated by the news of Chadwick Boseman's passing. He was a brilliant actor and a dear friend. My mother, brother, children and grandchildren send out our love to the Boseman family. We all loved Chad and will cherish our personal memories. #ripchadwickboseman @JRFoundation

— Sharon Robinson (@sharonarobinson) August 29, 2020
I met you at the premier of 42 in Pittsburgh in 2013. Even though you were in the spotlight and all eyes were on you, I remember you saying, "I'm that one that's starstruck by all of these athletes here." That's the man you were. Humble. You will be missed. RIP Chadwick Boseman pic.twitter.com/ypJc1yUq9p

— andrew mccutchen (@TheCUTCH22) August 29, 2020
In the making of "42," Boseman was under the keen eye of Rachel Robinson, who had dedicated so much time and effort into bringing the project to fruition. In January 2013, three months prior to the film's release, Boseman told the Los Angeles Times about the process of shooting the movie, including the several books on Robinson he read in an effort to gain a deeper understanding of the legendary figure he would be portraying.
"It's intimidating because everybody has their interest in who he is. He's a lot of different things to a lot of different people," Boseman told the Times. "And none of them are necessarily the correct thing."
We are saddened by the passing of Chadwick Boseman.

In 2013, he talked with Bob Costas about the honor of playing Jackie Robinson in "42." pic.twitter.com/FaVYsu6SXO

— MLB Network (@MLBNetwork) August 29, 2020
Boseman, along with supporting actors who played other members of the Brooklyn Dodgers and opponents from the 1947 season, spent months training with professional baseball players to ensure the authenticity of the scenes on the field.
The setting where much of the film took place was far from new for Boseman, who was born and raised in Anderson, S.C., but began his acting career in Brooklyn after graduating from Howard University and the British American Drama Academy at Oxford.
We are devastated by the tragic loss of Chadwick Boseman. His transcendent performance in "42" will stand the test of time and serve as a powerful vehicle to tell Jackie's story to audiences for generations to come. pic.twitter.com/8oU7QpdLSE

— MLB (@MLB) August 29, 2020
Robinson was Boseman's first major film role, and following that performance he went on to portray Black American icons James Brown and Thurgood Marshall and star in other major motion pictures such as Marvel's "Black Panther," in which he played T'Challa, king of the fictional African nation of Wakanda.
Boseman spent his acting career bringing to life legendary figures who shaped history, particularly with respect to social justice and racial equality. His portrayal of Robinson's courage and perseverance in the face of unspeakable prejudice afforded the world a chance to reflect on Robinson's life and legacy in an unprecedented way.
#ChadwickBoseman pic.twitter.com/ia6295FkZl

— Jackie Robinson Foundation (@JRFoundation) August 29, 2020