Rays exec Bloom interviews for Mets GM job
Club also expected to meet with Indians GM Chernoff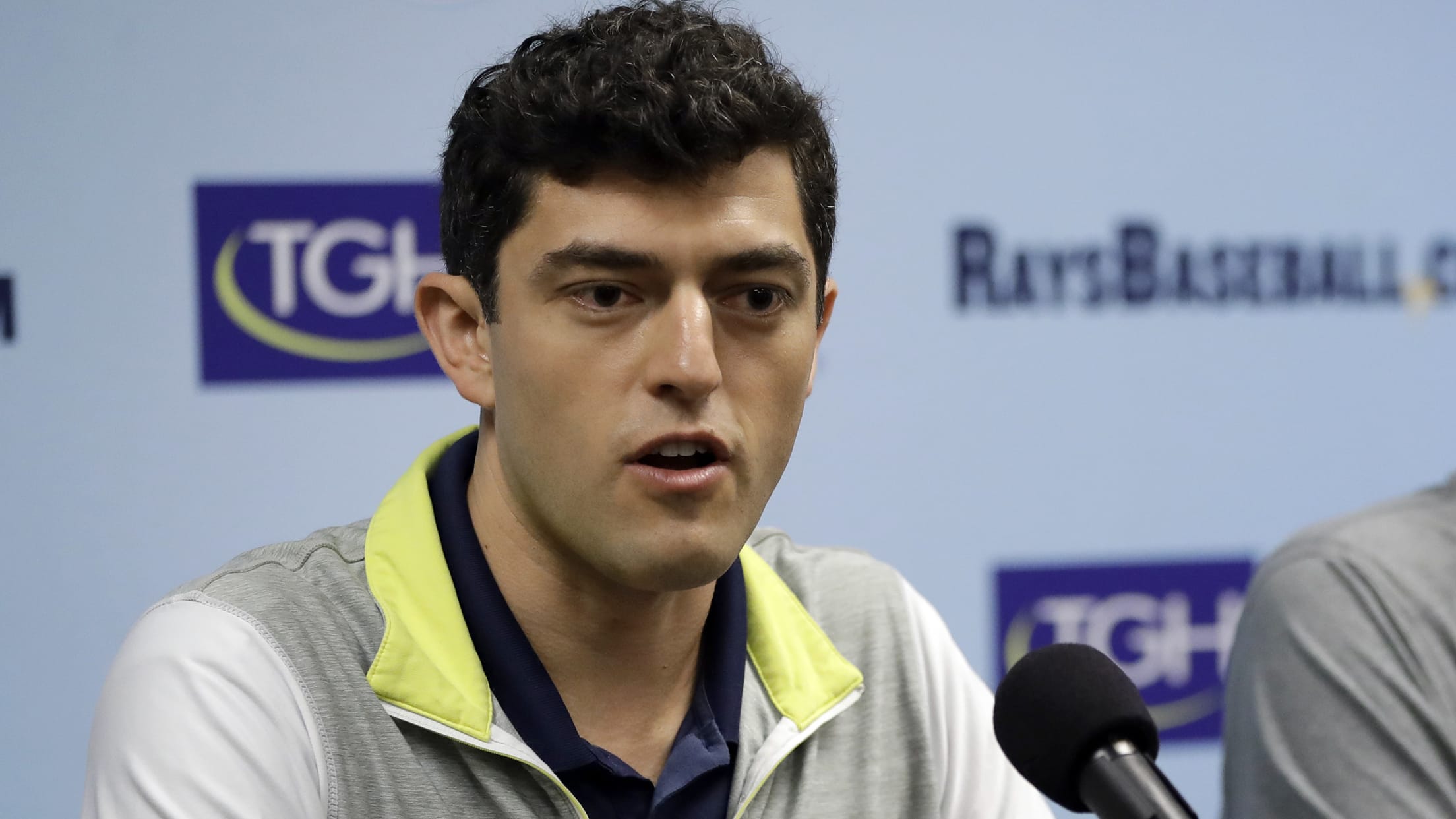 Tampa Bay Rays Senior vice-presidents of baseball operations, Chaim Bloom, left, and Erik Neander, speak to the media during a season ending baseball news conference Monday, Oct. 2, 2017, in St. Petersburg, Fla. The Rays finished their season on Sunday, ending with an 80-82 record. (AP Photo/Chris O'Meara) (Chris O'Meara/AP)
NEW YORK -- Among the candidates for Mets general manager are two of the game's bright young Ivy League-educated executives. Rays senior vice president of baseball operations Chaim Bloom interviewed with the Mets this week and Indians GM Mike Chernoff is also expected to interview, multiple sources confirmed.The Mets have
NEW YORK -- Among the candidates for Mets general manager are two of the game's bright young Ivy League-educated executives. Rays senior vice president of baseball operations Chaim Bloom interviewed with the Mets this week and Indians GM Mike Chernoff is also expected to interview, multiple sources confirmed.
The Mets have already talked to about a half-dozen candidates, according to a source, and expect to wrap up their first round of GM interviews by next week. At that point, they will invite several finalists to New York for follow-ups.
Among those who have or are expected to interview are Cardinals director of player development Gary LaRocque, Brewers senior advisor Doug Melvin, Nationals special assistant De Jon Watson and Major League Baseball senior vice president of baseball operations Kim Ng.
Bloom, 35, currently oversees all baseball operations functions in Tampa Bay, from contract negotiations to international scouting. He and Erik Neander are the Rays' highest-ranking baseball ops officials, overseeing a team that finished 90-72 this year in the ultracompetitive AL East.
Beginning as an intern in 2005, Bloom has been with the Rays for 14 seasons. He is a Yale graduate with a degree in the classics and, in Tampa Bay, has consistently engineered winners despite one of the league's smallest player payrolls. This season, the Rays leaned heavily on an "opener" strategy, using relief pitchers in the first inning of games before turning to their regular starters. Despite their small payroll, the Rays boast one of the largest analytics departments in baseball.
Chernoff, a Princeton graduate whose father works on the CBS radio team that will take over Mets broadcasts in 2019, has been the Indians' GM for three seasons. Cleveland has made the playoffs in each of those seasons, winning the American League pennant in 2016.
Another former Rays executive, Brewers assistant GM Matt Arnold, has been linked to the Mets, but has not interviewed -- which is unsurprising with the Brewers headed to the National League Championship Series. One person with knowledge of the process said the Mets could still add candidates to their list as teams drop out of the postseason.
That list is not entirely traditional. The Mets are intrigued by a pair of agents, Brodie Van Wagenen and Casey Close, according to a source, but it is unclear if those two have spoken formally to the club about jumping to a front office. Van Wagenen, the lead baseball agent at CAA, represents current Mets players Yoenis Cespedes and Todd Frazier, as well as Minor Leaguer Tim Tebow. Close, who heads up Excel Sports Management, has represented Derek Jeter and Clayton Kershaw, among others.
The Mets' goal is to have a new executive in place by the General Managers' Meetings, which are scheduled to begin Nov. 6. Chief operating officer Jeff Wilpon and assistant GM John Ricco are conducting the first round of interviews, at least some of them in person in New York City.