Culberson shares his holiday traditions in Q&A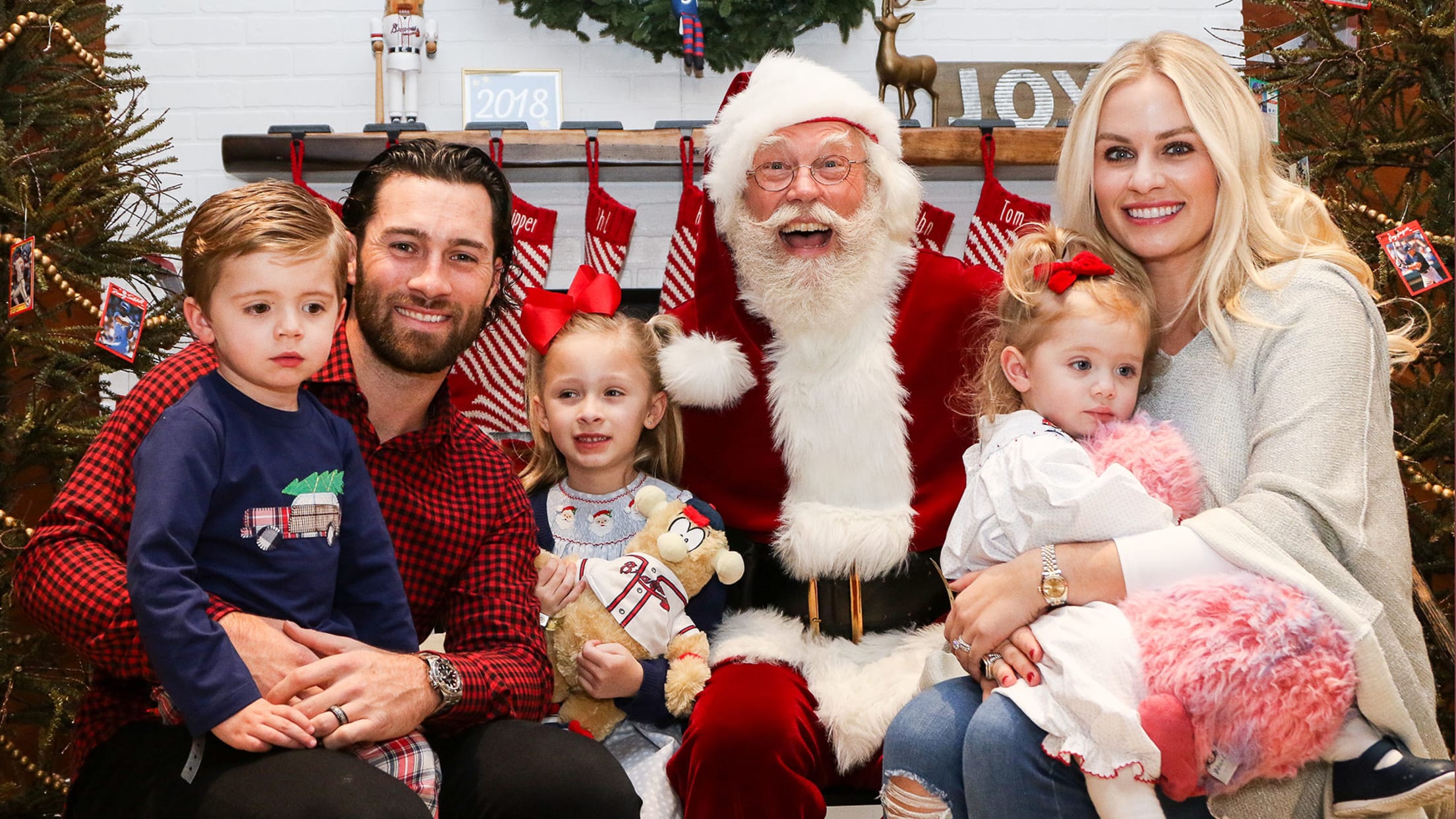 Having been born and raised in the Atlanta area, Charlie Culberson will savor the memories created in 2018, a year in which he joined his hometown team and played a key role in the Braves' march toward an unexpected National League East title. Culberson shares his suburban Atlanta home with
Having been born and raised in the Atlanta area, Charlie Culberson will savor the memories created in 2018, a year in which he joined his hometown team and played a key role in the Braves' march toward an unexpected National League East title. Culberson shares his suburban Atlanta home with his wife Sarah and their three children, Collins (6), Ace (3) and Everly Louise (1). The 29-year-old veteran recently spoke to MLB.com about his favorite Christmas and holiday season traditions.
MLB.com: The Braves acquired you from the Dodgers around this time last year. Did this influence some of the gifts exchanged during last year's Christmas?
Culberson: So many of my friends and family members are Braves fans, so they were all just excited about the chance to come to the stadium to see more games. The trade happened so close to Christmas that we didn't necessarily have time to make changes. But this year, we'll be giving some more Braves gifts.
MLB.com: What will you remember most about the 2018 season?
Culberson: Winning the division will always stand out, and it was great to be part of the win we had in Game 3 [of the NL Division Series]. The Dodgers were better than us, and they played better than us during that series. But just being part of that electric environment that night we won was pretty special.
MLB.com: Was this past season the most memorable you've experienced thus far in your career?
Culberson: That's a pretty easy one. I've had a lot of ups and downs, but it's been a fun career. I've been with four different teams, but everything I experienced helped lead me to where I am today. I've enjoyed it all, but I felt like I needed a year like I had this past season to solidify my career. There are a lot of people who have helped me along the way.
MLB.com: Is there anyone in particular who significantly influenced this year's success?
Culberson: I've always gotten a lot of support from the family side. When things weren't going well during the early part of the season, my wife continued to lend support and keep things consistent. My parents have always been there for me. [Braves hitting coach] Kevin Seitzer also really helped me work through some things and keep things simple.
MLB.com: What is your favorite holiday season tradition?
Culberson: I always really enjoy Thanksgiving and Christmas. It's crazy how fast a year can go by. So it's always great to spend time with family. We recently met at my great uncle's house in Adairsville. We're not necessarily real big on presents. It's just good to be able to catch up and talk to relatives. Just having family around is what I look forward to this time of year.
MLB.com: Are your kids getting excited for Christmas?
Culberson: They're all just happy kids. We sing a lot of Christmas songs and read books to keep them in a good mindset and influence the Christmas spirit. Our children are excited about presents, but we try not to make that the focus. This time of year, my wife reads them an Advent Christmas book and the 12 Days of Christmas.
MLB.com: What is your favorite holiday season movie?
Culberson: "The Santa Clause." We have it on all the time. It never gets old, and it's quotable.
MLB.com: Do you have a favorite line or scene from the movie?
Culberson: Probably when [Tim Allen's character] was being questioned at the school and he sarcastically says he shared a bowl of sugar and whiskey with his son.
MLB.com: What is the best gift you could give one of your teammates?
Culberson: After spending a day last week with Freddie Freeman at Best Friends Animal Society, I think it would be good to give him a Bengal cat. Freddie doesn't show too much emotion when he's on the field, but when he held that cat last week, you saw that smile and soft side that makes him such a great guy.
Mark Bowman has covered the Braves for MLB.com since 2001.