Brewers coach has best seat in house at camp
MILWAUKEE -- Charlie Greene has the proverbial best seat in the house for the first games of Brewers Summer Camp, even though he's on his feet the whole time. And he's providing a lot of entertainment during some otherwise quiet days at the ballpark. Greene, 49, is the Brewers' Minor
MILWAUKEE -- Charlie Greene has the proverbial best seat in the house for the first games of Brewers Summer Camp, even though he's on his feet the whole time.
And he's providing a lot of entertainment during some otherwise quiet days at the ballpark.
Greene, 49, is the Brewers' Minor League field coordinator and catching instructor, and he's in his 15th season in the organization. This particular season is unlike any of the others, of course, and when Greene was invited by manager Craig Counsell to Summer Camp, he was advised to expect to serve as a "utility coach," which in recent days has meant donning a full set of umpire's gear to call balls and strikes during the daily intrasquad games.
"It's been a great view," Greene said. "You get [Brandon] Woodruff's fastball velocity and [Alex] Claudio's changeup, Corey [Knebel's] big curveball," Greene said. "It's definitely a different view. And the guys are taking care of me; I haven't been hit yet. The catchers are taking care of me so far. …
"I see why I never hit. I wasn't very good, and thank God I don't play today. The velocity is big-time. I'm seeing 98 [mph], and I feel unprotected. No mitt, nothing. It's a different view for me. These guys live on the corners."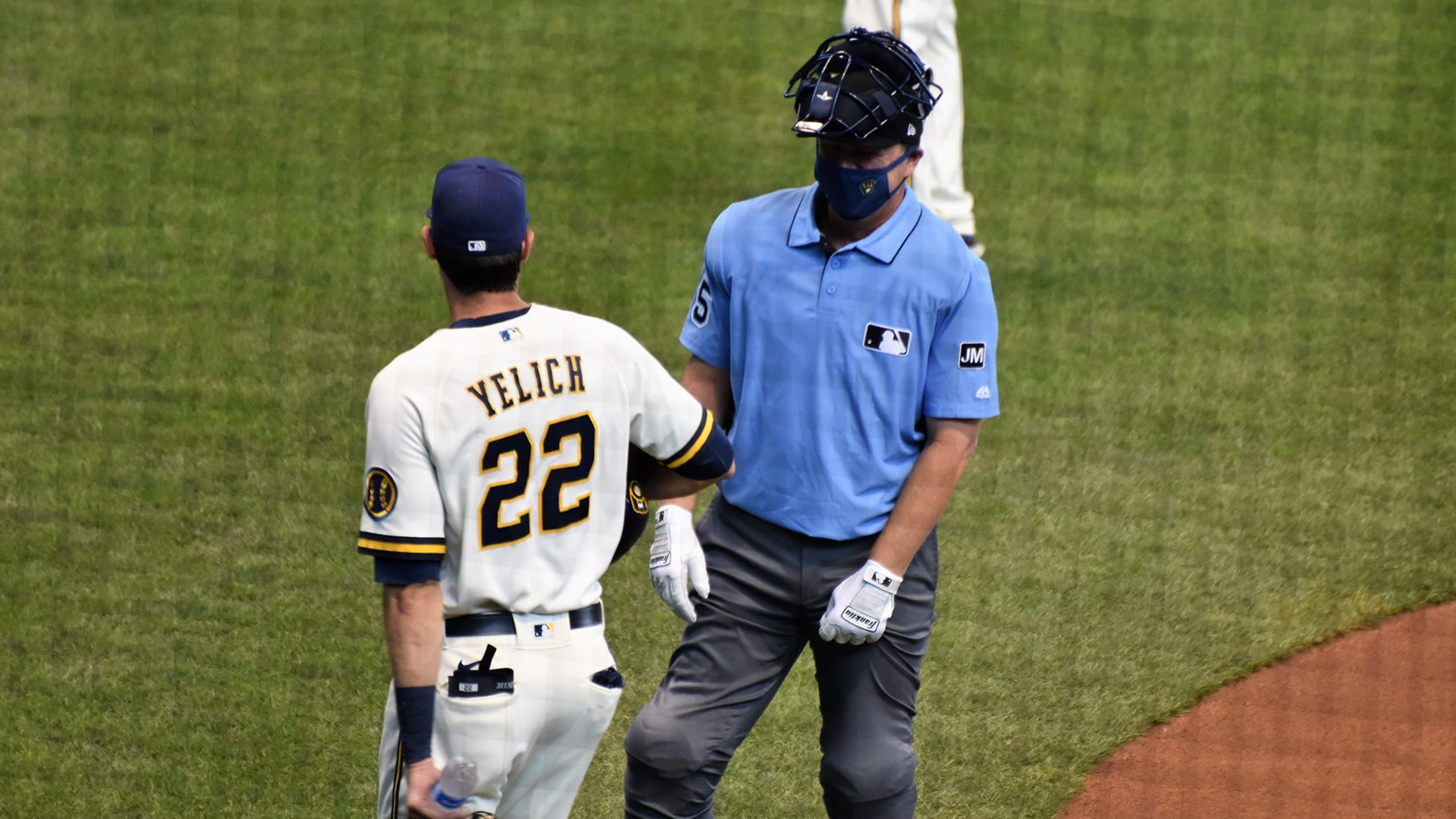 Greene has umpired before on "camp days" in the Minor Leagues, but this is different in a couple of ways. First, he's tracking some nasty pitches like the ones he mentioned. Second, his ball-strike decisions are up for review almost instantly, thanks to the tracking technology displayed on the scoreboard.
When Greene's call and the computer are in conflict, you can bet he hears about it.
"I get the report card every pitch," Greene said. "Contrary to popular belief, I'm not using the board to call the game. I'm calling it on my own."
How are pitchers grading the performance so far?
We'll score it a playful "incomplete."
"I'm not going to say anything bad because umpiring is difficult, for sure," Woodruff said.
"He'll get better for the World Series," joked Josh Lindblom. "He can't be afraid to throw people out, either."
Charlie Greene: "The strike calls, Murph said he wanted a little more. He's been on me the whole time, so I gave him a little more." pic.twitter.com/jXgQjDpfIz

— Adam McCalvy (@AdamMcCalvy) July 11, 2020
Umpire duties are only one part of long days at the ballpark for Greene and other Brewers coaches, who are overseeing multiple sessions of players every day meant to facilitate social distancing. The Brewers have a new primary catcher in Omar Narváez, whose introduction to the staff was interrupted by the coronavirus pandemic. Greene says he has no doubt that players will be ready for the Brewers' July 24 regular-season opener against the Cubs.
Some relief is in sight. Greene said "real" umpires show up on Monday, when the Brewers will be playing more traditional games without innings shortened or extended, or counts manipulated to simulate different situations. On Opening Day, Greene expects to head back home, where he will continue to remain in touch with many of the Brewers' prospects who are trying to remain as productive as possible in lieu of a Minor League season. At the moment, there are two conference calls per week just for the organization's catchers, one in English and one in Spanish, Greene said. Greene is hopeful that the Brewers will be able to stage some kind of fall program, but that will depend on the guidance of Major League Baseball and a reining in of the recent spike in COVID-19 cases in Phoenix.
First, Greene was preparing for one last weekend behind home plate.
"The legs are a little stiff, but I'll be all right," Greene said.
Last call
• The Brewers placed pitchers Eric Lauer and Angel Perdomo and infielder Luis Urías on the injured list Saturday without specifying reasons for the moves. The club previously had reported that Perdomo and Urías were absent from Summer Camp because they had tested positive for COVID-19 prior to intake testing. Lauer reported to camp for the first time on Friday, and he is clear to continue to work out with the club while he is on the IL.
• The Brewers are planning to split into squads next week for what pitcher Josh Lindblom called a "Blue and Gold World Series," when the team graduates from controlled scrimmages to more straightforward games. Lindblom said manager Craig Counsell mentioned the possibility of a draft to decide teams, and word is that they may be named for a couple of beloved teams from the Brewers' past. The Brewers have not announced plans yet, but those games may feature play-by-play and commentary from the team broadcasters on a Brewers.com live stream.
"We've done a really good job of trying to create game situations, trying to simulate what it's going to feel like," Lindblom said. "I think we're in a good spot as a team."
• A second Brewers Minor Leaguer, right-hander Anthony Bender, has signed to play independent ball this summer. Bender, a reliever who topped out last season at Double-A Biloxi, debuted Friday night for the Milwaukee Milkmen of the American Association, who play in neighboring Franklin, Wis. He joins another right-hander, Nick Belzer, who signed to play for the St. Paul Saints.