Montoyo gets gift bag of giveaways from Rays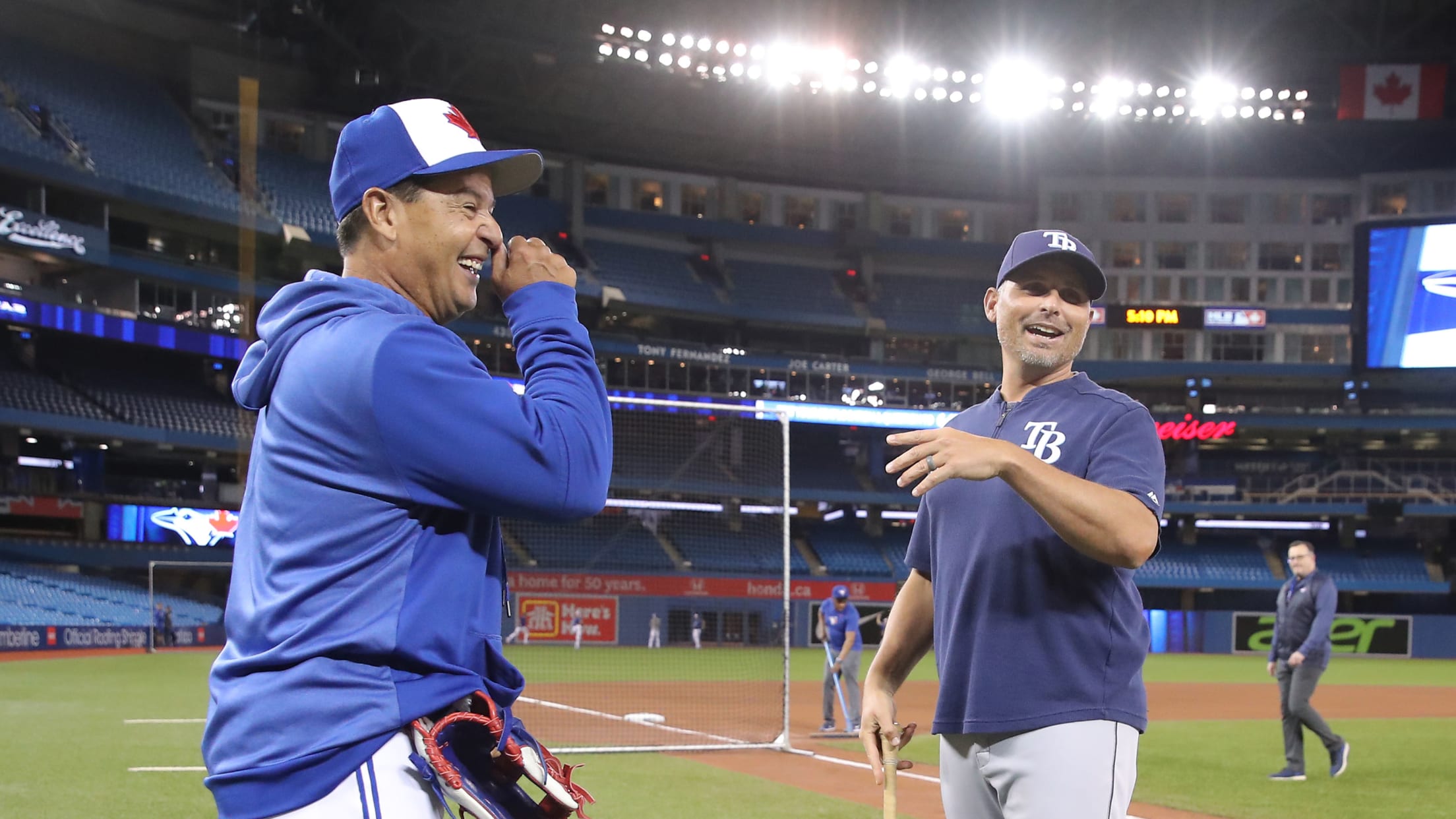 TORONTO -- In anticipation of the Rays' first road trip to Toronto, a few members of the Tampa Bay coaching staff took some extra care in packing. Ahead of Friday night's matchup against the Blue Jays, all of the upcoming giveaway items scheduled to be handed out at Tropicana Field
TORONTO -- In anticipation of the Rays' first road trip to Toronto, a few members of the Tampa Bay coaching staff took some extra care in packing.
Ahead of Friday night's matchup against the Blue Jays, all of the upcoming giveaway items scheduled to be handed out at Tropicana Field this season were strategically placed in and around Toronto manager Charlie Montoyo's desk and locker, inside his office.
"Hopefully he received them well, and can put good use to them," Rays manager Kevin Cash said of the bobbleheads and other merchandise left for his former bench coach. "They're all giveaways.
"Charlie was very passionate about the giveaways at the Trop on Saturdays and Sundays. He made sure that he always had enough, so the giveaways for this year for 2019, we wanted to make sure that he had all of his Christmas gifts."
You (all of us, really) need this bottle opener.

🎫 // https://t.co/qwHO1n8Om8 pic.twitter.com/IiVdCZ9fJP

— Tampa Bay Rays (@RaysBaseball) April 11, 2019
As Montoyo welcomed the media into his office before Friday's batting practice, he immediately offered the surprise merchandise to anyone in the room who would take it, scattering it on the floor.
"I'm thinking what I'm going to do now," the Blue Jays manager said. "There's going to be something tomorrow, in their clubhouse, I'll tell you that. I've got to think about it. They drew the first blood."
Added Cash: "I promise you, whatever is left in that office, he'll take it home with him and give it out as Christmas gifts. So [Montoyo offering them to the media] was just a gesture to say, 'Oh, I don't really care,' but he's hoping that Blake Snell bobblehead, that nobody took it, because that's a really nice gift in his household."
Though Snell is upset that his former coach will no longer be his fan when he takes the mound at Rogers Centre on Saturday afternoon, he does believe he still has at least one fan in the Montoyo household.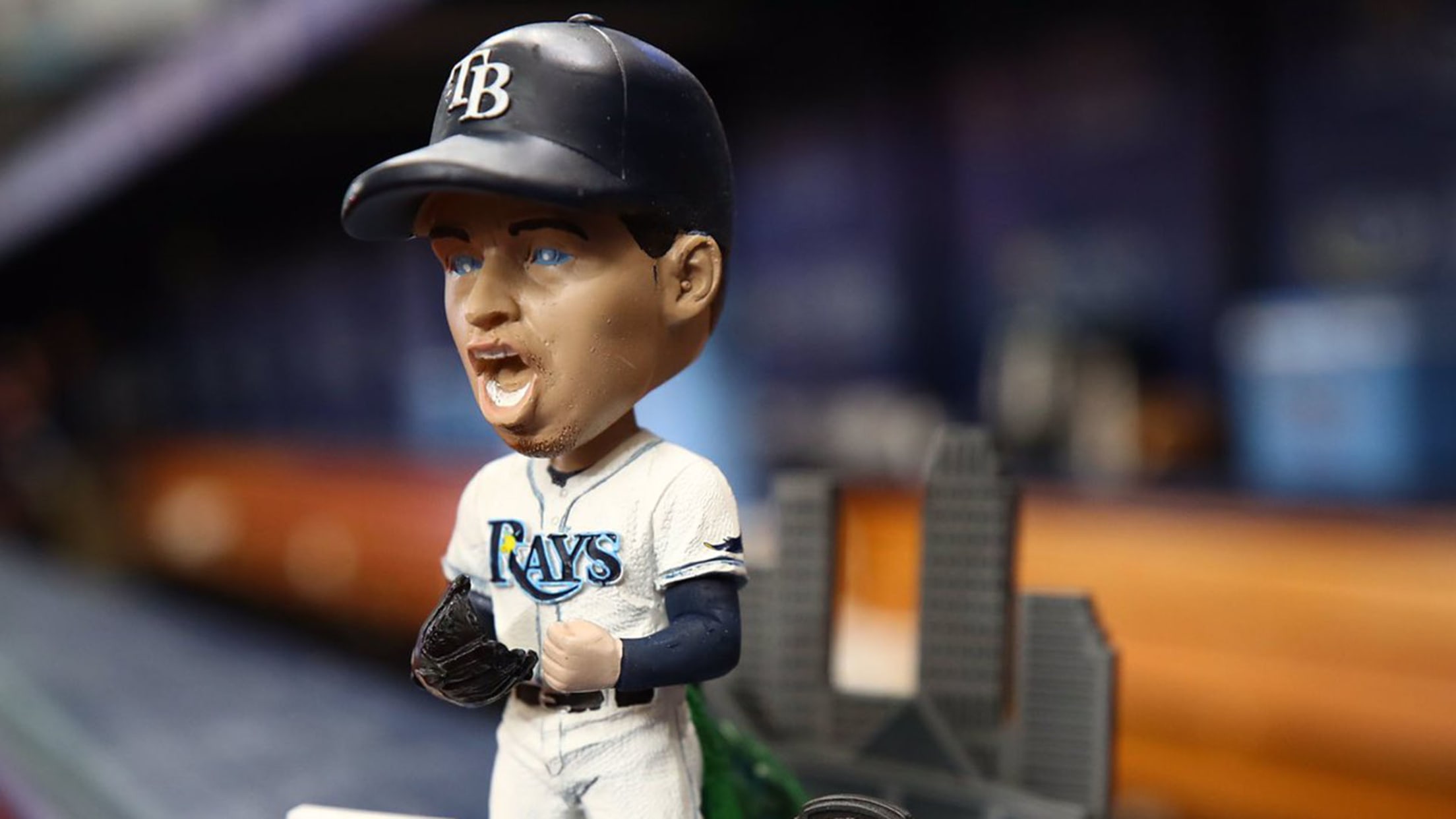 "He's supposed to be rooting for me, because I know his son [Alex] is," Snell said. "It's definitely going to make it upsetting that he's going to have to root against me. I'm not happy about that, but it's definitely weird."
Though the situation will take some getting used to, Snell couldn't be more excited or proud to see Montoyo at the helm of a Major League team.
"Charlie is the best," the reigning American League Cy Young Award winner said. "I'm happy for him being here; I'm happy he's managing. It's what he's always wanted to do, and he's really good at it. They have a great manager. … He's an amazing guy who I've grown to love, and a lot of people here love him.
"We're sad that he left, but happy at the same time, because he's going to turn this place around and make them a powerhouse. We're in the same division, so we'll be on our game and we know Toronto will be on theirs with him managing them."
Montoyo spent four seasons on Cash's coaching staff before being hired by the Blue Jays during the offseason. He was the Rays bench coach last season, and the third-base coach for the team the previous three years. The native of Puerto Rico joined the Rays organization in 1996 and managed at every level in the system, compiling a 1,266-1,142 managerial record over 18 seasons. His teams advanced to the postseason nine times.
"I can assure you I learned a lot more from him over the last three or four years [than he did from me]," Cash said. "Same with Rocco [Baldelli, manager of the Twins], and the way they interact with players, the knowledge they value, and Charlie's got a wealth of managing experience. I don't care whether he's done it in the big leagues or not -- for him to go to every level, and now he's got wins at every level – that's pretty special. He's sorely missed, but it's exciting to be playing against him."
After all of the pregame reunions, hugs and fun, Montoyo was just looking forward to taking on his American League East rival.
"They're my friends," Montoyo said. "Kevin is one of my best friends. But the moment the game starts, here we go. I want to beat him, just like he wants to beat me. Of course, I wish them the best. They're doing good. Good for them. But we'd love to take three from them. We'll start with tonight."