Inbox: Concern over Morton's control lapses?
Beat reporter Brian McTaggart answers Astros fans' questions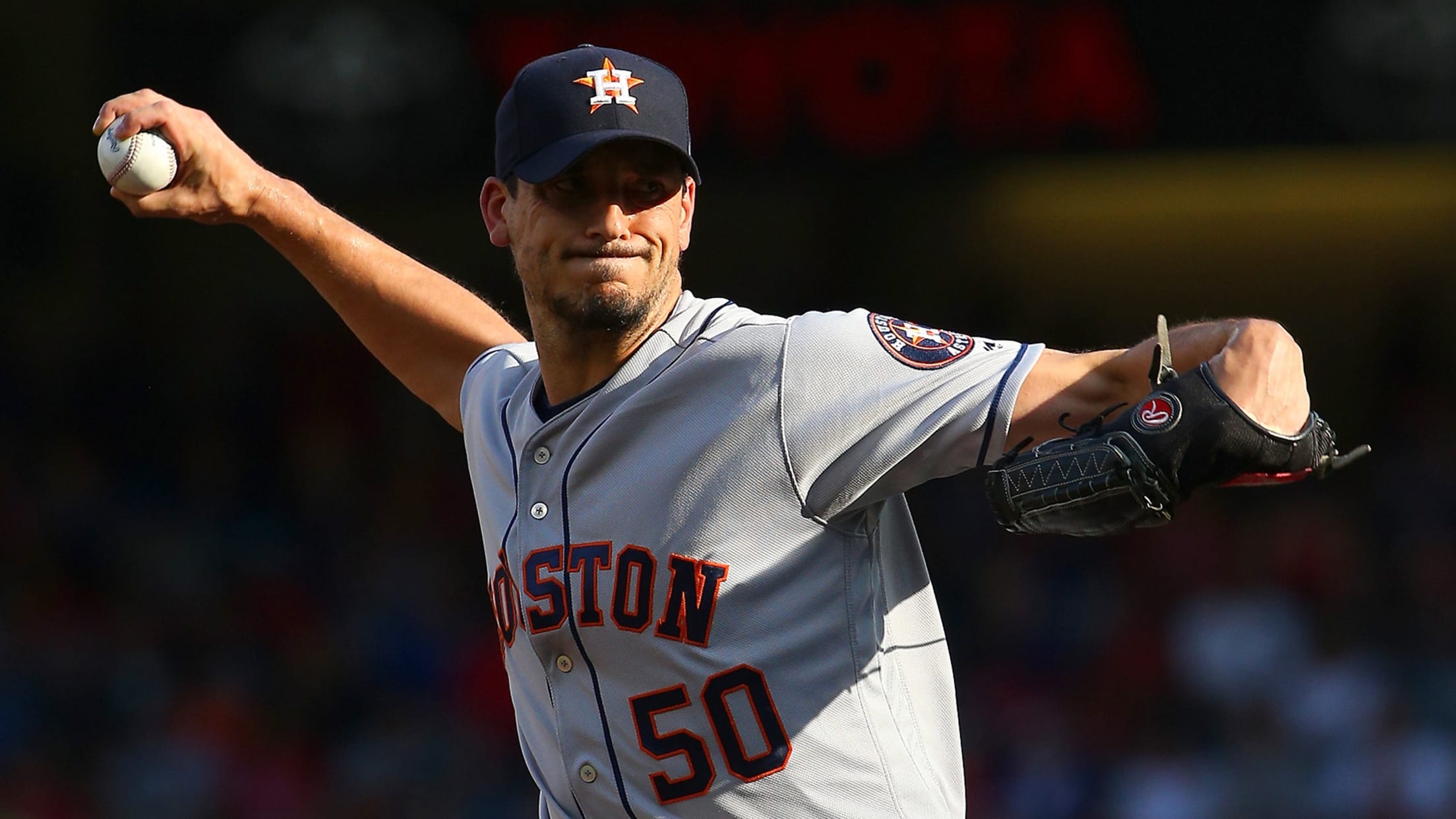 The Astros are rolling, having won 13 of 14 games on their way to becoming the Majors' first team to 50 wins this season. As we near the halfway point of the 162-game schedule, let's open the Inbox to see what's on your mind:In Charlie Morton's last three starts, he
The Astros are rolling, having won 13 of 14 games on their way to becoming the Majors' first team to 50 wins this season. As we near the halfway point of the 162-game schedule, let's open the Inbox to see what's on your mind:
In Charlie Morton's last three starts, he has had a lot of walks. Are his control issues just mechanical, or something more?
-- Richard M., Houston
Morton has walked 14 batters and hit five batters in his past three starts, a span of 15 2/3 innings. It's definitely an issue of mechanics and not repeating pitches, which has led the right-hander to fall behind hitters and issue walks. He's trying to find the right rhythm and cadence in his delivery while trying not to be too perfect or get too sloppy inside the strike zone.
:: Submit a question to the Astros Inbox ::
If Morton gets ahead of hitters, he gets into a tempo and is aggressive in the zone, which helps him zoom along. Lately, if he has made a bad pitch or two, he's lost hitters. It's been a struggle for Morton's past three starts, but on Wednesday, he didn't allow an earned run over six innings despite issuing four two-out walks.
The Astros clearly have their long-term first baseman in Yuli Gurriel. AJ Reed clearly has trade potential. What prevents a Major League team like the Astros from trading a player they clearly don't plan on bringing up to The Show, a player who wants to be traded?
-- Name withheld, Terre Haute, Ind.
We haven't had a question about Reed in a while, so I appreciate this (and I can tell by your Terre Haute address you're obviously following him closely). I think the Astros would trade him if they could, but I don't think he has a lot of value at this point. Reed hasn't performed well in his limited big league time, hitting .156 with three homers and 49 strikeouts in 128 at-bats.

It's clear Reed punishes Triple-A pitching, but there doesn't appear to be a spot for him on the big league club at this point. What's also clear is that if he gets another chance this season, Reed will need to put up some numbers or his days in Houston are probably over.
Why are the Astros handicapping themselves on offense with Jake Marisnick?
-- Bill G., Sugar Land, Texas
Astros manager AJ Hinch was asked about this last weekend in Oakland. Hinch said at the time it was important not to bury Marisnick, who's hitting .176 with 60 strikeouts in 131 at-bats. Hinch said Marisnick is "a Major League player. He's on our team, and he can run the bases. We've got to find a way to get his bat going." Hinch said Marisnick isn't going to be better by sitting on the bench.
Look, Marisnick has some enticing tools. He's an elite defender and baserunner, and he can be a weapon, but he's going to have to figure out a way to make more contact and be more of a contributor offensively to stick with the club for the long run.
Could the batter's eye be partly to blame for the Astros' hitting struggles at Minute Maid Park, or are they just due to the way the park is shaped? It seems like something is up when they have completely raked away from home for two years in a row.
-- Austin H., Austin, Texas
I definitely think there is something to the home-road splits, even if the team won't admit to it publicly. You can bet the Astros have done some research on this and have some answers. Blaming the batter's eye, I think, makes some sense, considering how much better Houston has hit on the road over the past two seasons. Remember, Tal's Hill was removed prior to the 2017 season, and that's when the new batter's eye was unveiled.
When the Astros were crushing the ball in Oakland last week, a few players said how much they like to hit at the Coliseum because of the batter's eye, which is large and devoid of notable distractions. The batter's eye at Minute Maid Park was expanded on the fly last year, and there are a lot of colors and advertisements out there that may be distracting to hitters.
Who will be up first, Forrest Whitley or Kyle Tucker?
-- Chris S., Cypress, Texas

Great question about Houston's top two prospects, respectively, as ranked by MLB Pipeline. Whitley has been dominant in three appearances at Double-A Corpus Christi since his 50-game suspension ended (18 strikeouts in 12 scoreless innings), and Tucker is having a nice season at Triple-A Fresno (.301/.372/.492 with nine homers and 54 RBIs in 65 games). That said, I think the answer to your question is Whitley. The kid's got great stuff and could help the Astros out this year.