Red Sox DFA d'Arnaud, call up Velazquez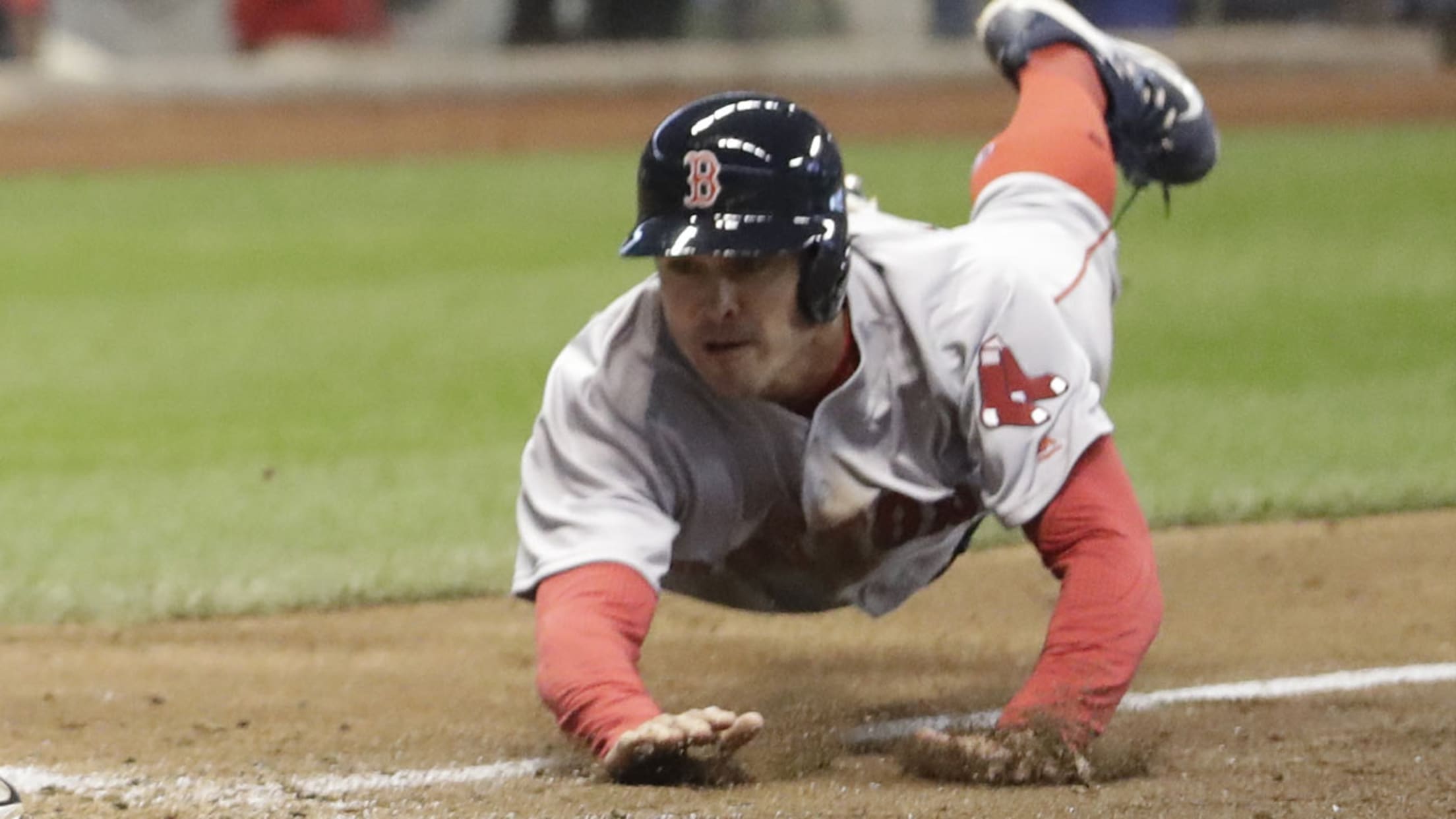 Chase d'Arnaud went 4-for-9 in 13 games this season between the Braves and Red Sox. (AP)
OAKLAND -- Hector Velazquez received a warm welcome to the visitors' clubhouse at the Coliseum on Thursday afternoon before making his Major League debut in the Red Sox's series opener against the A's. Boston selected Velazquez from Triple-A Pawtucket on Thursday while utility man Chase d'Arnaud was designated for assignment and
OAKLAND -- Hector Velazquez received a warm welcome to the visitors' clubhouse at the Coliseum on Thursday afternoon before making his Major League debut in the Red Sox's series opener against the A's. Boston selected Velazquez from Triple-A Pawtucket on Thursday while utility man Chase d'Arnaud was designated for assignment and right-hander Steven Wright was moved to the 60-day disabled list.
Despite having an eight-man bullpen, the Red Sox elected to pare d'Arnaud from the roster.
"Felt like carrying the extra pitcher, at this point, was the way to go," Red Sox manager John Farrell said. "After 13 innings last night, we're probably going to stay away from a guy or two. Unfortunately, it creates the move that we had for Chase, in this case. But it gives us a little more depth in the bullpen."
Velazquez's debut comes three months after the Red Sox inked him to a contract and plucked him from the Mexican League, where he pitched from 2010-16. The 28-year-old righty fared well with Pawtucket, going 2-1 with a 1.55 ERA, 0.79 WHIP and 20 strikeouts in 29 innings across five starts.
Farrell was non-committal on Velazquez's immediate future with the club, saying it depends on his outing Thursday and the results from David Price's scheduled Triple-A rehab start in Buffalo on Friday.
"Next week is an off-day Monday," Farrell said. "We've got a chance to adjust the rotation if need be."
The Red Sox claimed d'Arnaud off waivers April 27 after he was DFA'd by Atlanta two days earlier. The 30-year-old went 4-for-9 (.444) in 13 games this season between the Braves and Red Sox, having appeared at second base, third base and left field. Wright, who was an All-Star in 2016, underwent season-ending surgery on his left knee on May 8.
Worth noting
• Price (left elbow strain), third baseman Pablo Sandoval (right knee sprain) and outfielder Brock Holt (vertigo) are all slated to start for Pawtucket on Friday evening in Buffalo. Sandoval is expected to be limited to a designated-hitter role.
Alex Espinoza is a contributor to MLB.com based in the Bay Area. He covered the Red Sox on Thursday.