Rays recall Hu, option Yarbrough in 'pen shuffle
Ramos (groin tightness) not expected to land on DL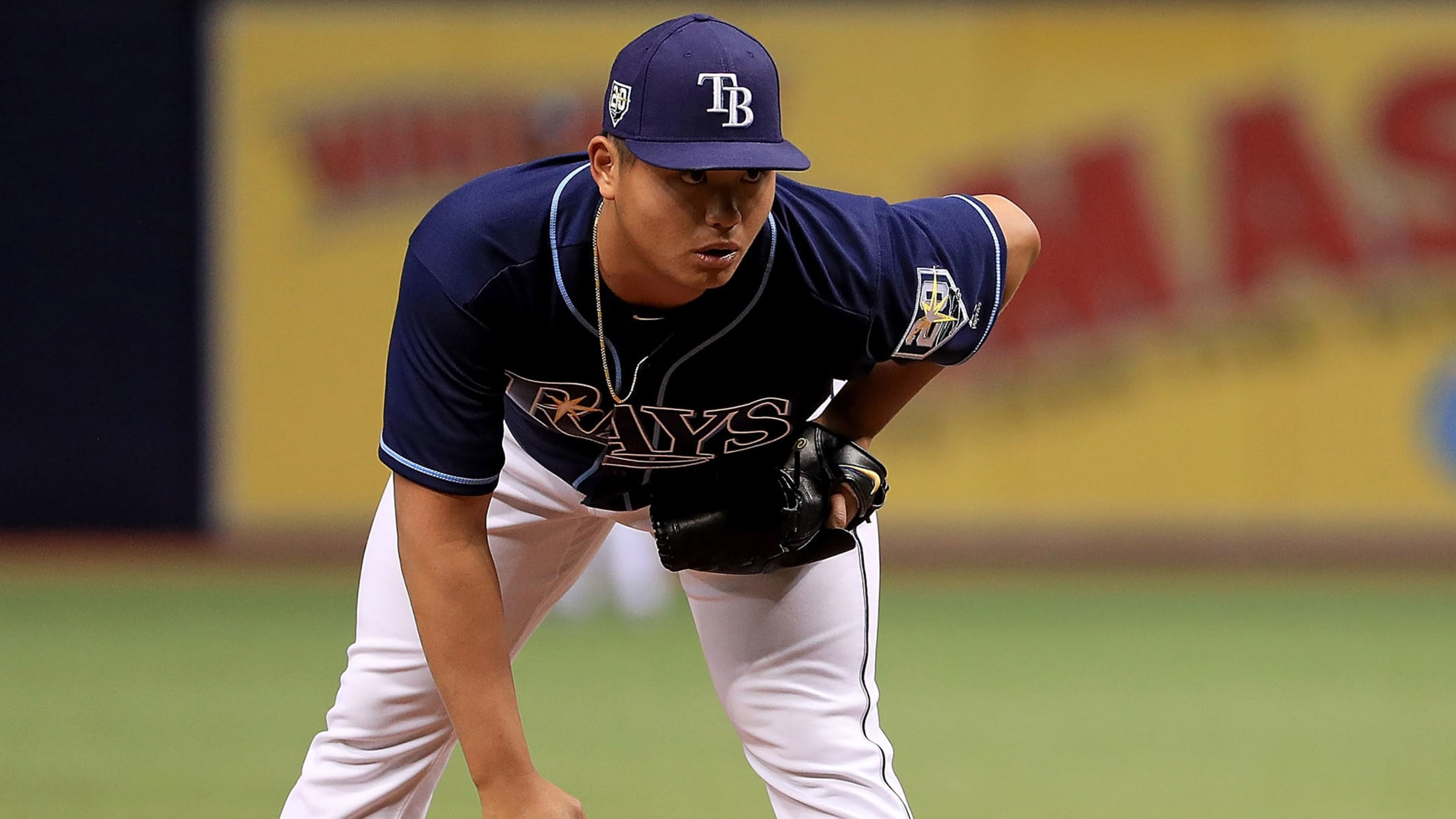 BOSTON -- Soon after watching rookie left-handed reliever Ryan Yarbrough save his team from defeat and earn his first big league win, manager Kevin Cash was forced to have the "tough conversation" that Yarbrough was being optioned to Triple-A Durham.After tossing four strong innings, spelling starter Yonny Chirinos in the
BOSTON -- Soon after watching rookie left-handed reliever Ryan Yarbrough save his team from defeat and earn his first big league win, manager Kevin Cash was forced to have the "tough conversation" that Yarbrough was being optioned to Triple-A Durham.
After tossing four strong innings, spelling starter Yonny Chirinos in the third inning of Saturday's 12-6 win over Boston, Yarbrough and the bullpen were stretched thin.
With Sunday's game being a bullpen day for the Rays, fresh arms were needed, so Tampa Bay recalled right-hander Chih-Wei Hu, who was scratched from his start with Durham on Saturday.
"Challenging, simply because Yarbrough comes in, gets his first win," Cash said Sunday. "He's done some good things for us. Yesterday was a lot of good things. To keep the lead, he provided some length. That's the way it works. We've got to get him down there to keep him stretched out. We've got a bunch of off-days coming up and we need pitching. It kind of made the most sense to option him out, get Chih-Wei back up. He was scheduled to start yesterday and now he can provide a lot of length."
With Durham, Hu had made three starts, going 0-1 with a 4.15 ERA, striking out 16 over 13 innings.
He also made one appearance for the big club back on April 16, throwing 2 2/3 innings against Texas, allowing three earned runs, all on a Nomar Mazara home run.
In seven appearances with the Rays, Yarbrough was 1-1 with a 4.19 ERA, and on Saturday came up big when he entered the game with the bases loaded and no outs, but got out of the inning, as he helped preserve an early Tampa Bay lead in a back-and-forth affair.
"I tried to give him the message that this wasn't performance related," Cash said. "But, it's part of the game, it's the way it works and we've got to make decisions to make sure that we're doing everything we can to win the next day and keep guys healthy. The last thing we ever want to do is get anybody hurt because we're overworking them too much. That's what went into the decision."
No DL expected for Ramos
The last thing the streaking Rays want is to lose one of their red-hot bats, which looked to be the case when catcher Wilson Ramos was removed from Saturday's game with groin tightness following a long single in the seventh inning.
While Cash felt after the game that his backstop wouldn't need much downtime, he reiterated the sentiment prior to Sunday's game, saying he didn't think a disabled list stint was necessary.
"In an emergency, he could play today. We think we caught it just in time," Cash said. "Wilson's been battling a little bit, he got beat up yesterday, but hopefully he doesn't have too much of a groin issue. He doesn't run that fast. So, we should be able to protect it."
After collecting just three hits over his first seven games this season, Ramos has hit safely in 11 of his last 13 and Saturday became the first Rays catcher to ever hit home runs in three consecutive games.
Craig Forde is a contributor to MLB.com based in Boston.