Cash says Archer 'outstanding' in Minors start
Rays choose to have ace not pitch against AL East-rival Yankees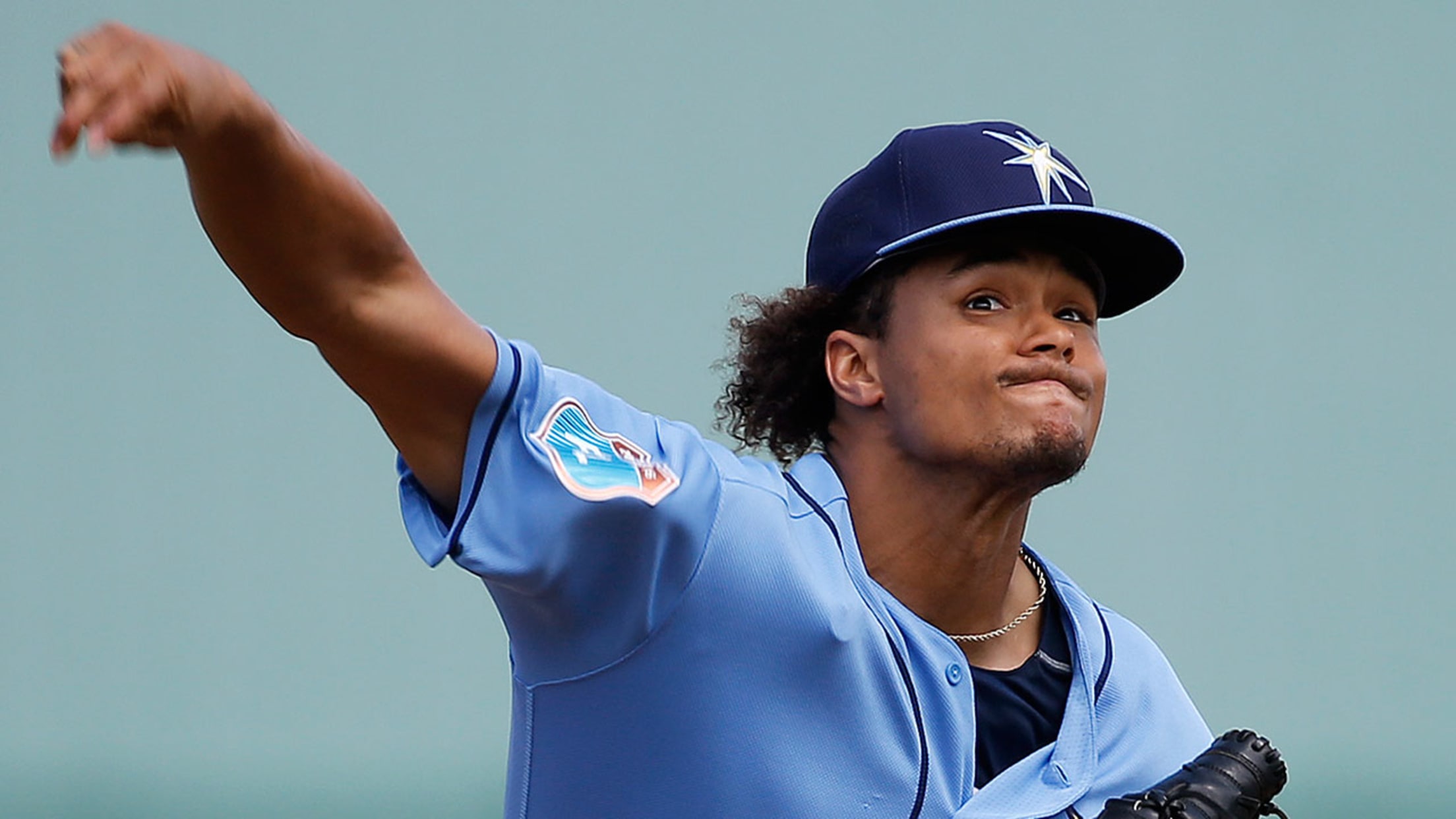 Chris Archer has allowed four runs (three earned) over nine innings in Grapefruit League play. (AP)
TAMPA, Fla. -- Rays right-hander Chris Archer was pleased with his work Thursday afternoon in pitching six-plus innings during a Minor League game.Archer allowed one run, five hits and two walks to go with nine strikeouts in 6 1/3 innings against Twins Minor League players in Port Charlotte. He threw
TAMPA, Fla. -- Rays right-hander Chris Archer was pleased with his work Thursday afternoon in pitching six-plus innings during a Minor League game.
Archer allowed one run, five hits and two walks to go with nine strikeouts in 6 1/3 innings against Twins Minor League players in Port Charlotte. He threw 106 pitches, 72 for strikes.
• Spring Training:Schedule | Tickets | Gear
"I thought it was a really good work day," Archer said. "They put the ball in play a lot, and I had to make some pitches with people on base. It was a really nice outing considering when I threw in the cage last time, there was no pressure."
Speaking Thursday night from George M. Steinbrenner Field, Rays manager Kevin Cash said Archer threw at the club's Spring Training complex instead of facing Yankees hitters because Archer will meet the American League East rival multiple times during the regular season. Right-hander Matt Andriese received the start against New York, allowing one run over three innings.
"He was outstanding," Cash said of Archer. "Probably his best outing of the spring. … I got to see four innings of it, and everything was clicking really, really good today.
"My thinking is, 'Keep him out of it,'" Cash added about Archer not playing in Tampa. "They see Chris Archer plenty. When it makes sense for us to do that, why not do it?"
Archer enjoyed the low-pressure outing. He said it was beneficial for him at this stage in his spring preparation. He has allowed four runs (three earned) and four walks with seven strikeouts in nine innings of Grapefruit League play.
"They like for the seven-inning stint to be in a more controlled environment, just considering there's a lot of things that can happen," Archer said. "They want to make sure that we get to our 100 pitches, seven innings.
"I do a good job of mentally putting myself in certain situations. There's a right-handed hitter in the box, and I'm imagining that it's a right-handed hitter we're going to face regularly. ... Just because it's the nine-hole hitter on the back field, I'm attacking him like it's Adam Jones, [Josh] Donaldson, all the right-handers."
Andrew Astleford is a contributor to MLB.com.