Herrmann goes on DL with oblique strain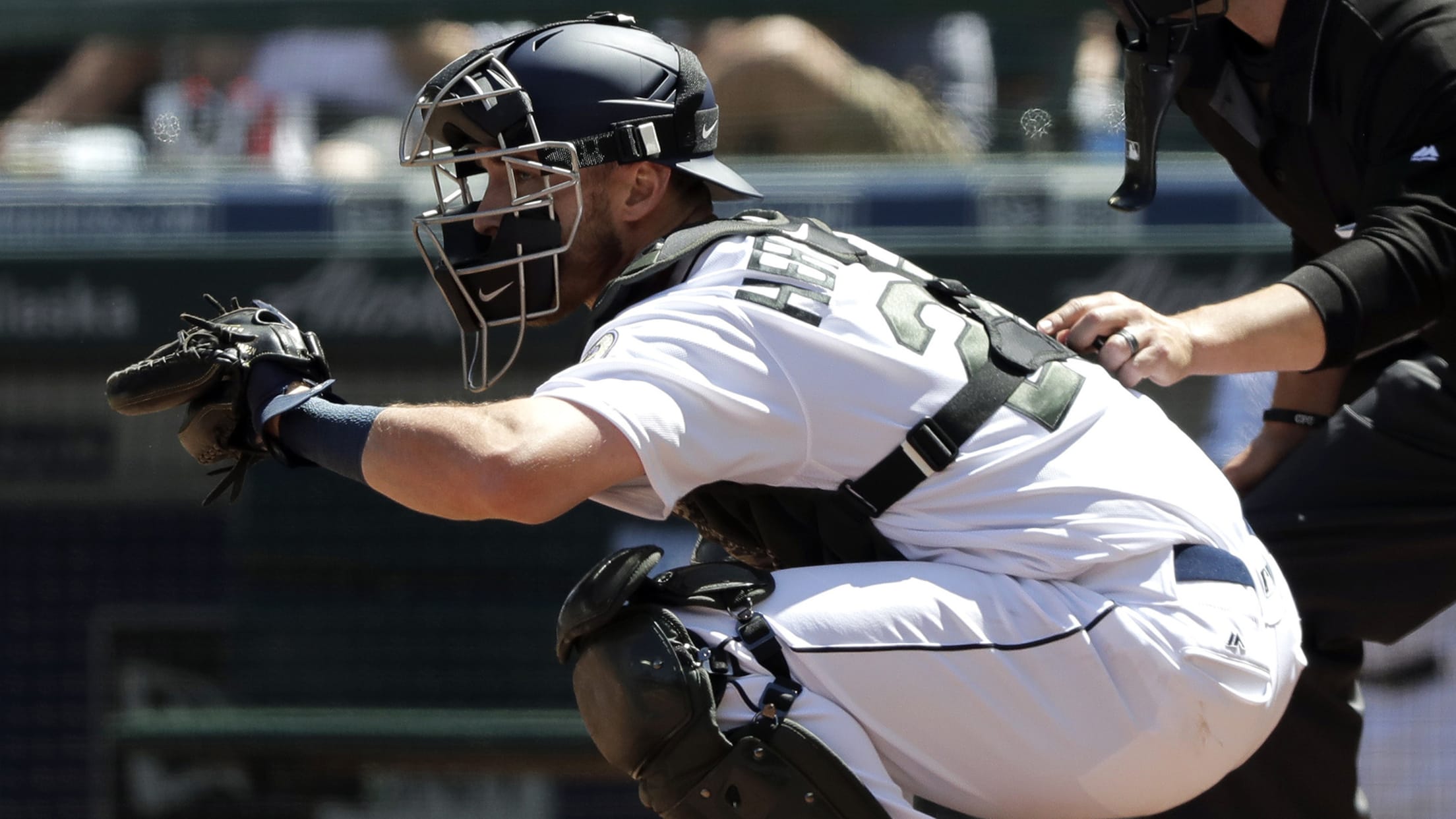 Seattle Mariners catcher Chris Herrmann waits for a pitch against the Minnesota Twins during a baseball game, Sunday, May 27, 2018, in Seattle. (AP Photo/Ted S. Warren) (Ted S. Warren/AP)
SEATTLE -- Newly promoted catcher Chris Herrmann, who made his Mariners debut on Sunday, was placed on the 10-day disabled list with a strained right oblique prior to Wednesday's game against the Rangers.David Freitas, who was optioned to Triple-A Tacoma when Herrmann arrived on Sunday, was recalled to fill the
SEATTLE -- Newly promoted catcher Chris Herrmann, who made his Mariners debut on Sunday, was placed on the 10-day disabled list with a strained right oblique prior to Wednesday's game against the Rangers.
David Freitas, who was optioned to Triple-A Tacoma when Herrmann arrived on Sunday, was recalled to fill the backup catching role. Herrmann's DL stint is retroactive to May 28, so he'll be sidelined until at least June 7.
Herrmann felt an issue in his side during batting practice Tuesday and had an MRI test on Wednesday. Manager Scott Servais said the 30-year-old wasn't available to play in Tuesday's game, and the club can't afford to go long without a backup to starter Mike Zunino.
"I don't think it's anything serious, but he felt it and was not available last night," Servais said. "You can't go through too many games with just one catcher. We had to do something there."
Herrmann went 1-for-4 on Sunday and worked well with starter Mike Leake in a 3-1 victory over the Twins. He signed a Minor League deal in early April after being released by the D-backs in the final days of Spring Training. He's played parts of the previous six seasons in the Majors with the Twins and D-backs.
Freitas, 29, hit .217/.321/.304 with four doubles and two RBIs in 19 games as Zunino's backup before being sent down. His only previous Major League experience was six games with the Braves last season.
Gordon should be back Thursday
Second baseman Dee Gordon is expected to be brought off the 10-day disabled list on Thursday when he's eligible to return after missing nine games with a fractured right big toe.
Gordon initially fouled a ball off his foot in Toronto in early May, then aggravated the toe diving for a ball in the 11th inning of a victory over the Tigers on May 20. Servais is looking forward to having the speedster back atop his lineup, as Gordon is hitting .304 with 16 stolen bases, the most in the American League entering Wednesday.
"I think probably [what we've missed most] on the offensive side, we've had trouble creating a lot of rallies and keeping them going," Servais said. "Dee is a big part of that. Bat-to-ball skills, he's always making contact and creating something. And when he does get on base, it's a whole other dynamic that he brings to our offense."
Giving Diaz a break
Servais said closer Edwin Diaz would be given a day off on Wednesday after matching a career high with four runs allowed in the ninth inning of Tuesday's 9-5 loss to Texas. That was the 24-year-old's fifth game in the past seven days, as the Mariners have a played a number of close contests.
Diaz pitched in 29 of Seattle's first 54 games, the most appearances in the AL, and is on pace to pitch 87 games. He entered Wednesday leading the AL with 19 saves.
"It comes in streaks," Servais said. "We had a fantastic May, and he's pitched in almost every game, because they've almost all been one-run games. He had a stretch in the early part of May where he pitched one inning in about eight days, then there's other stretches where you're pitching him five out of seven.
"We have to be smart. That's one of the reasons we got [Alex] Colome, to help out. People keep saying Eddie is on pace to pitch 90 games. But he's not going to pitch in 90 games. Trust me. That won't happen. We're on a pretty good streak, and he's the reason we've been winning all these one-run games, because he's been fantastic."
That's a lot of relief
Reliever Marc Rzepczynski pitched in his 500th career game on Tuesday with a scoreless seventh inning. Entering Wednesday, the 32-year-old ranked ninth in the Majors among left-handers in games pitched and acknowledged it was a significant milestone.
"It means I've been doing this a long time and have been able to stay healthy," Rzepczynski said. "It was one of my goals when I got turned into a reliever, to pitch 500 games. I'm a big numbers guy and set goals for myself. I just wanted to see if I could do it.
"My first year relieving was 2011, and at that point, I'd made 23 starts and two relief appearances. So it was just going to prove a point if I could do it for a long time, if I could be durable. Back then, I had no idea where my career would go."
Rzepczynski gave up a double and walk in the seventh to the Rangers, but then got a big strikeout and double-play grounder. And that allowed him to enjoy the accomplishment.
"While hitting 500 games is a cool number thing, I'm more happy it was a scoreless inning," Rzepczynski said. "Especially with the ups and downs I've had this season, I was definitely happy I was able to work out of my own jam, so that was nice."