Herrmann (right knee) out for Opening Day
Club has yet to schedule surgery date for No. 1 catcher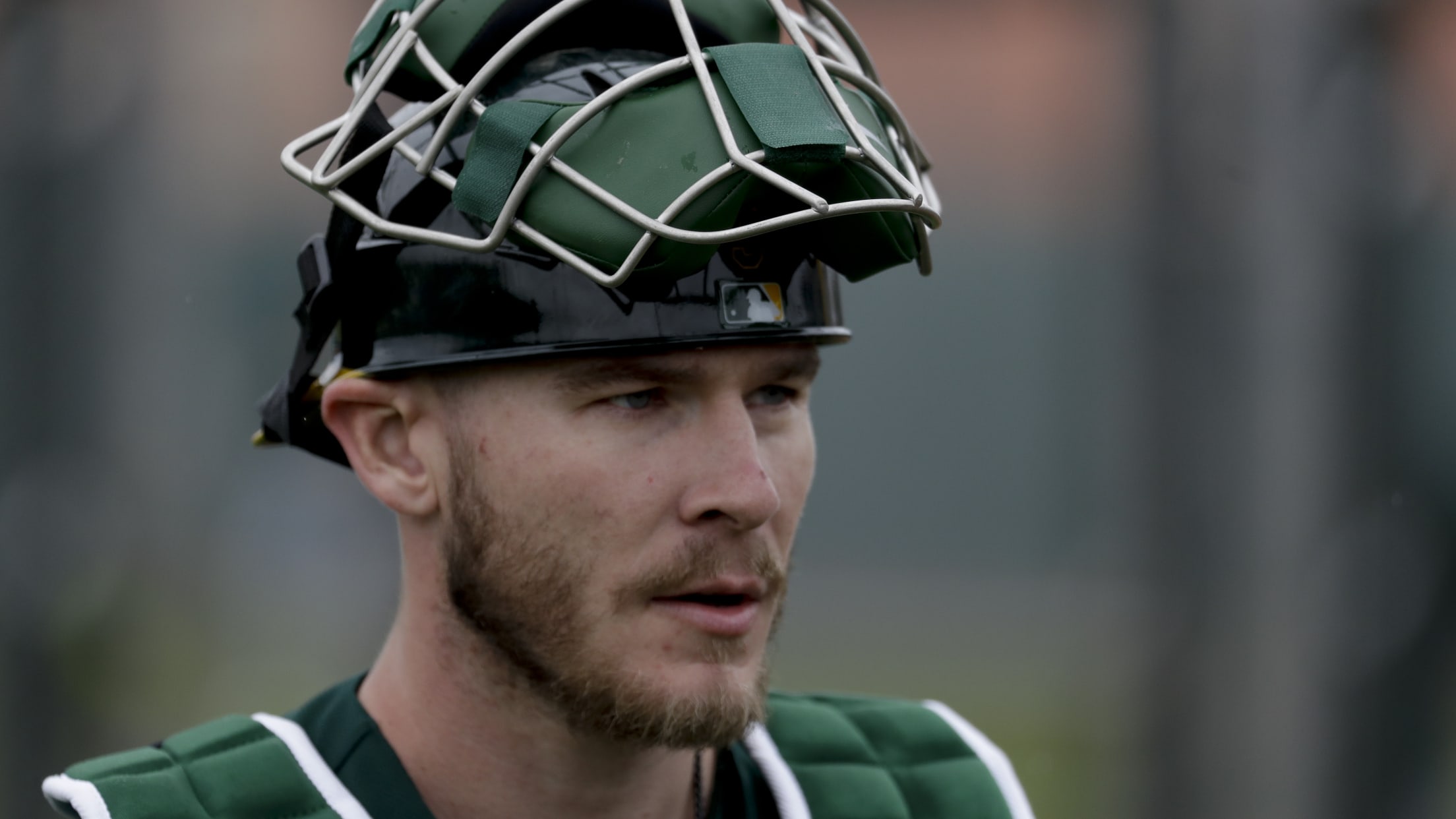 PEORIA, Ariz. -- A's catcher Chris Herrmann is set to have right knee surgery, disrupting the A's plans behind the plate. It does, however, settle a roster dispute. Josh Phegley and Nick Hundley, previously in battle for the backup catching job, are now both expected to make the Opening Day
PEORIA, Ariz. -- A's catcher Chris Herrmann is set to have right knee surgery, disrupting the A's plans behind the plate.
It does, however, settle a roster dispute. Josh Phegley and Nick Hundley, previously in battle for the backup catching job, are now both expected to make the Opening Day roster.
Phegley is out of options, while Hundley has an opt-out clause built into his Minor League contract. The A's won't have to risk losing either right-handed hitter, all the while ensuring that their top catching prospect, Sean Murphy, is afforded more time at the Triple-A level.
The 24-year-old -- ranked by MLB Pipeline as the A's No. 3 prospect and No. 45 overall -- has just three games under his belt there.
"If we were pressed and he had to start the year with us, I wouldn't have a problem with that," A's manager Bob Melvin said. "I think, offensively, any time you have a younger guy like that with limited time in Triple-A, it might be a work in progress as far as that goes, but he's pretty good, and we feel good about him right now.
"But the idea about bringing the guys that we have here right now is to let him develop a little bit more, and that'll be the case, so I really couldn't put a timetable on him."
Herrmann, who was eyeing his first career opportunity as an everyday player after spending the first six seasons in a part-time role, initially experienced knee swelling in January and had an MRI that revealed a tear along his femoral condyle. Herrmann's knee was drained to relieve swelling, and he was prescribed a cortisone shot and rest -- a recipe that worked for more than a month.
The swelling returned within the last couple of days, however, prompting another MRI that showed further tearing. Dr. Doug Freedberg consequently recommended arthroscopic surgery for Herrmann, who will get a second opinion before scheduling a date for the procedure.
A's head athletic trainer Nick Paparesta ruled Herrmann out for Opening Day, but wouldn't speculate on a timetable for his return.
"This could be one of those ones where you go in there and it's bigger than it looks," Paparesta said.
After the A's missed out on re-signing Jonathan Lucroy this winter, they brought in Herrmann on a $1 million Major League deal and proposed a plan to have him platoon with Phegley. Then Hundley came aboard on a Minor League contract in February, guaranteeing him $1.25 million when on the big league roster. Hundley is a .248/.300/.406 hitter in his 11-year career, while Phegley owns a .223/.264/.372 career slash line over parts of six big league seasons.