Marrero follows Derby win with Triple-A All-Star Game honors
Red Sox prospect named Top Star for International League in 4-2 win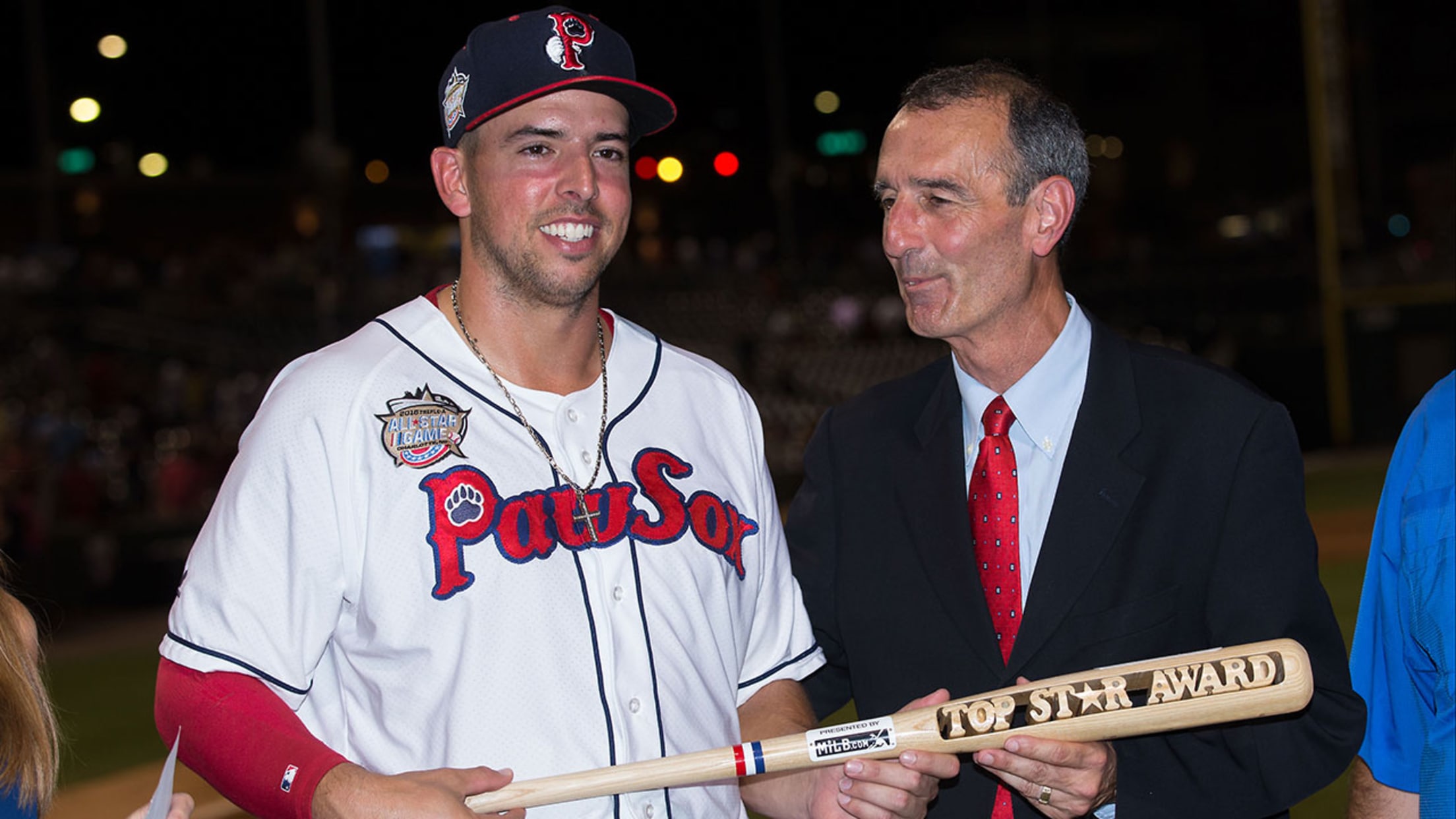 Chris Marrero is presented with the Top Star Award from International League president Randy Mobley. (Brian Westerholt/Four Seam Images)
CHARLOTTE, N.C. -- Chris Marrero heard them coming.As the Pawtucket Red Sox infielder stood on the field at BB&T Ballpark, moments after receiving Top Star honors in the International League's 4-2 win over the Pacific Coast League in the Triple-A All-Star Game, he turned to see two of his teammates
CHARLOTTE, N.C. -- Chris Marrero heard them coming.
As the Pawtucket Red Sox infielder stood on the field at BB&T Ballpark, moments after receiving Top Star honors in the International League's 4-2 win over the Pacific Coast League in the Triple-A All-Star Game, he turned to see two of his teammates rushing toward him, big orange coolers in tow.
Marrero tried to run. But his effort wasn't enough, as orange liquid flew through the air and drenched his back.
"I didn't want to get wet," said Marrero shortly after, his white pants now stained with a couple of orange blots.
The shower proved to be the final touch on Marrero's highlight-filled All-Star week, which also included the Triple-A Home Run Derby title on Monday night.
After hitting 18 homers to win the Derby title two days before, Marrero strolled to the plate in the bottom of the eighth inning and helped seal the IL's victory with a home run into the shrubberies in dead center.
MILB Video - Title: Watch: MiLB Video - Url: http://www.milb.com/r/video?content_id=925080483
"I swung at the first pitch in my first at-bat and was a little upset, so I just wanted to see some pitches and got in a good hitter's count," Marrero said. "He gave me a good pitch up in the zone, and I've been feeling good lately, so I just put a good swing on it and took care of the rest."
The blast allowed Marrero, the 15th overall pick in the 2006 Draft by the Nationals, to reel in his second piece of championship hardware in only three days.
And despite ending his night with his pants soaking wet, he relished the celebration and everything it entailed.
"It's been a great three days," Marrero said. "Charlotte has been amazing, the stadium is amazing and the fans have been amazing.
"You couldn't ask for more."
Tribe trio excels for International League
With one out and the tying run on second base in the top of the seventh, Shawn Armstrong, ranked by MLBPipeline.com as the Indians' No. 23 prospect, entered the game looking to keep the IL's lead intact.
The right-hander delivered, throwing six of his eight pitches for strikes and escaping any damage with back-to-back strikeouts off his cutter.
Armstrong's performance was one of the highlights for the Columbus Clippers and the Cleveland organization, which was also represented by No. 7 prospectMike Clevinger and No. 11 Erik Gonzalez.
With his team trailing 2-0 in the second, Gonzalez jump-started the IL's offense, hitting an 83-mph changeup from Brady Rodgers over the left-field wall.
"I was looking for a fastball, but he threw me a changeup that was hanging," Gonzalez said. "I swung, and that happens when you go to the plate swinging."
The Clippers shortstop also flashed the leather in the ninth inning, when he fielded a ground ball up the middle and flipped it to second base to initiate a double play.
Clevinger also left his mark on the game, as he fanned two of the three batters he faced. The right-hander used an 86-mph slider to strike out T.J. Rivera to begin the third inning and retired Hunter Renfroe with a 96-mph fastball two batters later to conclude the frame.
Taijeron named PCL's Top Star
After hitting only five home runs during Monday's Home Run Derby, Travis Taijeron flashed his power in the second inning of Wednesday's contest.
Facing a 1-2 count, the Las Vegas outfielder plated the first two runs of the game when he drove a pitch from Jason Wheeler over the wall in right-center.
MILB Video - Title: Watch: MiLB Video - Url: http://www.milb.com/r/video?content_id=925464583
"I went down 0-2 right away real quick, swung through a couple of pitches," said Taijeron, who has hit 13 homers this year. "I'd like to say I was baiting him in. I was just loosening up and then he gave me that pitch middle-away and down, just where I like it.
"I luckily capitalized on it."
Taijeron's blast accounted for the PCL's only two runs, helping him attain Top Star honors. The Mets prospect's performance came in his second consecutive Triple-A All-Star Game. But this year's experience proved to be even better.
"Last year, I came in during the second half of the game. I think I walked and played left field," Taijeron said. "But this year, having teammates and Wally [Backman] as a manager, it's been great. It makes it that much better having your teammates around."
Berrios shines on mound
José Berríos, the No. 15 overall prospect, was tested early after surrendering a leadoff single and a stolen base in the top of the fourth.
But the Rochester Red Wings right-hander responded in the face of adversity, mixing his pitches effectively and retiring the next three batters in order to escape unscathed.
"The first guy hit me," Berrios said, "But I was like, 'That's OK. Let's do it now, more concentration, make good pitches and get out of the inning quick.'"
Since being optioned by the Twins to Rochester on May 17 after posting a 1-1 record and 10.20 ERA in four starts, Berrios has shown flashes of the pitcher who registered a 14-5 record and a 2.87 ERA in the Minors during 2015.
And despite the more relaxed atmosphere surrounding the Triple-A All-Star Game, Berrios still focused on making the improvements he deems necessary to return to Minnesota.
"I think in the big leagues you have to be more consistent," Berrios said, "So that's what I'm working on right now -- keeping consistent with all three of my pitches. Every time I go out there I'm just trying to be not perfect but the best I can.
"That's what I'm practicing right now."
Pat James is a reporter for MLB.com based in Atlanta.