C-Mart healthy, ready to roll in Rangers' 'pen
Right-hander looking to benefit from lessons learned in 2018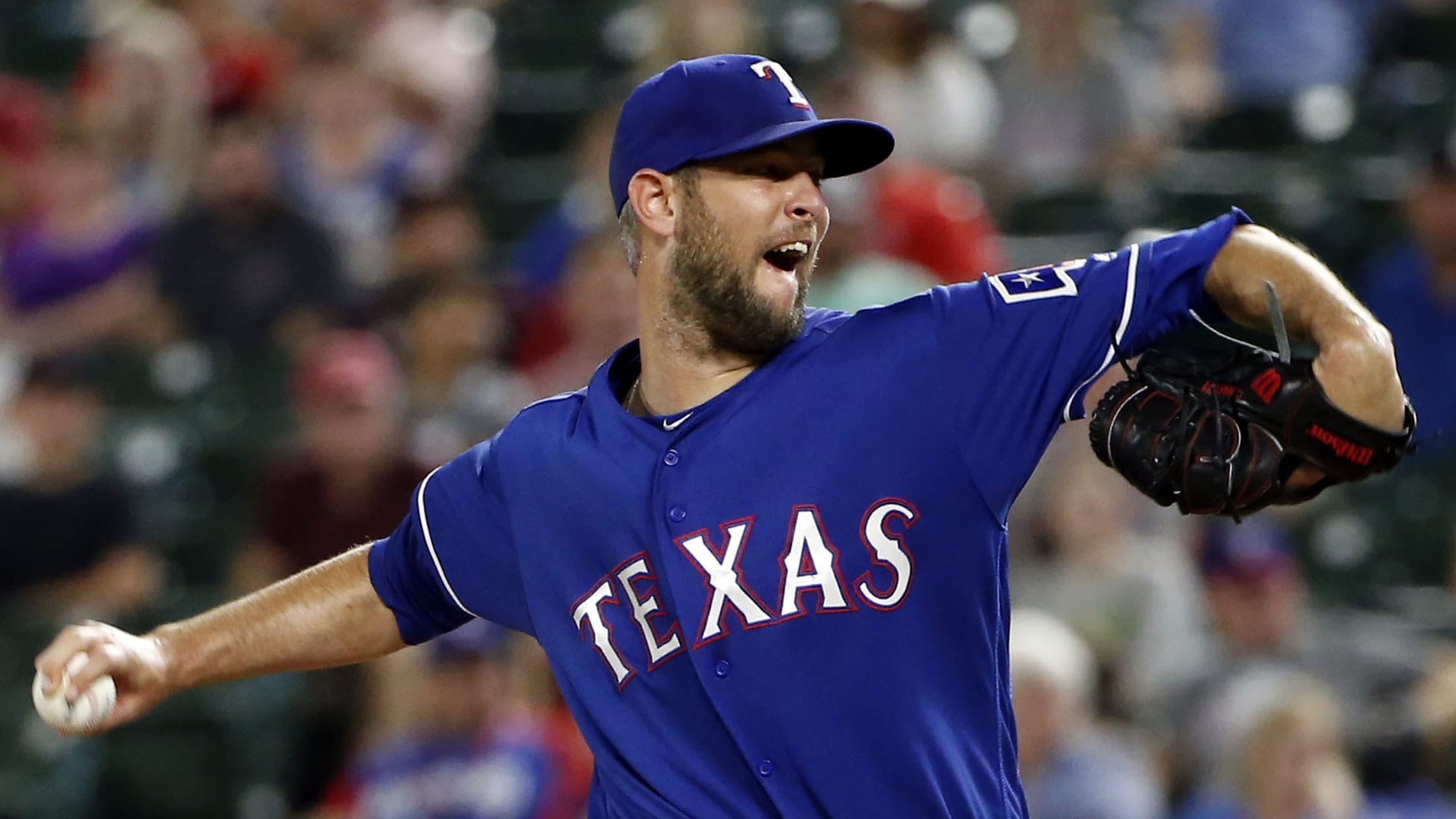 Texas Rangers reliever Chris Martin pitches against the Oakland Athletics during the eighth inning of a baseball game Tuesday, June 5, 2018, in Arlington, Texas. (AP Photo/Michael Ainsworth) (Michael Ainsworth/AP)
GRAND PRAIRIE, Texas -- Rangers pitcher Chris Martin sustained a freak injury on June 13, when he rushed out of the visitors' bullpen to join a fracas at home plate between teammate Robinson Chirinos and Dodgers outfielder Matt Kemp.The original diagnosis was a strained right calf muscle, but it turned
GRAND PRAIRIE, Texas -- Rangers pitcher Chris Martin sustained a freak injury on June 13, when he rushed out of the visitors' bullpen to join a fracas at home plate between teammate Robinson Chirinos and Dodgers outfielder Matt Kemp.
The original diagnosis was a strained right calf muscle, but it turned out to be more than a freak injury. Martin discovered a week later that he actually had a torn posterior cruciate ligament.
"It didn't bother me that much," Martin said. "It was more mental than anything. I feel great now."
Martin was only on the disabled list that time for the minimum 10 days. He missed 19 days in May with right forearm irritation and almost the entire month of July with a strained left groin.
Three trips to the DL were tough to overcome in his first season with the Rangers after spending two years pitching in Japan. The Rangers were expecting him to be a big part of their bullpen last season, and he was when healthy. But the injuries seemed to keep him from getting on an extended roll, and Martin was 1-5 with a 4.54 ERA in 46 games.
"I feel great now," Martin said at the team's Winter Caravan stop on Friday night. "Obviously the ERA ... there are some numbers that look good, but the ERA got a little inflated. Couple of bad outings. I felt I had a good year minus the health stuff."
The Rangers need to see him healthy again. Pitchers and catchers report to Spring Training in less than a month and Martin is one of only three relievers on the 40-man roster who were with the club on Opening Day in 2018.
The Rangers still have closer Jose Leclerc and they re-signed Jesse Chavez as a free agent. But the rest of the bullpen is made up of inexperienced pitchers like Nick Gardewine, Jeffrey Springs, Connor Sadzeck and C.D. Pelham.
"We got Chavez back and he is going to be huge down there, keeping us in line," Martin said. "We are going to have a lot of young guys, so having Jesse teach these guys the ropes and how to go about their business professionally, that's huge. I want to be that guy too. I want to be the guy that the young guys look up to. Do my best to make that happen."
Martin is right. There were some good numbers in his statistical file. Most notably, he upheld his reputation coming over from Japan about being able to throw strikes. He walked five batters -- two intentionally -- in 41 2/3 innings. His 1.08 walks per nine innings was the fourth lowest among American League relievers and the lowest by a Rangers reliever with a minimum of 40 innings.
"I threw strikes," Martin said. "Obviously, I can learn to throw quality balls as well. Throwing the fastball up in the zone is playing well in this league. Locating offspeed out of the zone, keeping that pitch looking like a strike and ending up a ball."
Martin is also right in that a handful of bad outings inflated the ERA. He allowed runs in 13 of 46 outings, including four runs against the Indians on April 30 right before going on the disabled list the first time. There were five other outings when he allowed two runs.
He said it was part of the learning experience.
"Mentally, when things aren't going your way, it's not the end of the world," Martin said. "Got to learn to battle back quick and not let things drag on. That's huge. The quicker you can fix something, the quicker you can get over a bad outing. Those are things I learned, and I can carry into next year."