Padres option Chris Paddack to Class A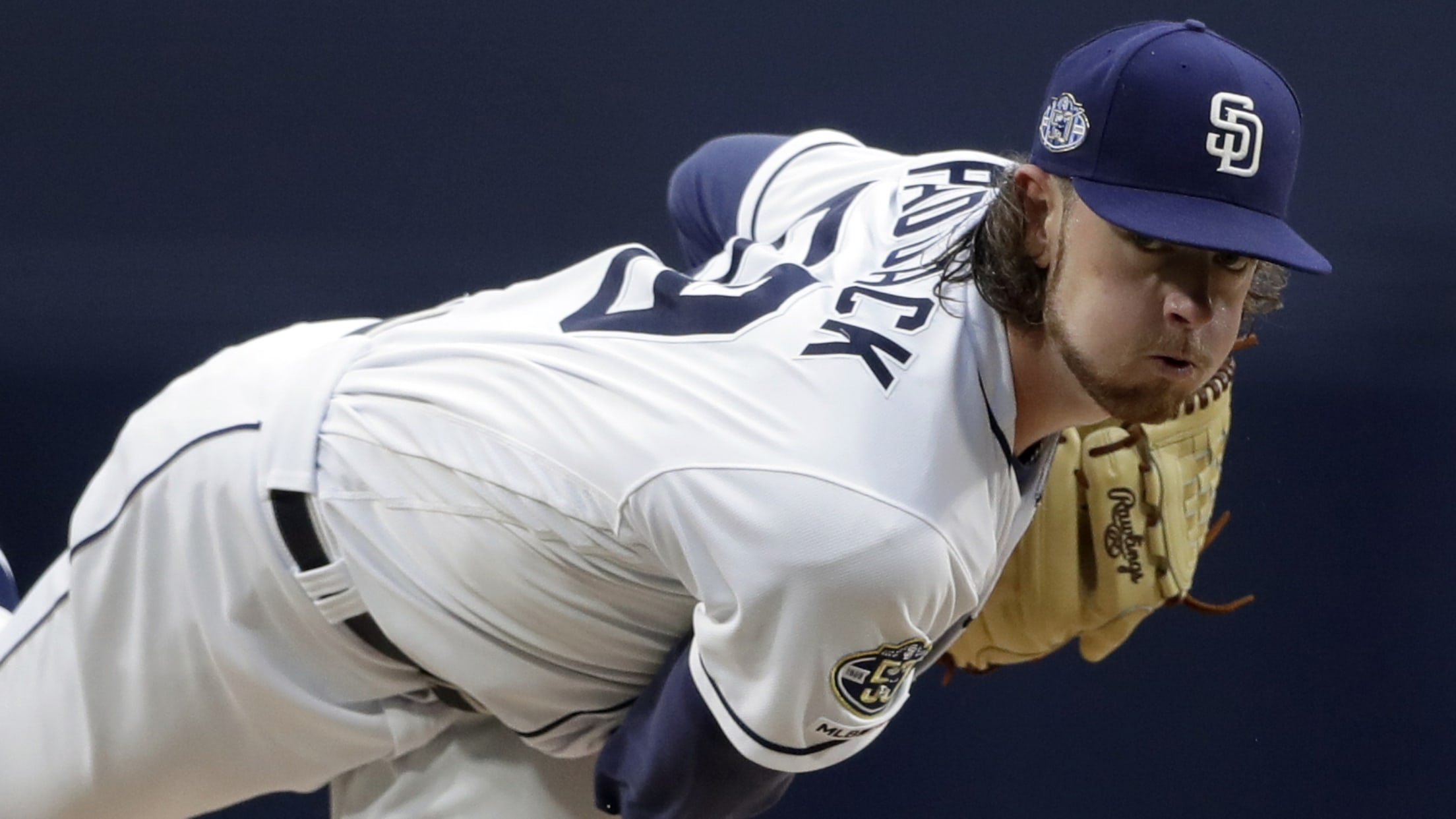 SAN FRANCISCO -- Intent on preserving Chris Paddack's dynamic right arm while enabling him to continue developing his skill, the Padres optioned the 23-year-old Wednesday to Class A Advanced Lake Elsinore. San Diego filled the vacancy on the active Major League roster by recalling right-hander Robert Stock from Triple-A El
SAN FRANCISCO -- Intent on preserving Chris Paddack's dynamic right arm while enabling him to continue developing his skill, the Padres optioned the 23-year-old Wednesday to Class A Advanced Lake Elsinore.
San Diego filled the vacancy on the active Major League roster by recalling right-hander Robert Stock from Triple-A El Paso.
Though Paddack had established a candidacy for National League Rookie of the Year honors, the Padres' braintrust had openly declared that the ballclub would limit the stress placed on his arm by limiting his innings.
Paddack (4-4) underwent Tommy John elbow surgery in 2016 and never has pitched more than 90 innings in any professional season. His season total reached 65 2/3 innings after he allowed three runs and six hits to the Giants on Tuesday.
Though Paddack's ERA has climbed from 1.55 after seven starts to 3.15 in 12 outings, his command has remained impressive, as evidenced by his 72 strikeouts, 13 walks and 0.93 WHIP.
Paddack likely will spend much of his time with Lake Elsinore on refining his changeup, which has been inconsistent recently.
"It's been a real swing-and-miss weapon his entire life," Padres manager Andy Green said. "... I think we'll see him make some real adjustments."
At the same time, the Padres want Paddack to avoid any real stress.
"Rest is part of the equation," Green said. "We've talked all year long about understanding that Chris had some limitations when it came from pitching from the first day of the season to the last day of the season. We're cognizant of that. This is a good time to get some work done and get some rest at the same time."
Green indicated that Paddack took the news of his strategic demotion agreeably.
"He's very mature in understanding what he's capable of doing this season from a pitching perspective," Green said. "He knows there's limitations. At the same time, he has to work on things. By no means does he see himself as a finished product."
The Padres will have a string of off-days later this month, creating the possibility for a four-man rotation over their next few series. If Paddack is optioned for at least 20 days, he will lose his option year, and thus a year of service time. The Padres expect him back well before that 20-day limit.
Stock, 28, began the season with San Diego before being optioned to Triple-A in mid-April. He compiled a 3-0 record with a 2.79 ERA in 19 appearances for El Paso.
Chris Haft has covered the Major Leagues since 1991 and has worked for MLB.com since 2007. Follow him on Twitter at @goodforball.