Celebrating Sale on his 30th birthday
Lefty's 20s put him in some Hall of Fame company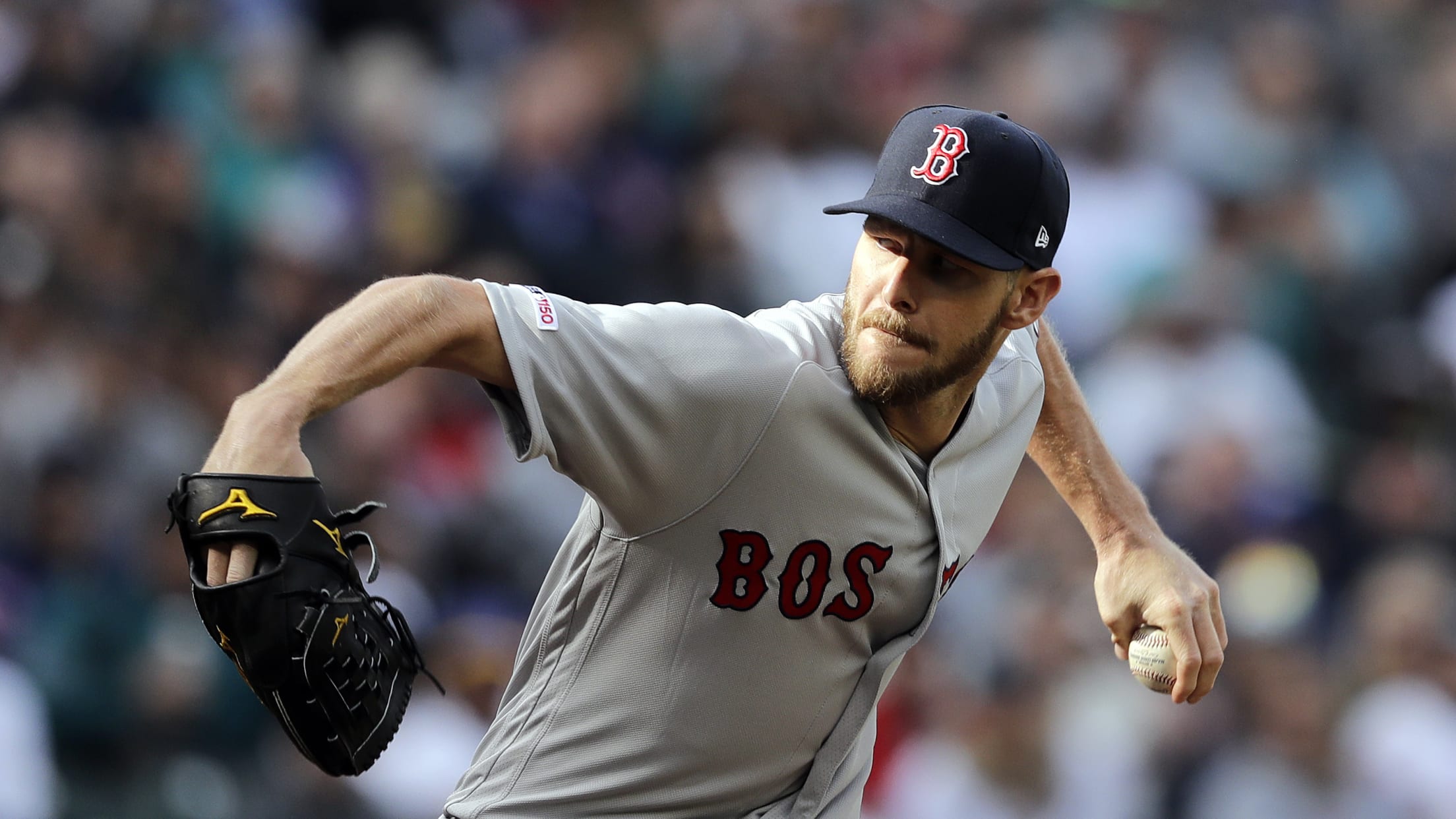 Chris Sale has been one of the most dominant pitchers in the game since becoming a full-time starter in 2012. On Saturday, the lefty turns 30 years old, a week after he signed a five-year, $145 million extension with the Red Sox that goes through the 2024 season (with a
Chris Sale has been one of the most dominant pitchers in the game since becoming a full-time starter in 2012. On Saturday, the lefty turns 30 years old, a week after he signed a five-year, $145 million extension with the Red Sox that goes through the 2024 season (with a club option for 2025). Though his Opening Day start was well below his usual standard, his overall resume before hitting the big 3-0 puts him among some of the game's all-time greats. Let's break it down.
Sale has accumulated 1,793 strikeouts in his Major League career, including his first two seasons as a reliever and subsequent time as a full-time starter. That's the fourth-most strikeouts by a lefty before turning 30 according to the Elias Sports Bureau. The only lefty pitchers with more strikeouts before turning 30 were Sam McDowell (2,271), Clayton Kershaw (2,120) and Sandy Koufax (2,079). Fernando Valenzuela is fifth on the list, behind Sale, with 1,759.
Early in his career, Sale was often compared to Randy Johnson, both because of his lanky physique and loose, low arm slot. Johnson is notorious for being a late-bloomer -- he didn't debut until he was 24, whereas Sale was 21 -- but it's still worth noting that Sale is ahead of where Johnson was by the turning 30 age marker in a number of categories.
Before turning 30, Johnson threw 1,030 1/3 innings, had 1,072 strikeouts with a 3.87 ERA and 1.37 WHIP. Sale's resume to this point? 1,485 1/3 innings, 1,793 strikeouts and a 2.93 ERA and 1.03 WHIP. Sale's 2.93 ERA is fourth-lowest among lefties to debut in the Live-Ball Era before turning 30 (min. 1,000 IP) according to Elias.
We can't realistically expect Sale to match Johnson's amazing post-30 efforts, but here's what he is chasing: Johnson threw 3,105 innings after turning 30, with a 3.10 ERA and 3,803 strikeouts. That's the most strikeouts after turning 30 by a pitcher in the live ball era.
Something else Johnson did after turning 30? Win his first Cy Young. Sale is also searching for his first such BBWAA honor, but he's come close ... many times.
Sale has received Cy Young votes each season since 2012 when he became a starter, finishing in the top six year every year, and as high as second to Corey Kluber in 2017. Sale is the only pitcher in the Majors to receive Cy Young votes each season in that seven-year span. The other pitchers to receive votes at least five times -- Clayton Kershaw, Max Scherzer and Kluber -- have all won multiple Cy Youngs in that span.
Should he finally win the Cy Young, Sale would smash Dennis Eckersley's record of four top-six Cy Young Award finishes before his first win. Eckersley came in fourth in the AL as a Red Sox starter in 1978, then placed second, sixth and fifth as an A's closer between 1988-90, before finally winning in '92.
In order for Sale to finally win his first Cy Young Award, one thing he will have to prove is endurance. He spent time on the injured list last year and didn't surpass 160 innings pitched, but the real question hasn't been injuries, it's how he performs later in the season. Perhaps a sign of fatigue, his regular-season ERA as a starter in August onward is 3.59, still a good number but almost a run higher than his March-July starter ERA of 2.65.
That being said, Sale's dominance is undeniable. His 1,678 strikeouts since he became a starter in 2012 are second-most in the Majors behind Scherzer (1,851) and most by a lefty. In an era where few starters go the distance in games, he is one of five pitchers with 15 or more complete games in that span (Kershaw, Kluber, Madison Bumgarner and David Price).
We'll see what life after 30 holds for Sale. It begins Saturday.