Sale stung by home runs in loss to Seattle
Red Sox ace pulled after 3 innings on Opening Day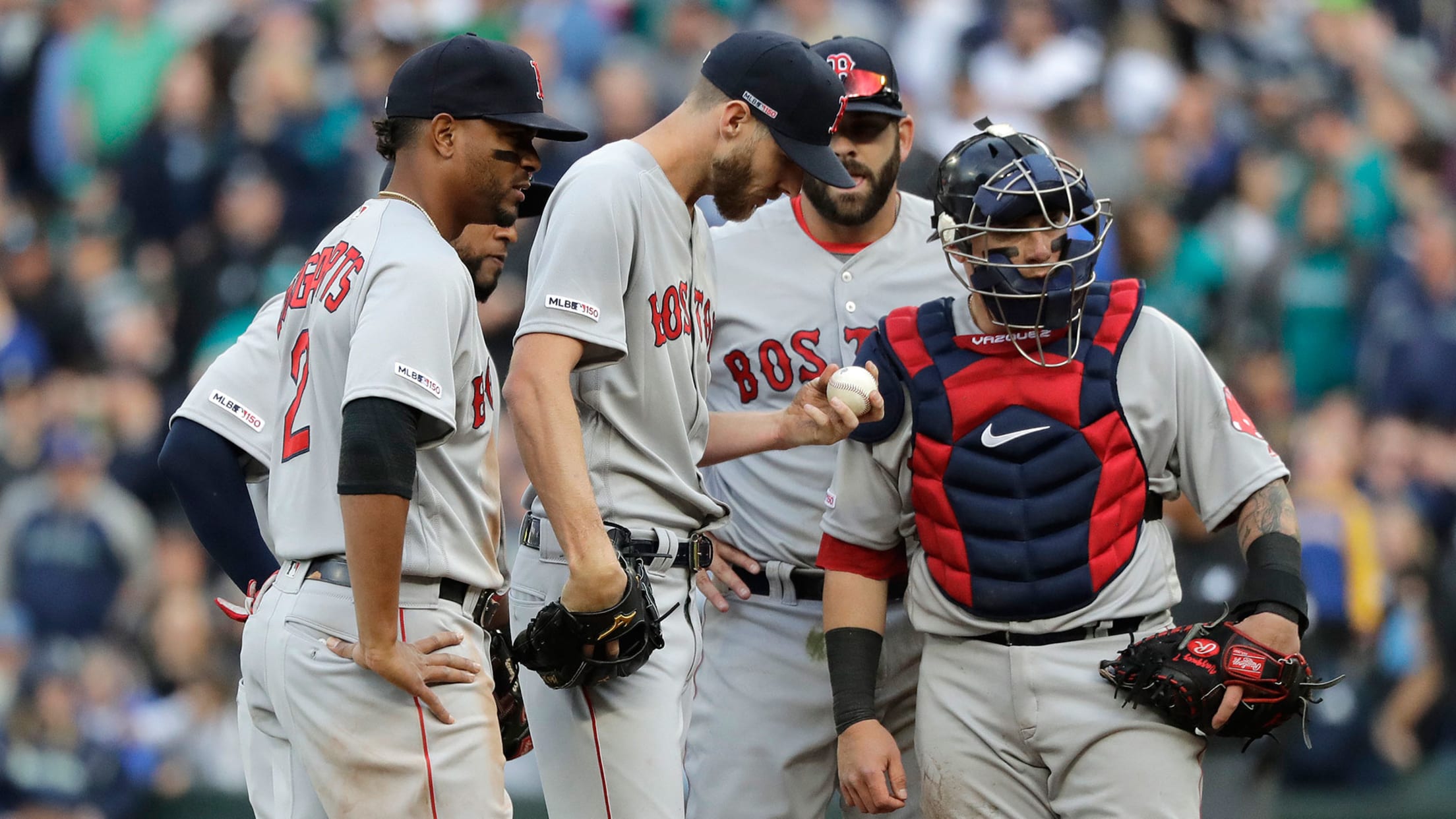 SEATTLE – The ace, fresh off signing a five-year, $145 million contract extension, was set to sail into another season. You see, the one thing Chris Sale had always done was dominate in his first start of the year. On seven previous such occasions, he was 5-0 with a 1.52
SEATTLE – The ace, fresh off signing a five-year, $145 million contract extension, was set to sail into another season.
You see, the one thing Chris Sale had always done was dominate in his first start of the year. On seven previous such occasions, he was 5-0 with a 1.52 ERA.
Then came Thursday, a day nobody could have seen coming in terms of how short Sale's stint would be (three innings) or how much damage (seven runs) would be inflicted upon him while he was out there. As the Red Sox opened their title defense in unceremonious fashion, enduring an 12-4 belting from the Mariners, the question of the day was this: What the heck happened to Sale?
The lanky lefty was tagged for three homers (two by Tim Beckham) and threw a whopping 76 pitches in those three innings.
"It sucks," said Sale. "First one of the year you want to start off on the right foot. We set ourselves up nicely, we were [up] 2-0 going out there for the second inning. I really just deflated us with that, three runs. Hey it's a one-run ballgame, anything can happen, then I go back out there and completely stink the place up [in the third]. It's not what I needed to do."
Perhaps it was just proof that anyone can have a clunker of an Opening Day – even Sale.
For more evidence of that, chew on this: The last Red Sox pitcher to allow as many as seven earned runs on Opening Day? Hall of Famer Pedro Martinez in 2002. Martinez wound up winning 20 games that season and finished second in the Cy Young Award voting.
"He's human," said Red Sox right fielder Mookie Betts. "It's tough to go out there and do what he does every time. He's definitely one of a kind."
But that didn't make Thursday any less jarring to watch in real time.
Perhaps it was all in the delivery, or lack thereof.
"Yeah, I think we'll have a conversation tomorrow," said Red Sox pitching coach Dana LeVangie. "I thought he threw some really good changeups in the right delivery. That's the delivery we want to get back into, that changeup delivery. It helped his slider. His slider wasn't his best tonight."
One thing that stood out was that Sale's fastball wasn't very fast. After averaging 95 with his four-seamer last year, Sale didn't touch 95 at all against Seattle. Thirty of his fastballs sat at 92-93.
Remember though, Sale also dialed it back with velocity early last season. Rest assured that the radar readings were very much by design. The idea is for Sale to save his best fastball for the games that matter the most – in September and October.
"We'll get back to driving the Mustang, not the Ferrari, and try to increase deception and all that," said LeVangie.
Sale spent August and September of 2018 dealing with shoulder inflammation, which would be another reason to throttle back coming out of the gate this season. Mindful of all that, plus a deep October, manager Alex Cora had Sale throw just two starts during Spring Training. Could that have been a reason for Thursday's clunker?
"No, I felt fine," Sale said. "I've done this enough I should be able to go out there and get it done with no matter how many starts I have, what kind of stuff I have that day. I expect a lot out of myself and expect a lot better than that."
Another thing that stood out? The baseball kept soaring over the wall. This was the first time Sale had given up multiple homers in a game since April 26, 2018. And it was just the ninth time in his career Sale was taken deep three times.
The last image most had of Sale heading into the opener? Those nasty sliders against Manny Machado that ended the World Series. And when Sale struck out Mitch Haniger on a similarly unhittable slider to open the first, he became the first pitcher since at least 1908 to end a World Series with a strikeout and then strike out the first batter his team faced in the following season. There would be two more strikeouts for Sale in that first inning, and then no more highlights for the rest of his unfulfilling day.
"It's part of the game," said catcher Christian Vazquez. "Next start, he's going to dominate."
That next start will be Tuesday at Oakland, and it can't get here fast enough for Sale.
"That's the beauty and the curse of this game," said Sale. "You've got to wait a little bit to get out there as a starting pitcher, but as a team collectively, we show up tomorrow ready to win and just throw this one into the trash can."