Villanueva's bat hot since 0-for-37 drought ended
Notes on Padres' record, Ellis, Galvis, Hand, Yates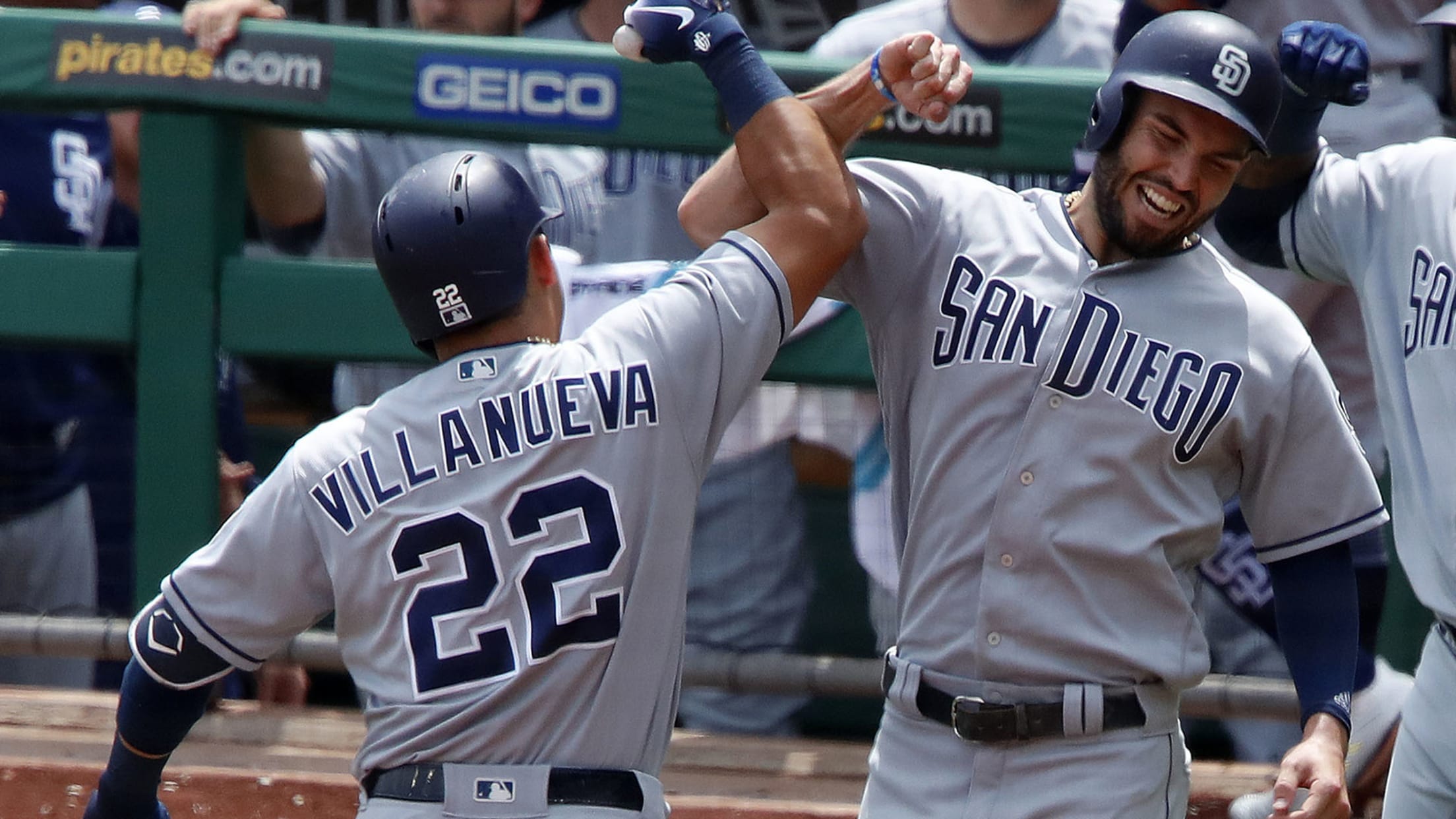 San Diego Padres' Christian Villanueva (22) celebrates with Eric Hosmer after hitting a two-run home run off Pittsburgh Pirates starting pitcher Trevor Williams in the fourth inning of a baseball game in Pittsburgh, Sunday, May 20, 2018. (AP Photo/Gene J. Puskar) (Gene J. Puskar/AP)
Bill Center, longtime sportswriter for U-T San Diego, is an employee of the Padres.Christian Villanueva's franchise record 0-for-37 slump is rapidly fading in the rear view mirror.Villanueva was 2-for-4 with a two-run homer Sunday in the Padres' 8-5 win at Pittsburgh.Since that 0-for-37 run - which dropped the third baseman's
Bill Center, longtime sportswriter for U-T San Diego, is an employee of the Padres.
Christian Villanueva's franchise record 0-for-37 slump is rapidly fading in the rear view mirror.
Villanueva was 2-for-4 with a two-run homer Sunday in the Padres' 8-5 win at Pittsburgh.
Since that 0-for-37 run - which dropped the third baseman's batting average from .317 to .224 - Villanueva has gone 7-for-16 with a double, three home runs, six RBIs and three runs scored . . . pushing his batting average back up to .250.
Villanueva also tied a Major League record Sunday with his 12th homer of the season. That homer tied the Major League record for homers by a native of Mexico. Baltimore catcher Geronimo Gil his 12 homers during the 2002 season, topping the previous record of nine by Colorado third baseman Vinny Castilla in 2006.
Villanueva, 26, has 16 homers since he made his Major League debut with the Padres last September.
Probably more notable to the Padres is the fact that his two most recent homers were against right-handed pitchers. Only two of his first 10 homers this season were against right-handers. Villanueva is hitting .191 (17-for-89) against right-handed pitchers this season compared to .372 against left-handers.
NOTEBOOK:
-- Catcher A.J. Ellis was also 2-for-4 Sunday with a double and two RBIs. He also scored on a squeeze bunt by pitcher Jordan Lyles. Since Austin Hedges went on the disabled list, the 37-year-old veteran Ellis has gone 9-for-22 (.409) with four doubles, five walks, five RBIs and three runs scored. His on-base percentage in Hedges' absence is .519 with a .591 slugging percentage for a 1.110 OPS.
-- SS Freddy Galvis, like Villanueva, was in a prolonged slump heading into this past week. He was 13-for-89 between April 16 and May 12 to drive his batting average down from .316 to .212. Over his last seven games, Galvis has gone 10-for-25 (.400) with three doubles, a triple, two RBIs and six runs scored to boost his batting average back to .240. He also was 2-for-4 Sunday with two runs scored and a RBI on a squeeze bunt single.
-- The Padres are 6-2 in their last eight games and 10-8 in May. Sunday marked the first time this season that the Padres won a game that they trailed going into the ninth. They were 0-24 in such situations before their first four-run ninth of the season.
-- LHP Brad Hand has converted all eight save opportunities this month. In nine May appearances, Hand has worked 10 2/3 innings, giving up one run on four hits and six walks with 16 strikeouts - lowering his earned run average from 3.29 to 2.22.
-- Three of Hand's saves came in games where Kirby Yates recorded the win. Yates has made nine appearances in May, allowing the one run he gave up Sunday on five hits and five walks with 12 strikeouts in 8 1/3 innings.