Villanueva sets record for rookies from Mexico
Notes on Pirela, Ellis, Galvis, Richard, Margot and Hand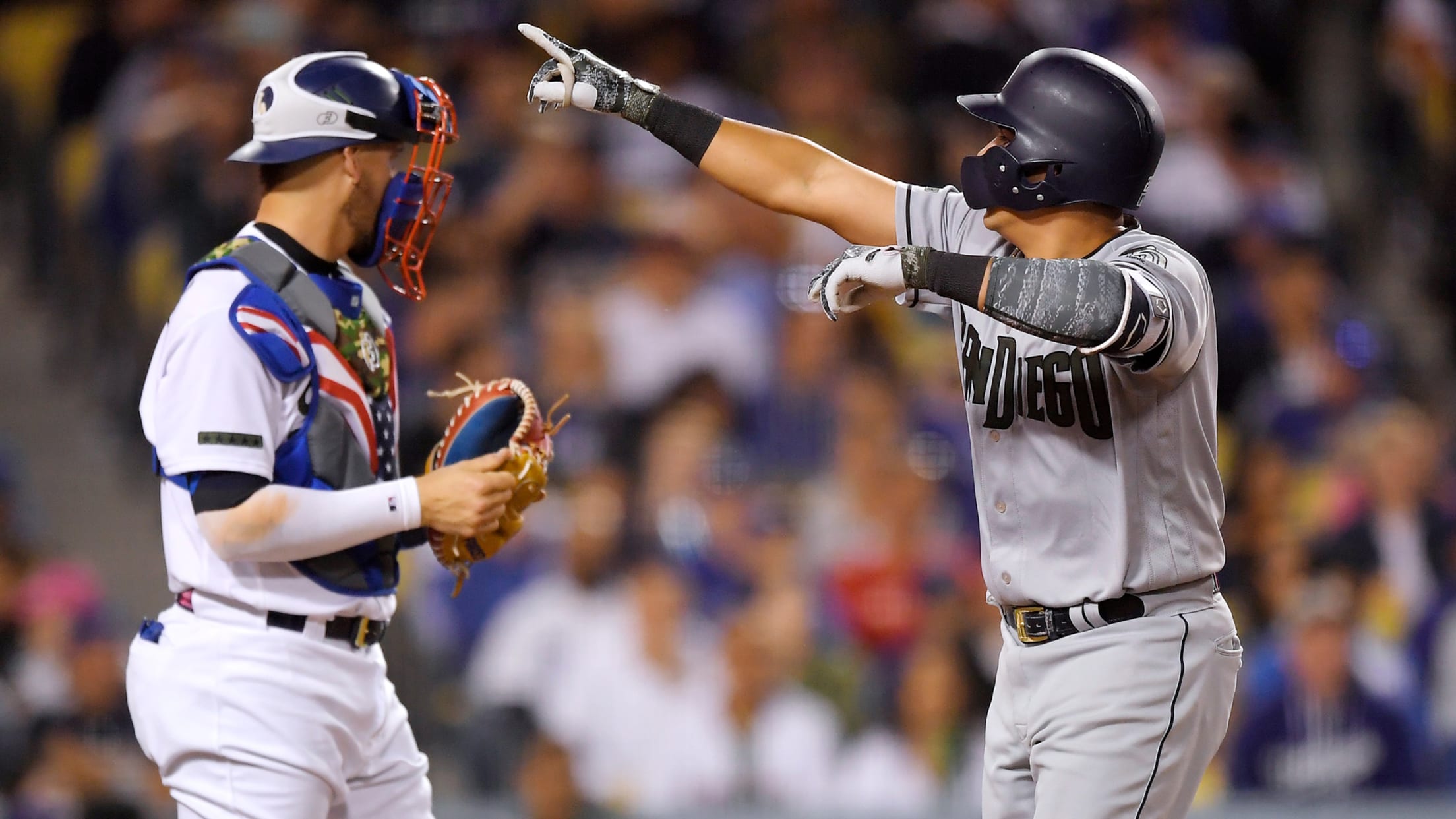 Bill Center, longtime sportswriter for U-T San Diego, is an employee of the Padres.Christian Villanueva set a record that was being celebrated in his native Mexico on Saturday night, while continuing his impressive rebound from the longest 0-for in Padres history.The first of Villanueva's two homers against the Dodgers on
Bill Center, longtime sportswriter for U-T San Diego, is an employee of the Padres.
Christian Villanueva set a record that was being celebrated in his native Mexico on Saturday night, while continuing his impressive rebound from the longest 0-for in Padres history.
The first of Villanueva's two homers against the Dodgers on Saturday night at Dodger Stadium was his 13th, which broke the Major League record for rookies born in Mexico set by Baltimore catcher Geronimo Gil, who hit 12 in 2002.
Villanueva's two homers gave him 14 for the season along with 31 RBIs, which leads all Major League rookies. His 14 homers, which also rank second in the National League this season, give him a total of 18 since his Major League debut last September.
The 26-year-old's second career multi-homer game (he hit three against the Rockies on April 3 at Petco Park) also continues his sharp climb back since his franchise record 0-for-37 run ended on May 14.
He is 10-for-33 (.303) with two doubles, five homers, 11 RBIs and five runs scored since that streak ended, good for an .818 slugging percentage and a 1.141 OPS.
Notebook
• Catcher A.J. Ellis was 2-for-4 with a solo homer on Saturday. It was his first home run at Dodger Stadium since the 37-year-old veteran left the Dodgers after nine seasons during the 2016 campaign. Since Austin Hedges was injured, Ellis is hitting .412 (14-for-34) with four doubles, Saturday's homer, six RBIs, four runs scored and five walks -- which equates to a .500 on-base percentage, .618 slugging percentage and a 1.118 OPS. Ellis is also 11-for-26 (.423) during a seven-game hitting streak.
• Second baseman Jose Pirela went 2-for-5 on Saturday with the go-ahead RBI single, after equaling his season-high of three hits for the seventh time on Friday night. He is 5-for-9 during the first two games of the series at Dodger Stadium with his 13th double. In his last 19 games since May 5, Pirela is 23-for-72 (.319) with 10 runs scored, six doubles and six RBIs along with a .363 on-base percentage. Pirela is still looking for his first home run of the season.
• Shortstop Freddy Galvis hit one of the Padres' season-high four homers on Saturday night. It was his second homer of the season and his first since the season's third game on March 31. Galvis also extended his hitting streak at Dodger Stadium to seven games, during which he is 9-for-23 (.391) with a double, three home runs and nine RBIs, dating back to Aug. 9, 2016.
• Center fielder Manuel Margot was 1-for-3 with a double for a second straight game on Saturday, which raised his season batting average to .204 -- its highest mark since the second game of the season on March 30. Margot is 4-for-10 during a three-game hitting streak. In 25 career games against the Dodgers, Margot is hitting .281 (25-for-89) with 12 runs, eight doubles, three homers and six RBIs along with a .337 on-base percentage.
• Left-hander Clayton Richard's struggles against the Dodgers and the National League West continued on Friday night. In his last six starts against the Dodgers, Richard is 0-4 with a 7.79 ERA (28 earned runs in 32 1/3 innings) -- allowing batters to hit .338, while striking out 28 batters against 23 walks. In five starts against teams from outside the NL West this season, Richard has allowed 11 runs on 31 hits and five walks with 28 strikeouts in 37 innings, posting a 2.68 ERA and 0.97 WHIP. In six starts against National League West teams this season, Richard has given up 27 runs (26 earned) on 37 hits and 19 walks with 28 strikeouts in 30 innings, in compiling a 7.80 ERA and 1.87 WHIP. Richard has given up eight home runs this season, all of which have come against NL West teams.
• Closer Brad Hand is 10-for-10 in save opportunities during May after Saturday's save against the Dodgers. In 11 appearances this month, Hand has allowed one run on six hits and seven walks with 19 strikeouts in 14 1/3 innings for a 0.63 ERA -- lowering his season ERA from 3.29 to 2.00. Hand now has 38 saves as a Padre, tying him for 10th on the club's all-time list of saves leaders.