Stewart makes swap with fan for slam ball
Tigers outfielder trades autograph and bat for clutch home run ball
DETROIT -- All Christin Stewart needed to get his go-ahead grand-slam ball back Saturday was an autographed bat and a picture with the fan who caught it. "It was the first ball he'd caught at a game," Stewart said after his seventh-inning drive completed the Tigers' comeback for a 7-4
DETROIT -- All Christin Stewart needed to get his go-ahead grand-slam ball back Saturday was an autographed bat and a picture with the fan who caught it.
"It was the first ball he'd caught at a game," Stewart said after his seventh-inning drive completed the Tigers' comeback for a 7-4 win over the Royals. "I traded him a game-used bat, so he got something out of it."
All it took for Stewart to send the ball out there was a two-strike swing and lot of hope.
As Stewart's drive soared down the right-field line, it was clearly headed for the seats. The question was whether it would stay fair.
"I was doing the whole [waving the ball fair]," said Nicholas Castellanos, who was watching it from third base as the potential tying run. "I was hoping it would stay fair."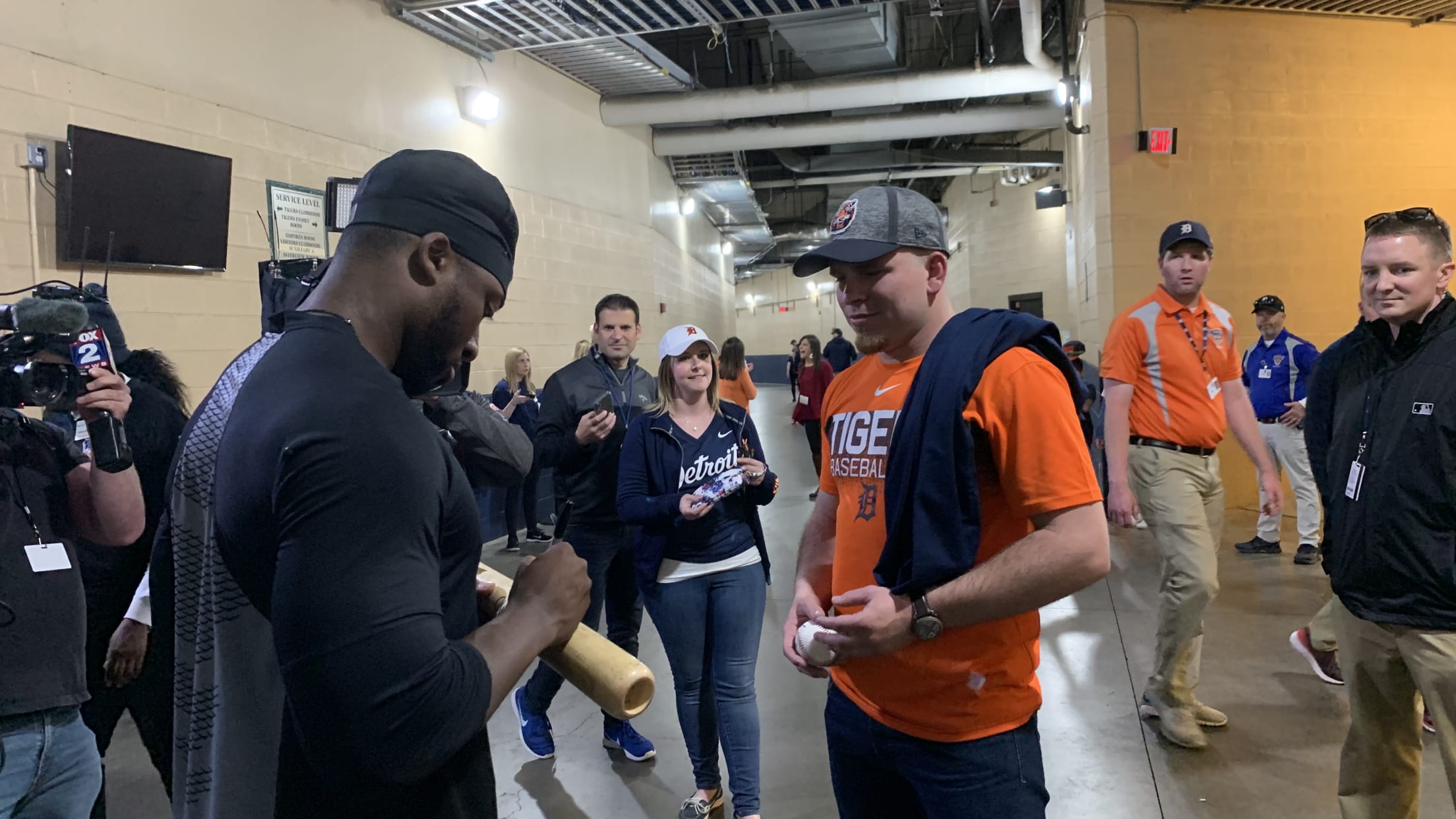 Behind Castellanos, the Tigers dugout was more skeptical.
"We thought it was going to hook foul when he hit it," manager Ron Gardenhire said. "But it hung in there."
Jeimer Candelario, who was standing on first after his two-out walk extended the inning for Stewart, was more optimistic.
"There was no wind pushing, so I thought it was going to stay. At the last moment, I was like, 'Oh my god, don't tell me it was foul."
As Stewart trotted carefully but optimistically down the first-base line, his hands were waiting to clap.
"All you can do is hit it," Stewart said. "Sometimes you don't really know what the ball's going to do. I saw it tailing towards the end a little bit, but I saw it before the umpire even gave the fair sign."
Once the ball glanced off the foul pole and first-base umpire Bill Miller twirled his finger, the crowd of 22,111 joined in.
The Tigers have the young pitching for their rebuilding effort. They've been looking for a young impact hitter. For the second time in nine games, Stewart made an impact with a go-ahead home run.
"He crushed that ball," Gardenhire said.
It decided the first slugfest in a Tigers season that has been heavy on pitching duels. For three innings, Matt Moore looked ready to do his part for the latter, retiring Kansas City's first eight batters until Billy Hamilton laid down a bunt single that sent Moore sliding, straining his right knee in the process.
Moore left the game after three scoreless innings. The Royals took advantage with three home runs off the Tigers bullpen, two of them to pull ahead in the top of the seventh. They had more homers in one day than the Tigers had all season until Stewart struck on Wily Peralta's hanging changeup.
It was the latest in a series of quality at-bats Stewart showed after entering the day batting 2-for-25 on the season. He received a pep talk from Castellanos about maintaining and refining a consistent routine before and after games, working every day and trusting that the process would pull him through it.
He had a good feeling about the day after his first at-bat, when he declined to chase out of the zone following a 1-2 count on his way to a second-inning walk from Royals starter Jorge Lopez.
"When I have easy takes like that, that's how I know everything's working the right way," Stewart said, "because I'm not chasing, jumping at the ball. Or I'm not letting the ball get too deep, where I'm flying off. It's an easy take. That's where I want to be."
Two innings later, Stewart hustled on what looked like a pop-up to shallow left field, taking second base for a leadoff double when the ball fell out of shortstop Adalberto Mondesi's reach. He grounded out leading off the sixth inning, but he had the right approach in the seventh.
While some batters simply look for contact with two strikes, Stewart looks to still generate power, just out of a shorter swing. He wants to get to the ball quickly, but do some damage to it.
He didn't offer at Peralta's 1-2 changeup off the plate, but he was ready when Peralta put a splitter over the middle. The result is another ball for his collection, and a huge win for the Tigers' 6-3 start.
"Sometimes there's beauty in the struggle," Stewart said, "because once you come out of it, it's a pretty nice feeling."