The circus acrobat who turned the rarest triple play
Walter Carlisle did it from center field, unassisted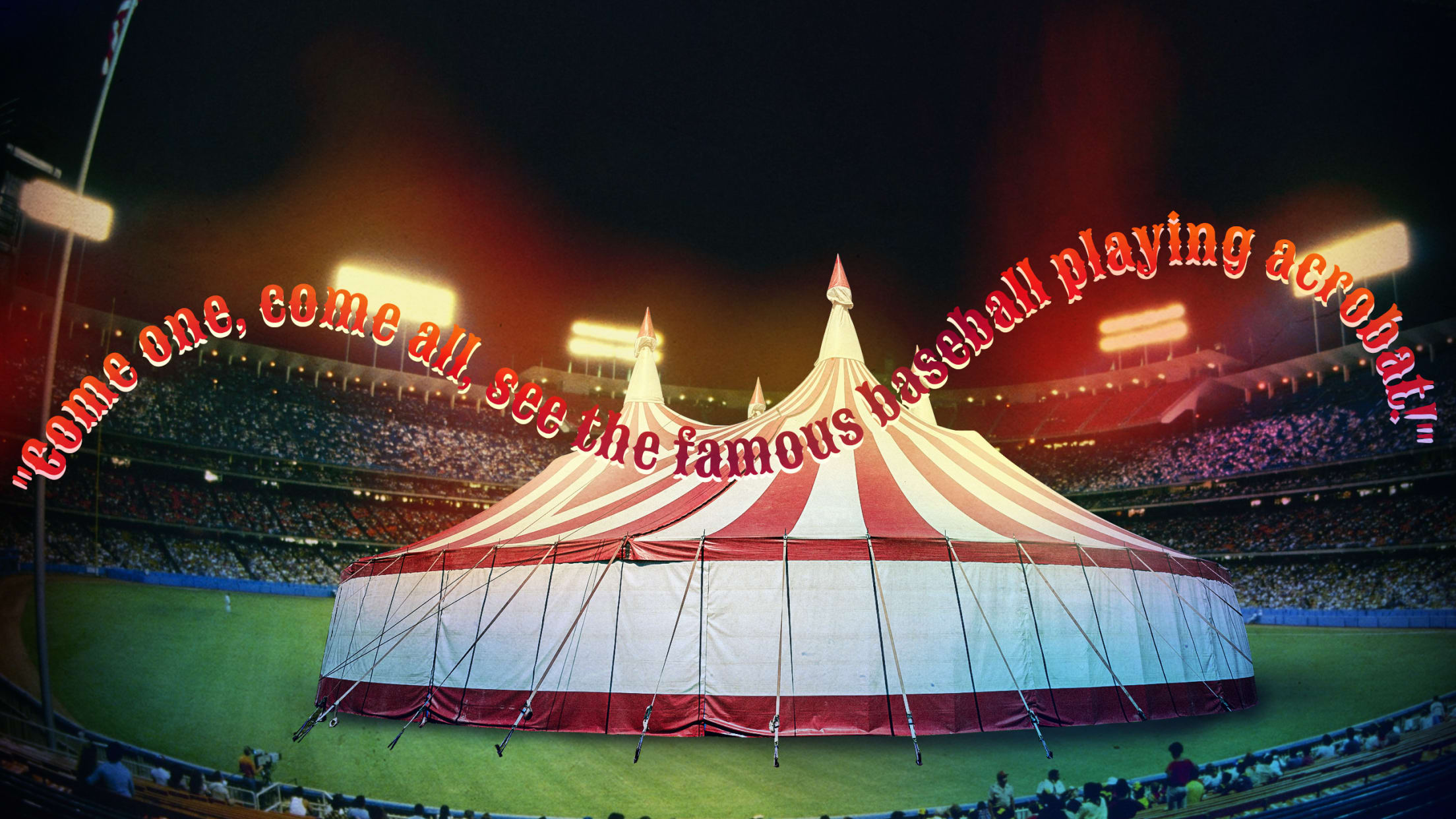 (Art by Tom Forget)
You've probably heard of a circus catch or circus play in baseball. It's usually of the bobbling, tumbling, fumbling variety. Juan Lagares is a regular in the category, Chase Utley and Adrian Gonzalez teamed up for a wild one in 2016. But 119 summers ago, during some random game in
You've probably heard of a circus catch or circus play in baseball.
It's usually of the bobbling, tumbling, fumbling variety. Juan Lagares is a regular in the category, Chase Utley and Adrian Gonzalez teamed up for a wild one in 2016.
But 119 summers ago, during some random game in the Pacific Coast League, the greatest of great circus plays occurred: An unassisted triple play by a center fielder -- the only known unassisted triple play ever recorded by an outfielder. His name was Walter Carlisle and he was, in fact, a former circus acrobat.
This is Walter Carlisle, former center fielder/circus acrobat pic.twitter.com/OcHtBUYXDu

— Matt Monagan (@MattMono11) July 30, 2020
By the game in question, July 19, 1911, Carlisle had already been in pro ball for years. The Yorkshire, England native had played his only three Major League games for the Red Sox in 1908, getting one hit in 10 at-bats (he had to face greatest pitcher of all time, Cy Young, and went 0-for-4 against him).
But he did show off a "rifle shot" of an arm. He was also well-known for his tumbling catches, where he'd finish with a somersault -- firing the ball back into the infield. That seems to be because, as multiple accounts confirm, he was once an acrobat in the circus. He also worked at a candy factory in the offseason with his brother.
Anyway, as this account from the Pittsburgh Post-Gazette goes honoring the 33rd anniversary of his rare play, the opposing team, the Los Angeles Angels, had runners on first and second. Angels batter Roy Aiken hit a short fly ball to center, both runners took off and Carlisle made a spectacular diving catch -- tumbling over "into a double somersault." Carlisle then ran in to touch second and beat the last runner by a few inches to first. The Gazette described the play as "Man-O-War on the stretch."
Headlines were made across the country, the Tacoma Times drew up a very, very rough sketch of the events. Harry A. Williams, a columnist at the Los Angeles Times, apparently took up five full columns writing about the play. I unfortunately couldn't find all of Harry's words, but I did find this snippet from the Times' story via Dennis Snelling's "The Greatest Minor League: A History of the Pacific Coast League, 1903-1957." It's incredible:
Down in the boxes, one excitable fan seemed to get a sudden attack of insanity. He jumped up and down and yelled, "It's the greatest play ever made in the world; it's the greatest play ever made in the world!" He began grabbing the men in the box with him and shaking them as a rat terrier does a rag doll. "It's the greatest play ever made in the world!" he yelled into their ears. He flung himself almost head first into the next box and thumped the nearest man over the head, "It's the greatest play ever made in the world; it's the greatest play ever made in the world," he shrieked.
After a while, he calmed down and smoothed out his clothes. Straightening his hat and his tie, he sat back in his chair and remarked in a serious, earnest, confidential tone to his next neighbor, "We have just seen the greatest play ever made in the world."
Could there ever be a better reaction to anything? It almost seems too perfect to be real.
Carlisle likely didn't think too much of his highlight because, you know, he'd probably already walked 100 feet across a fiery tightrope while a pack of hungry lions waited below. The outfielder toiled around for another eight years in the Minors and then was out of baseball for good. But not without executing the the first and only unassisted triple play by an outfielder in organized baseball history. Although Angel Pagan came close in 2010 (he just needed to run to second and first!), it's a feat that will presumably never be topped.
Matt Monagan is a writer for MLB.com. In his spare time, he travels and searches Twitter for Wily Mo Peña news.