Blackburn impresses in Rangers' spring opener
RHP tosses 2 shutout innings; Texas joins Cubs in honoring Parkland shooting victims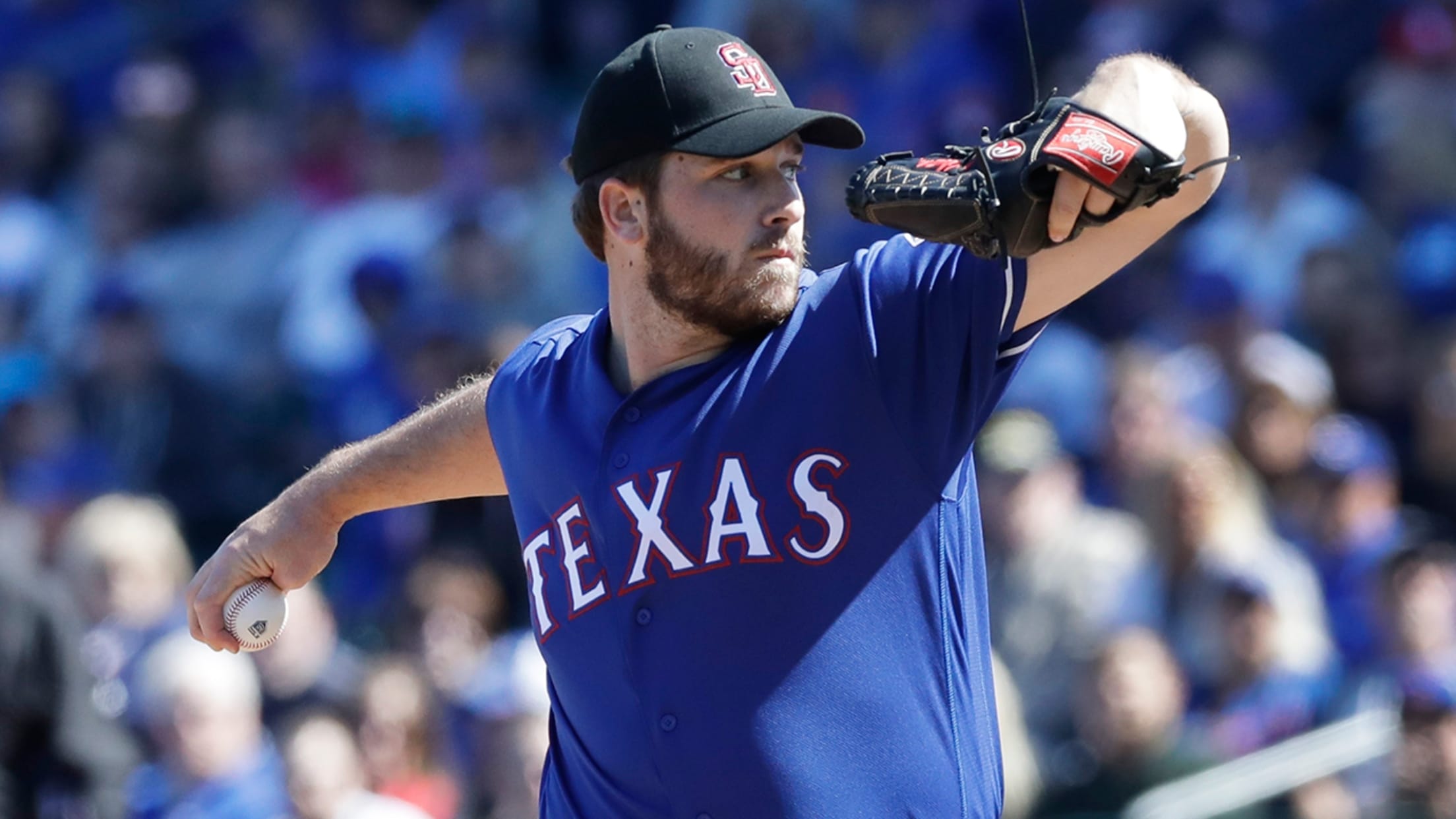 Rangers pitcher Clayton Blackburn throws during the first inning against the Cubs on Feb. 24, 2018, in Mesa, Ariz. (Carlos Osorio/AP)
MESA, Ariz. -- Who said Spring Training games don't mean anything?For Rangers manager Jeff Banister, Saturday was a chance for his team to wear the baseball caps of the Marjory Stoneman Douglas High School baseball team and share in a pregame moment of silence to honor the victims of the
MESA, Ariz. -- Who said Spring Training games don't mean anything?
For Rangers manager Jeff Banister, Saturday was a chance for his team to wear the baseball caps of the Marjory Stoneman Douglas High School baseball team and share in a pregame moment of silence to honor the victims of the Feb. 14 shooting.
• Rangers Spring Training info
"For the Cubs and [MSD graduate] Anthony Rizzo to ask us to be a part of that, it was truly an honor," Banister said after the Rangers' 6-1 loss to the Cubs.
#ParklandStrong pic.twitter.com/9ZWzfBR7Sx

— Texas Rangers (@Rangers) February 24, 2018
For Rangers starter Clayton Blackburn, the meaning of the game really hit him just as he was getting ready to warm up.
"The announcer was announcing the starting lineups and he said, 'Pitching for the Texas Rangers ... Clayton Blackburn,'" he said. "I just stepped back and said, 'Man, that's pretty cool.'"
:: Spring Training coverage presented by Camping World ::
Blackburn was born in Amarillo, Texas, grew up in the Oklahoma City area and has been a big Rangers fan all his life.
"Watching Nolan Ryan and all these guys, all these greats that came through," Blackburn said. "To be able to do this is a childhood dream. Who wouldn't want to live their dream as a child? And I am currently doing it."
Blackburn was in Triple-A last year when the Rangers acquired him from the Giants on April 16. He was called up on July 31 for three days but did not pitch in a game. The same thing happened to him with the Giants for five days in May 2016.
But there are no accidents when it comes to putting together Spring Training pitch plans. There was a reason why Banister selected Blackburn to pitch the first game.
"Second time in the big leagues, last year we weren't able to get him a game," Banister said. "Today was a fun situation for us, I told him, 'I'm finally going to watch you pitch.'"
Blackburn started the bottom of the first by striking out Cubs leadoff hitter Albert Almora Jr.
"That relieved all the pressure and the jitters," Blackburn said. "Been waiting four or five months to come out and pitch in a Texas Rangers uniform, to get out there and get that first strikeout was huge. That really built some confidence right away."
Yeah, Spring Training games don't mean much, but Blackburn still threw two scoreless innings.
"He threw the ball well," Banister said. "He was unfazed. He threw strikes. That was the highlight of the day."
Blackburn is a long shot to make the team out of Spring Training. But right now he leads the Cactus League in ERA after a special day against the Cubs.
"The one thing you can ask for as a player is an opportunity," Blackburn said. "Ever since I got traded to this organization, everybody has treated me with utmost respect. They never kept me in the dark, they told me how things were going and what they expect. That's all you can ask.
"I am really appreciative of these opportunities because I haven't gotten many of them in my career. I'm looking to get past that. Right now, it looks like the Rangers are giving me that."