Buehler, Kershaw now possible for opener
Dodgers' top starters had strong workouts on Saturday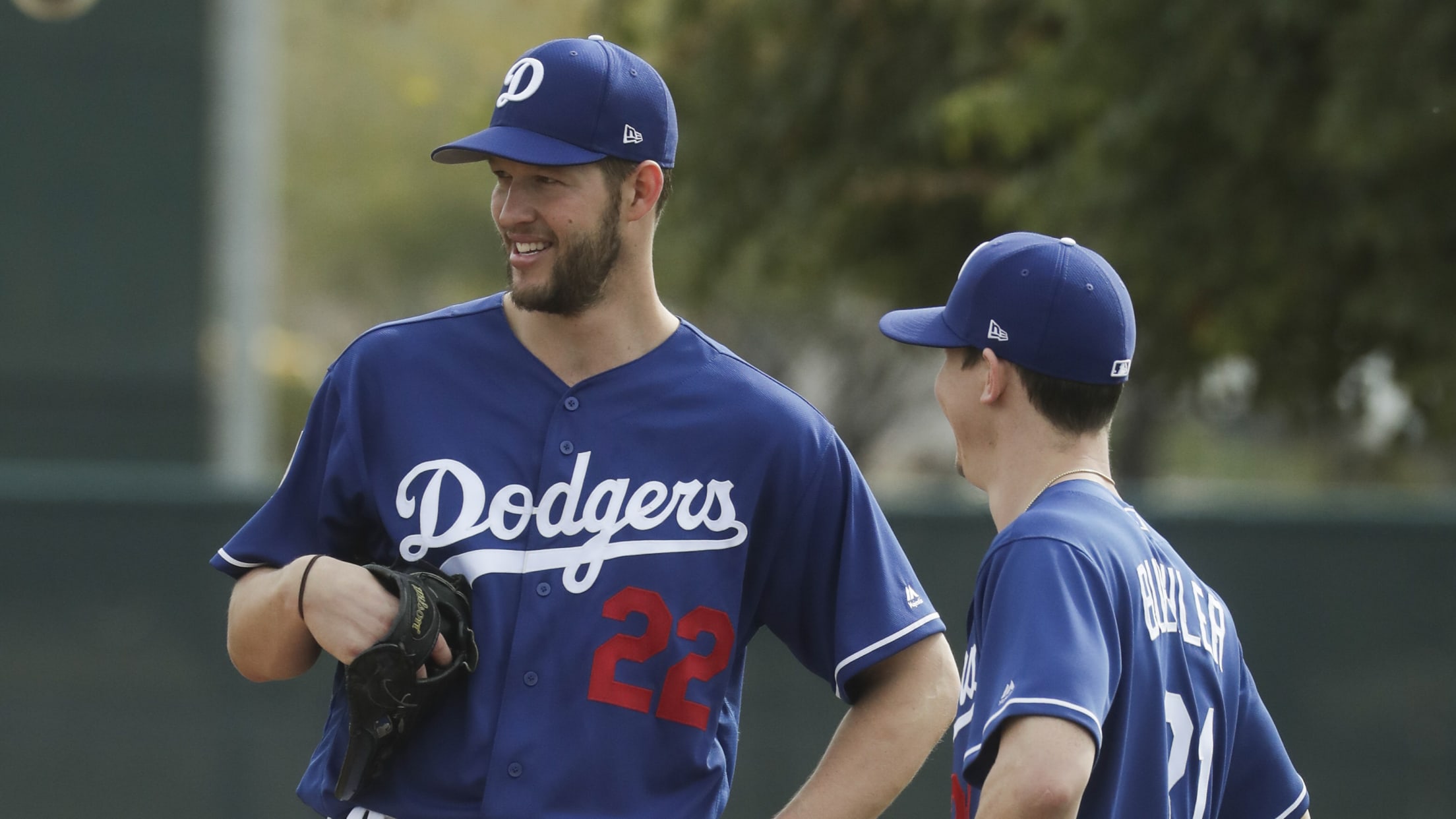 GLENDALE, Ariz. -- The Dodgers claim they aren't obsessed with Opening Day, but since everybody else seems to be, on Saturday it looked like both Clayton Kershaw and Walker Buehler could be available. Kershaw has been dealing with left shoulder inflammation and Buehler has been limited in camp after a
GLENDALE, Ariz. -- The Dodgers claim they aren't obsessed with Opening Day, but since everybody else seems to be, on Saturday it looked like both Clayton Kershaw and Walker Buehler could be available.
Kershaw has been dealing with left shoulder inflammation and Buehler has been limited in camp after a spike in innings last year. But on Saturday, Buehler looked on point pitching live batting practice for the first time, and Kershaw fired fastballs on flat ground as if he's no longer injured -- just behind schedule.
And with that, manager Dave Roberts reversed course from previous comments about time running out to hint that Kershaw still could make a ninth consecutive Opening Day start, even if he won't have the normal ramp up of a healthy spring.
"But that doesn't close the door on Opening Day," said Roberts. "It doesn't close the door. Nothing is official. Right now, he's feeling pretty good. The mood meter is trending up."
Roberts insisted Kershaw will pitch only if he's ready, although it's unclear how built up Kershaw can get considering he hasn't thrown a true bullpen session in more than two weeks and Opening Day, against the D-backs at Dodger Stadium on March 28, is 19 days away.
"It's great, and a tribute to his career and longevity, but speaking for Clayton, the most important thing is he pitches when he's ready," Roberts said. "It's just another cherry on top to add another Opening Day start."
Buehler is behind other starters not because of an injury, but to prevent one. He came into camp so ready to roll that management dialed him back, but Buehler all along has been confident, insisting that he doesn't need as long to build up his arm as others.
Buehler was pretty convincing in his session against non-roster hitters Brad Miller and Omar Estevez. Except for a Miller line drive that just missed Buehler's head, there wasn't a lot of batting done in this practice.
"That's high octane," Miller said of Buehler. "I was just battling for my life. I want to play behind that guy. He's nasty. My first two pitches I took, I was being a wimp. Then I locked it in and hit the one up the middle and he locked it in and it became a battle and we all got something out of it. That made the game easy compared to Walker, nothing against those guys. That's no joke. Walker was awesome."
"He'll probably do another live session, then we'll get him into a game," said Roberts. "He's chomping at the bit, but understands there's a process in place. He understands the long view and there's a progression that needs to take place. He's on board."
Buehler said his next session will probably double the one-inning, 20-pitch Saturday workout. He said he expects to be in excess of 75 pitches when the season starts.
Ken Gurnick has covered the Dodgers for MLB.com since 2001.