Richard, Ross forming formidable 1-2 punch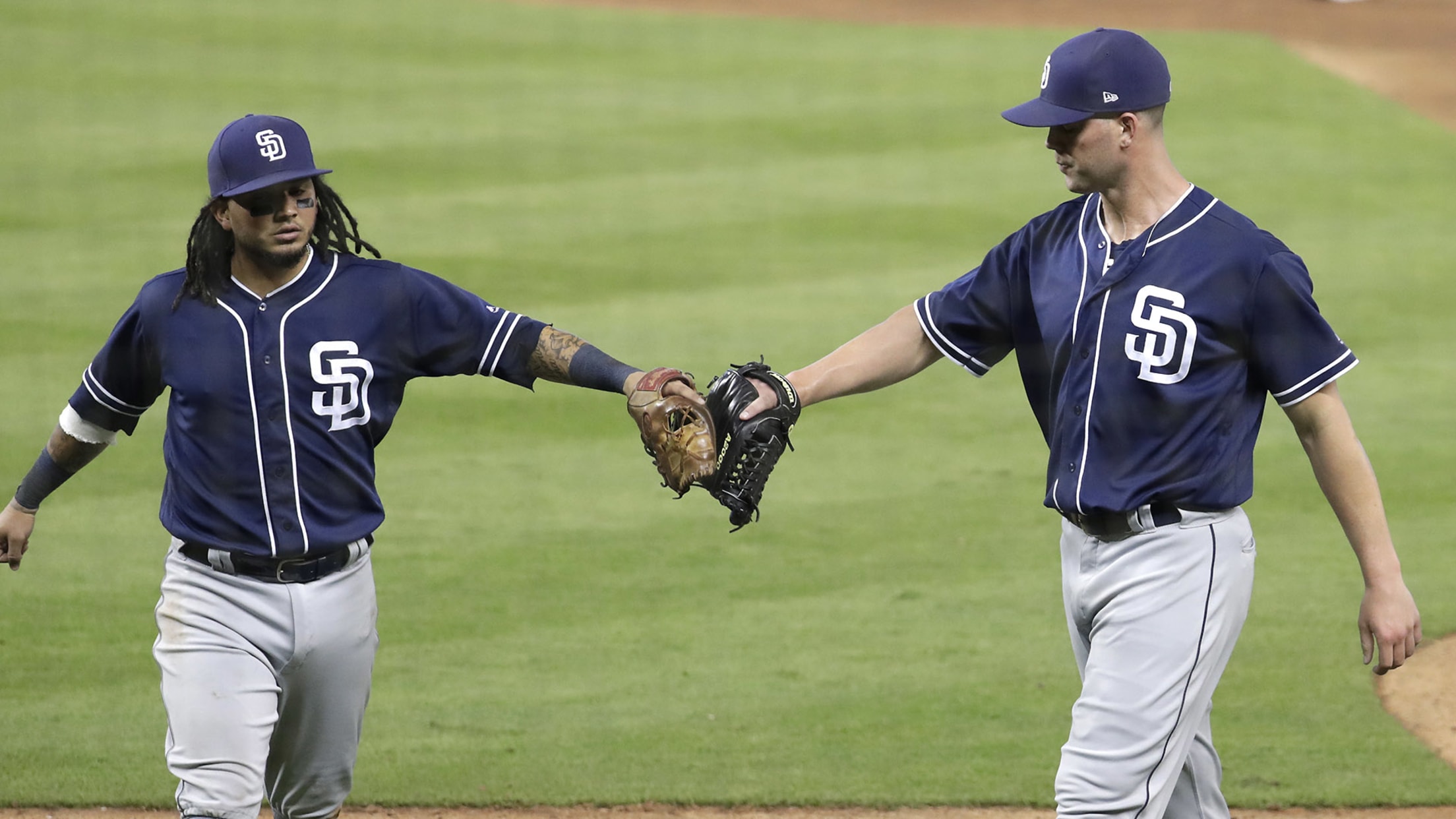 San Diego Padres starting pitcher Clayton Richard, right, bumps fists with San Diego Padres shortstop Freddy Galvis after losing a no-hit bid when Miami Marlins' Miguel Rojas hit a single during the seventh inning of a baseball game, Sunday, June 10, 2018, in Miami. The Padres won 3-1. (AP Photo/Lynne Sladky) (Lynne Sladky/AP)
Bill Center, longtime sportswriter for U-T San Diego, is an employee of the Padres.Clayton Richard has a 4-1 record in his last six starts and the Padres are 5-1.Over his last seven starts, Richard is 4-2 with a 3.04 ERA. He has allowed 17 runs on 35 hits and 10
Bill Center, longtime sportswriter for U-T San Diego, is an employee of the Padres.
Clayton Richard has a 4-1 record in his last six starts and the Padres are 5-1.
Over his last seven starts, Richard is 4-2 with a 3.04 ERA. He has allowed 17 runs on 35 hits and 10 walks with 39 strikeouts for a 0.89 WHIP.
The win Sunday against the Marlins, where he didn't allow a hit for the first 6 2/3 innings, was Richard's 56th as a Padre, moving him into sole possession of eighth on the Padres' all-time list and No. 2 as a left-hander behind only Randy Jones (92).
Since May 12, the Padres are 11-1 in games started by Richard (5-1) and Tyson Ross (6-0).
Sunday also continued Richard's strong run against teams from outside the West. In eight starts outside the division, Richard has a 2.64 ERA and a 0.93 WHIP -- allowing 17 runs on 43 hits and 11 walks with 43 strikeouts in 58 innings.
In six starts against National League West rivals -- only one of which came since Richard began his hot run - the 34-year-old left-hander has a 7.80 ERA and a 1.867 WHIP -- giving up 27 runs (26 earned) on 37 hits and 19 walks with 28 strikeouts in 30 innings.
Richard's WHIP outside the division is almost exactly half of what it is inside the division. And eight of the nine homers he has allowed were against teams inside the division.
NOTEBOOK
• The Padres won a fourth straight series in Miami to pull to within five games of .500 at 31-36. The last time they won four straight series was 2015. The last time they were within five games of .500 this season was on April 20 when they were 8-13. Now for an even stranger won-loss statistic - The Padres are 22-19 since April 27. But they are only 1-12 in series openers during that span . . . meaning they are 21-7 after the opener of their last 13 series.
• Eric Hosmer hit a decisive two-run homer in Miami Sunday. Since May 28, Hosmer has hit safely in 10 of 13 games, going 21-for-49 (.429) with three doubles, two homers, 10 RBIs and eight runs scored. The run includes eight multi-hit games, including three, three-hit games. The surge has raised Hosmer's batting average 36 points to .292.
• Hunter Renfroe is 12-for-32 (.375) since returning from the disabled list May 28 with five doubles, a pinch-hit grand slam homer, seven RBIs and seven runs scored with five walks - for a .459 on-base percentage and a .625 slugging percentage for a 1.084 OPS. His batting average has climbed from .200 to .268.
• Jose Pirela has an active six-game hitting streak, going 8-for-25 (.320) with a double, a RBI and three runs scored. He has hit safely in eight of his last nine games, going 12-for-40 (.300) with two doubles, three walks, two RBIs and six runs scored.
• Manuel Margot is 4-for-12 in a four-game hitting streak. Since May 23, Margot is 13-for-43 (.302) with five doubles, five RBIs and eight walks for a .412 on-base percentage and a .830 OPS.