It's time to lay off Clint Frazier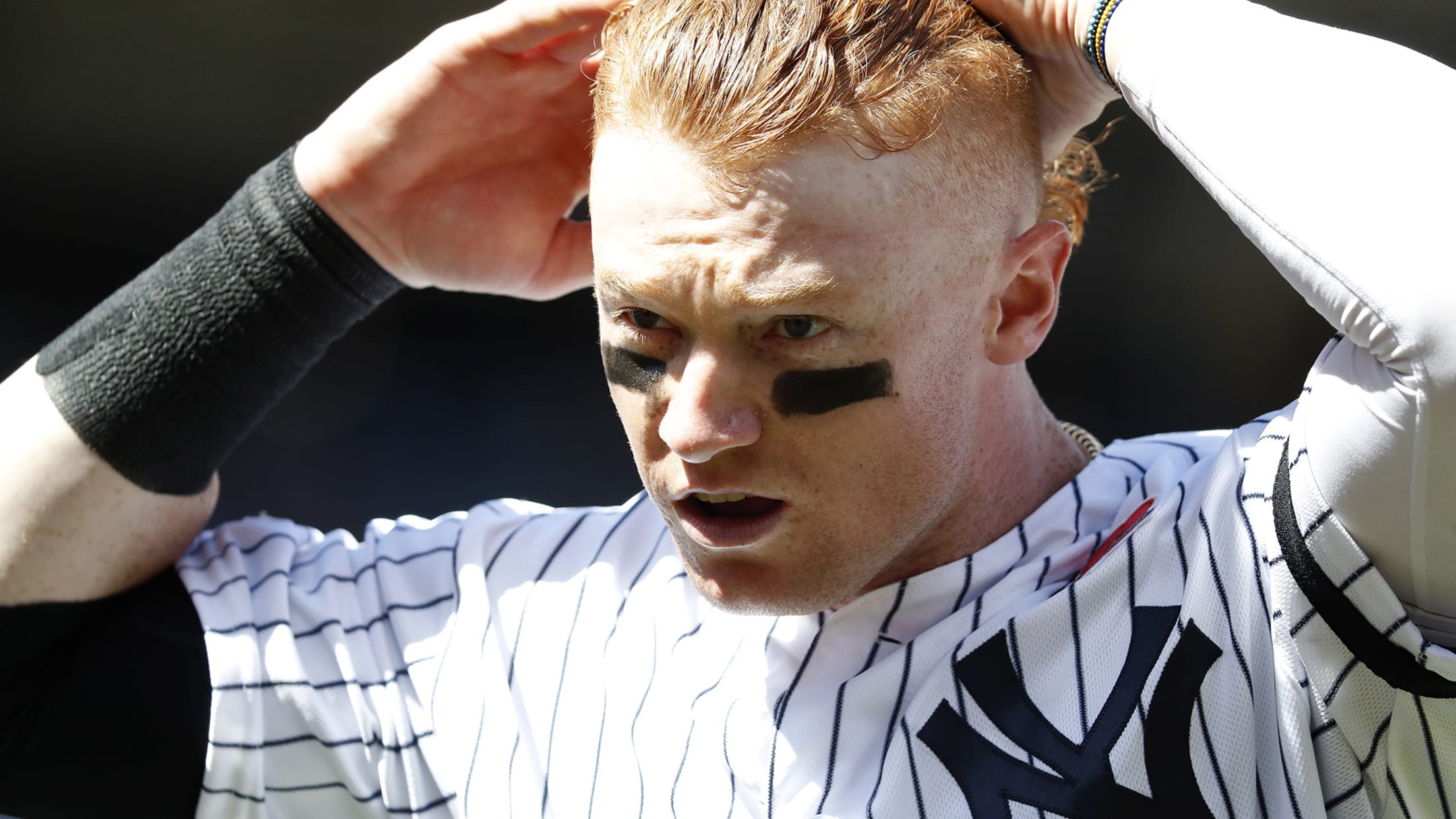 Clint Frazier, a talented kid who essentially lost last season because of a concussion suffered in Spring Training and doesn't get enough credit for how much he's meant to the Yankees this season, had a truly awful night in right field on Sunday against the Red Sox. Balls rolled past
Clint Frazier, a talented kid who essentially lost last season because of a concussion suffered in Spring Training and doesn't get enough credit for how much he's meant to the Yankees this season, had a truly awful night in right field on Sunday against the Red Sox. Balls rolled past him and dropped in front of him, singles became triples and the Red Sox scored cheap runs on their way to winning the one game they took from the Yankees last weekend. Then Frazier made a bad night worse by deciding he didn't want to talk about any of that with the media afterward.
It's worth noting that by doing that -- ignoring a responsibility that's a (non-essential) part of his job -- Frazier didn't violate some sacred trust, or the Yankee Way, whatever that is. His way of blowing off steam about the game he'd just had against the Red Sox was to blow off the media for a night. It wasn't close to a baseball felony, and barely rose to the level of misdemeanor.
Seriously? What do you think Yankees fans would have preferred more on Sunday night: Frazier spending five or 10 minutes in front of his locker talking about a bad night, or having had a way better night so the Yankees swept the Red Sox and put even more distance between the two teams in the American League East?
And by the way? You couldn't shut up Alex Rodriguez at his own locker after Yankee games. Derek Jeter? He was always at his locker at the old Yankee Stadium and the new one, win or lose. And, frankly, he never said much worth remembering for very long, across a career very much worth remembering. That didn't make Captain Jeter a bad guy. Clint Frazier isn't suddenly a bad guy, either, because he had a bad night.
Once again, there's this notion that when you don't talk to the media you have also violated some contract between you and paying customers, and Yankees fans everywhere, as if having unspoken thoughts after the kind of game Frazier had against the Sox was another place in life where unspoken thoughts are supposed to be against the law.
Except, let's face it, that ship sailed a long time ago. Forget about Jeter. Imagine what Joe DiMaggio would have been like in the modern world, with the number of media people that wait for ballplayers now waiting for him in front of his locker. I can tell you, I imagine, having spent enough time with Mr. DiMaggio over the last years of his life: He would have spent more time in the trainer's room at the old Stadium than Ace bandages.
There's a Yankees fan I quote here from time to time, one who is passionate about his team and knows it as well as the people covering it. I got this e-mail from him on Wednesday:
"I always prefer my guys speak to the media after games, both in good times and bad. I want to know they have thick skin, mental toughness, and immediate accountability for their performance. I believe players in the long run better serve themselves by being consistently available to the media. But Clint Frazier doesn't 'owe' it to me to tell me he stunk Sunday night -- I know he stunk Sunday night and hearing him say he stunk Sunday night doesn't make me feel any better that he did. You know what Clint Frazier 'owes' me? What Clint Frazier owes me is a continued effort to improve his defense so that the next time he sees the Boston Red Sox in a baseball game, he catches the ball."
What he said.
Frazier did speak with the media on Tuesday in Toronto. When he did, he was not only honest and human, I was a lot more interested in what he had to say about himself than I would have been on Sunday night at Yankee Stadium, even as his only real apology was to his teammates for having to speak for him after the Boston game.
Here's just some of what Frazier said:
"Since I got traded over here, it's been some stories that came out that shouldn't have come out. And it's difficult, because the way I'm perceived by people is not how I think I really am. I don't feel like it's been fair at times, and I don't owe anybody an apology for not talking.
"I know I don't fit the mold of what some of the past and current Yankees are like, and that may be why it's a little harder for me to navigate every day. I'm trying to be myself in here. And sometimes it feels like people have an issue with me just being myself. It's been difficult. It's been hard. My entire life I've always been kind of different and struggled to fit in because people perceive me a certain way. It was, whenever I was younger, the only thing that I felt like kept me relevant was baseball."
Frazier is never going to be Mookie Betts in the outfield. But he's still only 24, has a world of talent, has 11 home runs this season and 30 RBIs that the Yankees have needed, along with a decent OPS of .857. Those numbers have done plenty of talking. We're always talking about letting the kids play. Let this kid play.
Mike Lupica is a columnist for MLB.com.