Coastal Carolina ends No. 5 Texas Tech's CWS run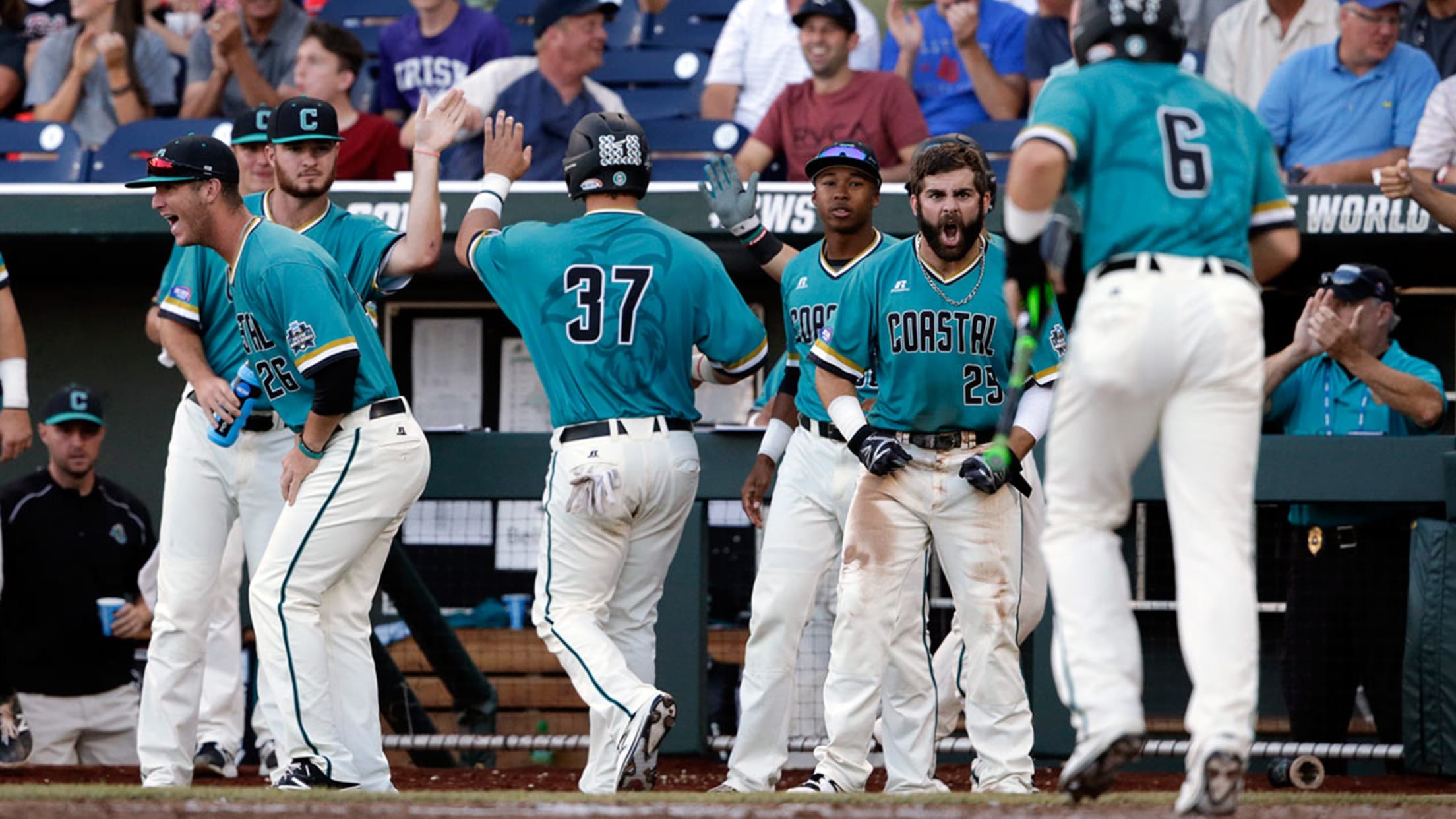 Coastal Carolina took advantage of three errors to eliminate Texas Tech from the College World Series. (AP)
Coastal Carolina moved one win closer to the College World Series finals, defeating Texas Tech, 7-5, in an elimination game at TD Ameritrade Park in Omaha, Neb.With the win in the first-ever meeting between these programs, the Chanticleers remain alive in the double-elimination tournament, moving on to face TCU today
Coastal Carolina moved one win closer to the College World Series finals, defeating Texas Tech, 7-5, in an elimination game at TD Ameritrade Park in Omaha, Neb.
With the win in the first-ever meeting between these programs, the Chanticleers remain alive in the double-elimination tournament, moving on to face TCU today at 8 p.m. ET. After losing to the Horned Frogs on Tuesday, Costal Carolina will need to defeat them twice to advance to the finals.
Texas Tech's loss brings the school's second College World Series appearance to a close. They finish the year with a 47-20 record.
The Red Raiders were plagued by errors throughout Thursday's contest, committing three, which resulted in six unearned runs for Costal Carolina. Catcher David Parrett led the way for the Chanticleers offense, batting 2-for-4 and driving in three of his team's seven runs.
Neither starting pitcher made it through the third inning as both Texas Tech's Erikson Lanning and Costal Carolina's Jason Bilous were knocked out after 2 1/3 frames. Chanticleers closer Mike Morrison picked up much of the slack, limiting Texas Tech to two runs over 4 1/3 innings of relief, striking out six batters.
"I told [pitching coach Drew] Thomas last night that if we're going to lose today, I don't want to lose with the ball in my hands," Morrison said on the ESPN broadcast. "I've been here for four years, and this is a special team. I just wanted to have the ball there and to make sure that if it's close, I can give us a chance to score some runs."
Texas Tech threatened in the seventh, closing the gap to within two runs before Costal Carolina right-hander Bobby Holmes extinguished the rally by striking out Ryan Long, stranding a pair of runners.
Stephen Smith, a 10th-round selection of the D-backs, led Texas Tech with a three-run double, initially putting his club ahead in the second.
Up Next:
Costal Carolina survives for a rematch with TCU today at 8 p.m. ET, while Arizona and Oklahoma State play at 3 p.m. Two of these four remaining teams will meet for the championship series, beginning Monday.