Francona has faith in Allen's ability to rebound
Manager will tweak closer's duties to help solve struggles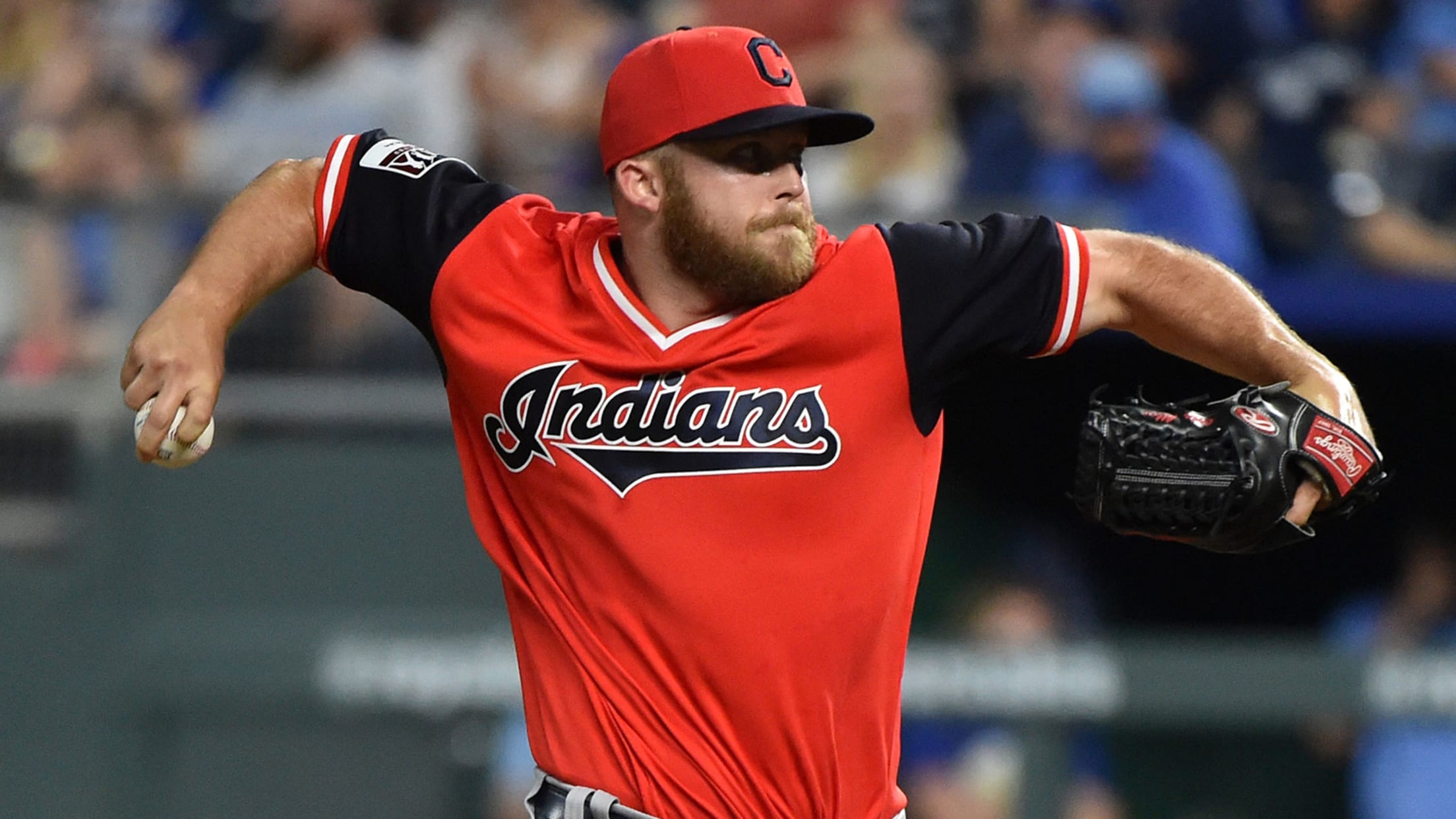 KANSAS CITY -- The goal for Indians manager Terry Francona is to find a way to get Cody Allen back on track in the weeks leading up to October. That will not involve stripping the closer of his late-inning duties, but rather identifying some other opportunities to help Allen sort
KANSAS CITY -- The goal for Indians manager Terry Francona is to find a way to get Cody Allen back on track in the weeks leading up to October. That will not involve stripping the closer of his late-inning duties, but rather identifying some other opportunities to help Allen sort through some delivery issues.
Francona sat down with Allen briefly after Friday night's 5-4 defeat to the Royals, who launched back-to-back home runs off the right-hander in the ninth inning for their walk-off win. The manager's message to Allen -- his primary closer for the past six seasons -- was that Cleveland needs the right-hander confident and cruising by the time the postseason arrives.
"We just kind of visited, actually just to reinforce some things," Francona said prior to Saturday's game at Kauffman Stadium. "Again, this is where, when you've been together for a long time, it's supposed to be an advantage. And that's what I'll make sure it is. The one thing, I think it's easy for people that are on the outside to look and it's easy to say, 'Well, you should do this.' Well, to get where we want to go, we've got to get [Allen going]. So, I might pick some spots, like I did maybe back in the last few weeks, but other than that, we need him.
"When you give up the lead like last night, yeah, it hurts. I don't care what your record is. But, I was actually proud of him. He takes ownership. I just wanted to remind him, 'Hey, it's easy to pat you on the back when everything's going great, but when it's not perfect, we're in this together.' Like I said, I was kind of proud of him. His ERA is higher than he wants it to be. Come the end of the year, or whatever, if we get him on a roll, nobody is going to care. So, that's what our goal is."
The reality of Cleveland's bullpen alignment is there is no true closer at the moment.
With left-handers Brad Hand and Andrew Miller in the mix, along with Allen, Francona has tried to balance their respective workloads while using them based on matchups. Dating back to July 20, when Hand made his first appearance for Cleveland, the lefty has entered in the seventh (four times), eighth (seven) and ninth (three). In that same span, Allen has entered in the seventh (four), eighth (three) and ninth (eight). Since coming off the disabled list on Aug 3, Miller has entered in the sixth (once), seventh (five), eighth (twice) and ninth (once).
Allen allowed nine runs across four outings from July 10-20, leading Francona to turn to the right-hander in some non-save leverage situations. He felt it was a good way to have Allen enter a game and get right to competing, rather than focusing too much on mechanics or the stress of the ninth inning. Allen responded with a 0.73 ERA over an 11-game stretch.
Francona might take that approach again with Allen, given his recent string of tough outings.
"When a situation presents itself, sometimes it's like, 'OK,' boom," Francona said. "t's almost like a pinch-hitter. A guy that's struggling. Get them up there. They're not thinking. They're just competing. I just think he has a way of, when there's runners on or he comes in, he gets in compete mode and I think things fall into place a little bit better."
One of the factors behind Allen's struggles this season -- he has a 4.50 ERA and has given up a career-high 11 home runs -- has been inconsistency with his curveball. Per Statcast™, opposing batters had a .164 average, .190 slugging percentage and .170 wOBA against Allen's knuckle-curve in the 2016-17 seasons combined. This year, batters are hitting .232 with a .391 slugging and .309 wOBA against his breaking ball.
Hitters have a .391 SLG and .309 wOBA vs. Cody Allen's curveball this year, compared to .190/.170 in the 2016-17 seasons combined. CB location shown in attached image. Issues with CB have led to moments like Friday night, when Royals ambushed the righty's fastball. pic.twitter.com/ar2gHK7zxc

— Jordan Bastian (@MLBastian) August 25, 2018
That has led to moments like Friday night, when rookies Ryan O'Hearn and Hunter Dozier each homered on elevated fastballs. After the game, O'Hearn told Royals reporters that he was hunting for the fastball, thanks to advice from veteran Alex Gordon, who has seen plenty of Allen over the years.
"[Gordon] kind of came up to me and said, 'Straight fastball. Good fastball. [Allen's] secondary stuff is sharp,'" O'Hearn said. "I just wanted to be aggressive [and look fastball]."
Francona continues to trust that Allen -- the Indians' all-time saves leader with 147 in his career -- has enough time left this season to sort out the issues. That is why, while the reliever's use might be altered some, Allen will keep getting work in the later innings for the Tribe.
"I don't think his confidence is at the all-time high," Francona said. "I also think he's enough of a competitor where he's going to fight through it, man. I know him. If I didn't, I would come out and say, 'We're going to do something different.' I believe in him as a person and as a competitor so much that I've got no problem sticking with him through when it's not the best of times."