Elbow discomfort sends McHugh to injured list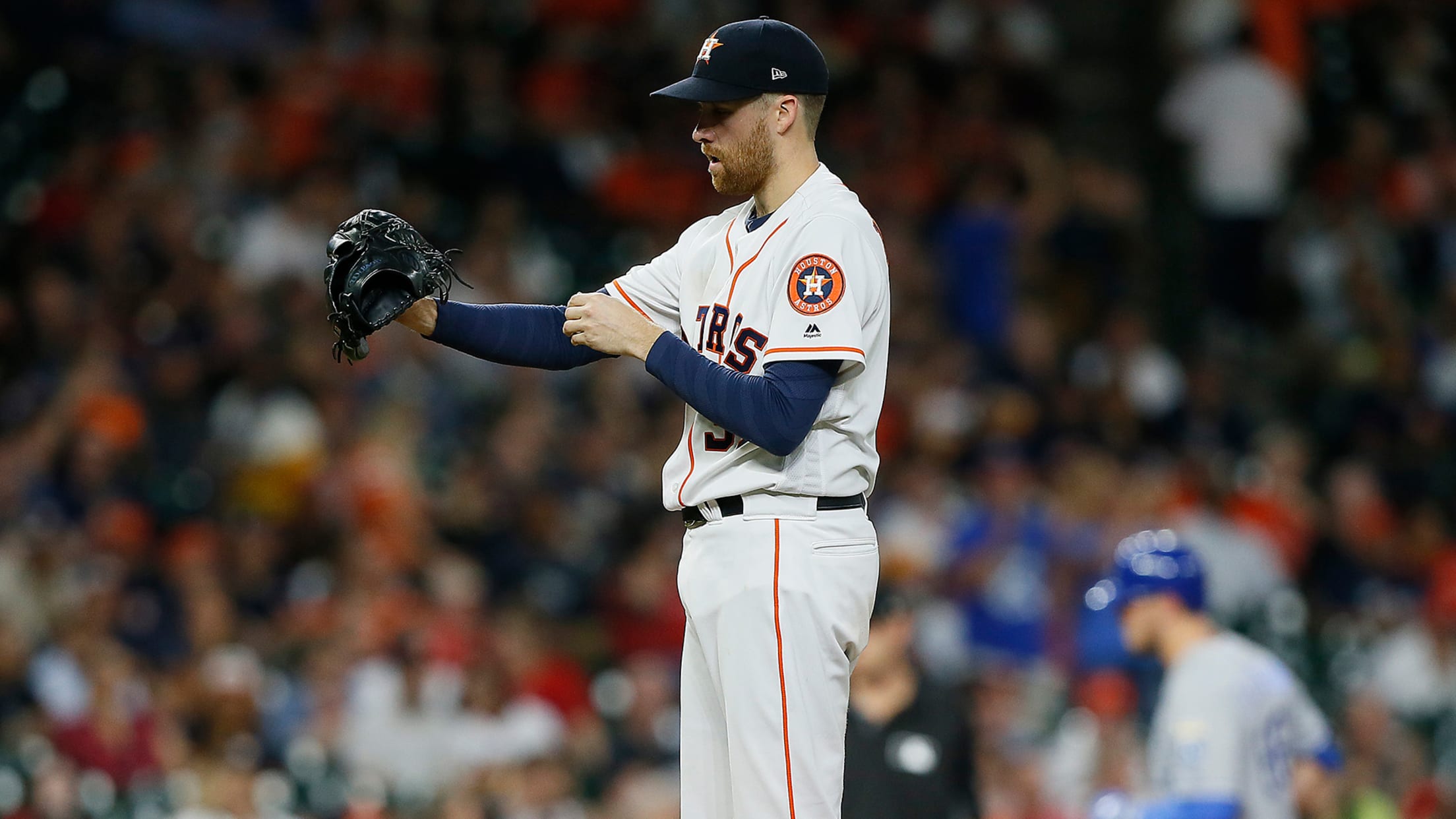 HOUSTON -- Astros right-hander Collin McHugh was warmed up and ready to pitch in the ninth inning on Monday night. Only this wasn't strictly about pitching in the game. Manager AJ Hinch also wanted to see how McHugh's cranky right elbow felt afterwards whether he pitched or not. As it
HOUSTON -- Astros right-hander Collin McHugh was warmed up and ready to pitch in the ninth inning on Monday night. Only this wasn't strictly about pitching in the game.
Manager AJ Hinch also wanted to see how McHugh's cranky right elbow felt afterwards whether he pitched or not. As it turned out, Hinch used closer Roberto Osuna to finish a 3-0 victory over the White Sox.
Afterwards, McHugh sat in Hinch's office and delivered a blunt assessment: His right elbow still wasn't feeling great.
"It hasn't been the most comfortable throwing sessions the last few times," McHugh said.
So the Astros, not wanting to risk something more serious, placed McHugh on the 10-day injured list on Tuesday and recalled right-hander Brady Rodgers from Triple-A Round Rock.
"The competitor inside me still wants to go out there and play," McHugh said. "I was out there getting ready in the ninth and getting the juices flowing. You want to do your best and help the team.
"I just tried to get a full perspective about what's going to be best for me, what's going to be best for the team. I think we're all on the same page that taking a few days will probably be better than trying to gut it out and risk a more serious injury down the road."
McHugh's last outing was a two-inning relief appearance in Detroit on May 14, when he allowed no baserunners and struck out four. Last weekend in Boston, McHugh informed the Astros medical staff that his right elbow did not feel right.
He believes the inflammation may have resulted from the change in routine in being moved from the rotation to the bullpen. However, an MRI revealed no structural issue, and the hope is that a few days of not throwing will solve the problem.
"We're trying to be cautious with him," Hinch said. "Arms are tricky, and certainly someone transitioning from the rotation to the bullpen, we're super cautious about. We hope it's a short-term thing."
For Rodgers, a Houston native, the return to the Major Leagues was especially emotional. His last appearance was on Oct. 2, 2016, and since then, he missed part of both the 2017 and '18 seasons after undergoing Tommy John surgery and the months of rehabilitation that followed.
"Honestly, it may be more special than my actual debut," he said. "It's special not only for myself, but for my family. It's been a long road. I'm just happy to put on an Astros uniform again.
"I've got a family. I've got a son. Just coming back from a surgery like that, you never know if you're going to come back. You never know if you're going to be the same. Luckily, I was able to come back the same if not better."
Other injury updates
• All-Star second baseman José Altuve, who is on the 10-day injured list, came out of Monday's work feeling fine and he is nearing a brief Minor League rehabilitation assignment as he continues to recover from a hamstring injury.
• Outfielder George Springer missed a second straight game with a tight lower back.
"He's still not doing a ton," Hinch said. "He's not going to hit. He's telling he's available to run or play defense. The rotational part of it is what we're trying to stay away from. He's not taking batting practice or anything like that. We'll see how it feels tomorrow."
• Reliever Joe Smith's recovery from Achilles surgery continues to progress smoothly. He has thrown several bullpen sessions without a problem and he is awaiting clearance to face hitters, possibly at the Astros' Spring Training complex in West Palm Beach, Fla.