Manfred set to chat with fans in annual Town Hall
All-Star Week event with Commissioner will take place today at 3 ET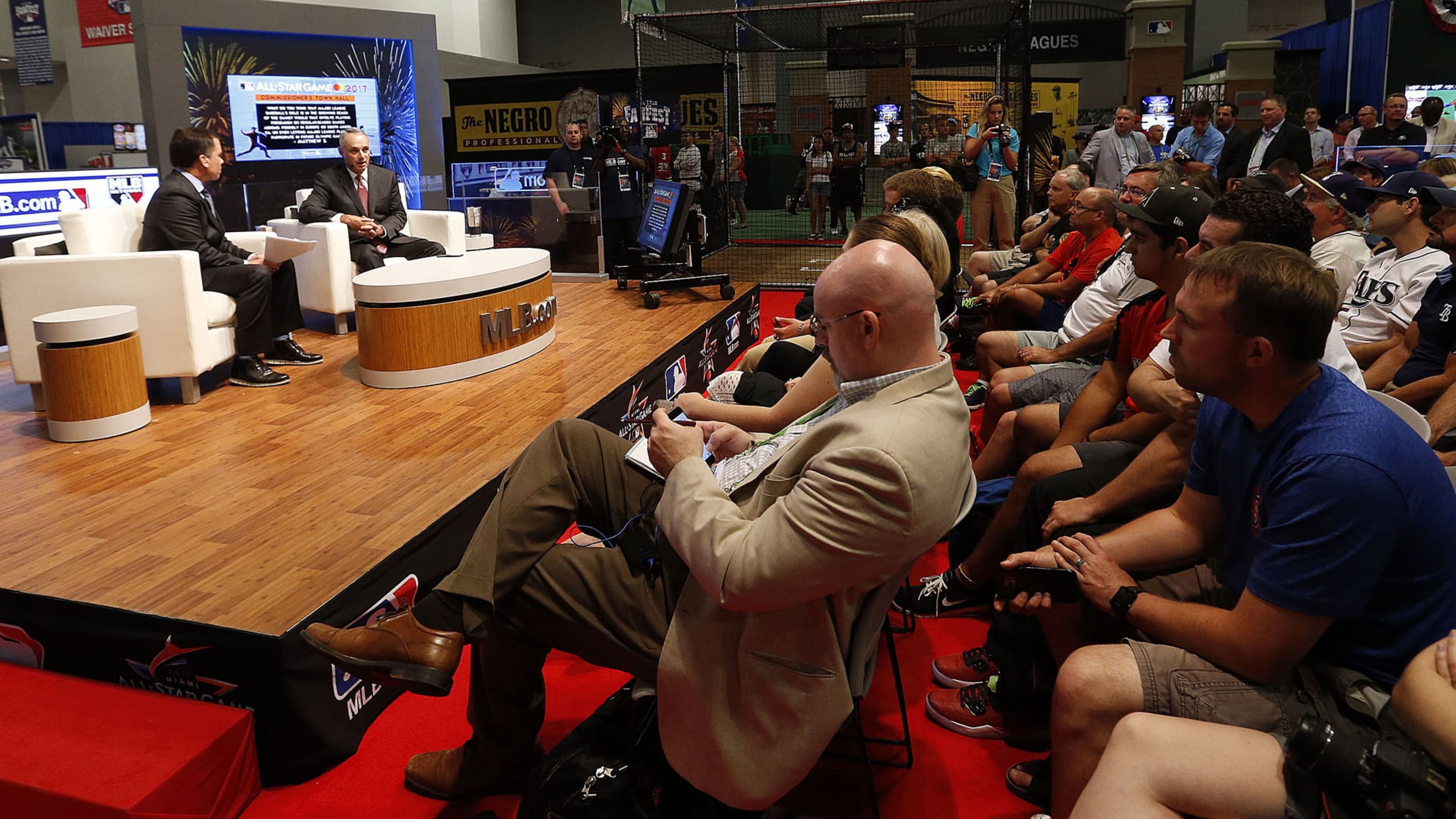 A staple of All-Star Week for the past 18 years, the Town Hall Meeting with the Commissioner of Baseball will be held at PLAY BALL Park, at the intersection of First and M Streets SE near Nationals Park, and broadcast exclusively on MLB.com today at 3 p.m. ET.MLB Network's Lauren
A staple of All-Star Week for the past 18 years, the Town Hall Meeting with the Commissioner of Baseball will be held at PLAY BALL Park, at the intersection of First and M Streets SE near Nationals Park, and broadcast exclusively on MLB.com today at 3 p.m. ET.
MLB Network's Lauren Shehadi will moderate the Town Hall, and fellow broadcaster Harold Reynolds will also take part in the event. It will be Commissioner Rob Manfred's fourth year participating in the annual discussion.
:: Complete All-Star Game coverage ::
Last year's Town Hall at the All-Star Game in Miami covered a range of pertinent topics in the game, from the future of the designated hitter rule to stadium situations in Oakland and Tampa Bay to how players are constantly adapting their interpretations of "unwritten rules" on the field. The 2018 season presents plenty of fodder for discussion, with surprise teams like the Mariners, Braves and Phillies jumping into the postseason races, 25 first-time All-Stars headed to D.C. for the Midsummer Classic and MLB's Competition Committee having recently met to discuss infield shifts, the pitch clock and other matters.
Manfred will make brief opening remarks and then answer e-mailed questions, as well as those from fans in attendance.
A live video stream of the interactive chat session with baseball fans will be available on MLB.com and the MLB At Bat mobile app. A transcript of the dialogue, as well as an archived replay of the chat, also will be available across all MLB digital platforms.
The Town Hall Meeting will be one of many events being held in Washington as part of the All-Star festivities. PLAY BALL Park, a 56,000-square-foot venue that will feature a youth-sized turf diamond and daily programming for fans of all ages, is free and open to the public for five days, which began Friday. The GEICO All-Star FanFest, which also opened on Friday and runs through Tuesday, is the world's premier interactive baseball theme park.
Throughout the show floor, fans will have the opportunity to meet and interact with some of their favorite players across MLB. FanFest will feature interactive exhibits and attractions, including clinics taught by current and former MLB players, free autograph sessions, National Baseball Hall of Fame and Museum exhibits and much more.