Rule 5 pick Joe back in catcher's gear with Reds
Utility player has not yet caught a game professionally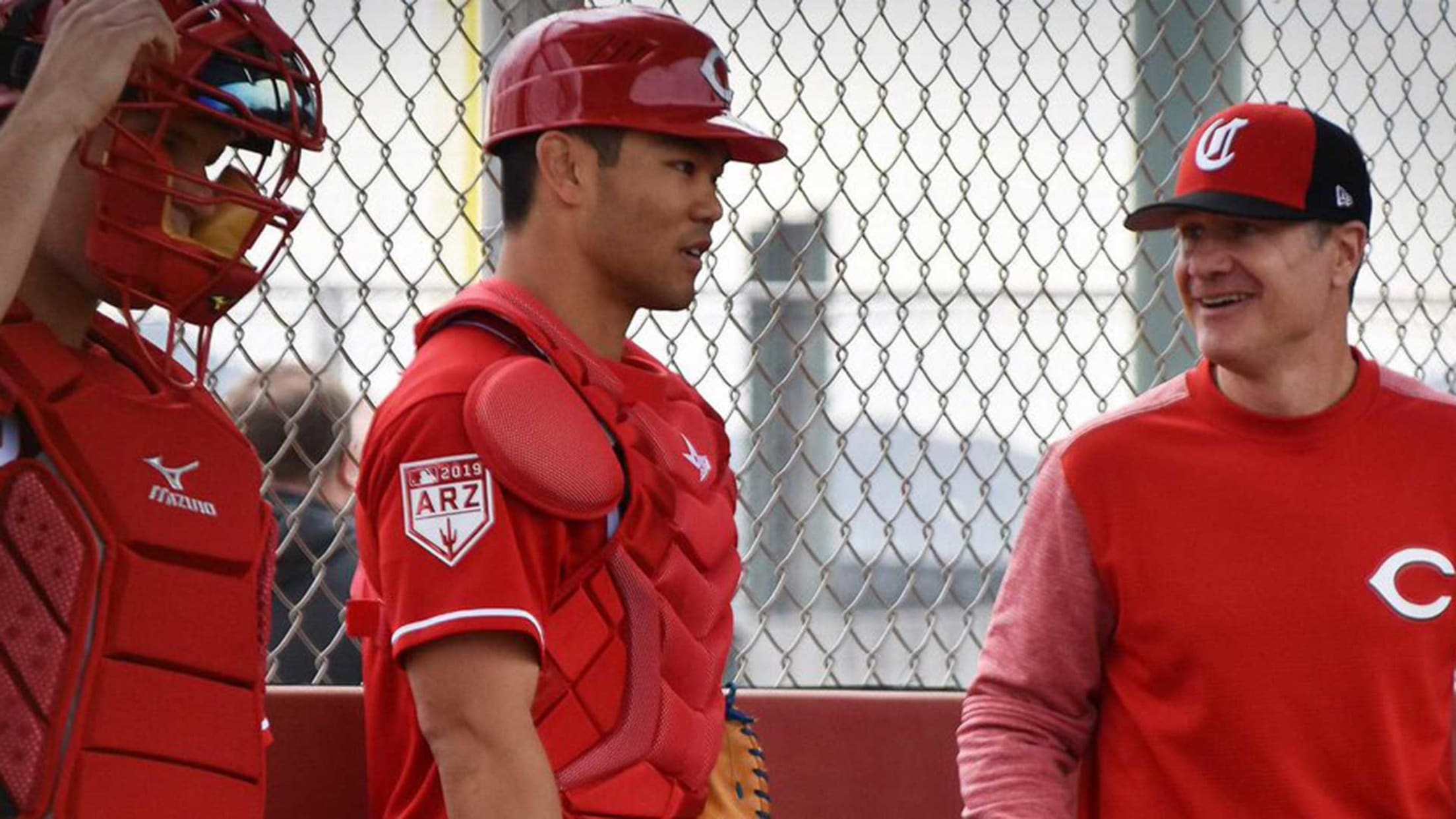 GOODYEAR, Ariz. -- Utility player and Rule 5 selection Connor Joe has been working with the catchers since Reds Spring Training opened. Joe has caught bullpens and performed all the catching drills.What makes that a little more interesting is that Joe has never caught a game professionally. He hasn't caught
GOODYEAR, Ariz. -- Utility player and Rule 5 selection Connor Joe has been working with the catchers since Reds Spring Training opened. Joe has caught bullpens and performed all the catching drills.
What makes that a little more interesting is that Joe has never caught a game professionally. He hasn't caught since he played at the University of San Diego before he was a Pirates first-round Draft pick in 2014.
"It has been a long time, but getting with J.R. [House, the catching coach] and learning from Tucker [Barnhart], Curt [Casali] and the other guys has been good," said Joe. "The movements have been natural. It's been getting into the swing of things."
:: Spring Training coverage presented by Camping World ::
When the Pirates selected Joe, he was taken as a right fielder. As he changed organizations -- briefly with the Braves and then the Dodgers -- he's added positions. He can play first base, second base, third base and in the outfield.
Joe, 26, batted .299/.408/.527 with 17 home runs and 55 RBIs combined last season with Double-A Tulsa and Triple-A Oklahoma City in the Dodgers' organization. In the December Rule 5 Draft, the Reds selected him. Under the rules, Cincinnati paid the Dodgers $100,000. Joe must remain on the 25-man roster all season or be offered back to Los Angeles for $50,000 after he clears outright waivers. He can be sent outright back to the Minors if the Dodgers or another club does not take him.
Two years ago, the Reds carried catcher and Rule 5 pick Stuart Turner for the entire 2017 season.
"It's an unbelievable opportunity," Joe said. "But I'm going into Spring Training with the same mentality I have for every other Spring Training -- you have to make the club. You have to compete. Obviously, it's different for me because this is my first big league camp and I'm trying to make the big league team. But that's the only difference."
When roster decisions are ultimately made later in camp, the determining factor for manager David Bell and the front office will be if Joe fits well on the roster. Besides his ability to play multiple positions, he could be a third catcher. Kyle Farmer, acquired from the Dodgers in a seven-player trade in December, is another utility player and catcher on the 40-man roster.
Joe's versatility would be important, especially if the Reds carry just four bench players.
"He looks like he's done it before, just the first few days we've watched him," Bell said of Joe's catching. "The fact that he can potentially do that and play multiple positions, it gives him a shot. We know that he's offensively gotten better and better each year. It'd be nice if we were able to keep him on board with us. We'll have to see how it all plays out."
Expect the shift
Bell and the coaching staff appear prepared to fully embrace data and analytics. That will include their approach to defensive shifts.
It's about using all available means to gain any advantage that's possible.
"Our defensive philosophy is pretty simple. It's to play where we think they're going to hit it," Bell said. "We never want to take instincts away, [but] if you're not trusting the information, then you're putting yourself at a disadvantage. We'll do the preparation, we'll look at the guys that we have, but we don't really care what it looks like as long as we put guys where we believe the ball is going to be hit and we have communication between the infielders, the outfielders, the pitchers and catchers and make sure everybody's good with it."
Unique catching drills
Reds Spring Training under a new manager and coaching staff has already had some different looks, especially with some of the drills. One of them involved having Bell and House on step ladders, firing throws down at catchers less than 30 feet away.
"That was a new one," Bell said. "One of the things that's important to us as a staff is just finding ways to challenge guys and make practice as effective as we can -- not to do new things or do things different just for the sake of doing it that way, but not to be afraid to if we feel like there's something that could challenge guys. If we can have fun in the process, that helps, too."